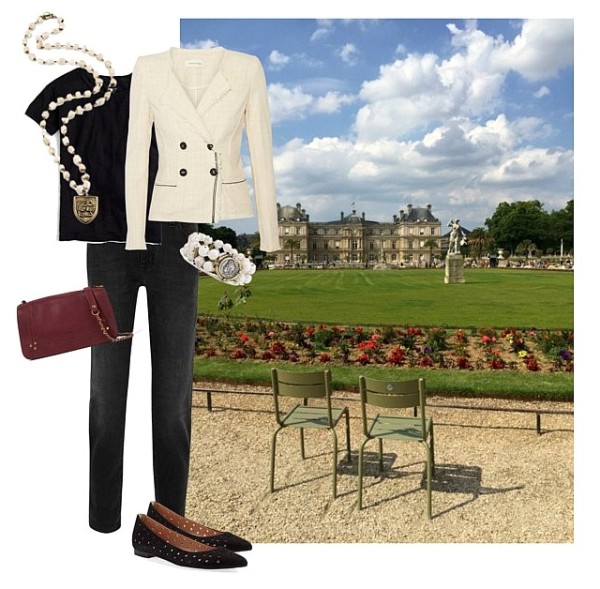 jacket | necklace | tee | bag | bracelet | jeans | shoes
Ah, the jacket. Is there any other wardrobe piece that has such power to turn a simple tee shirt and jeans into an Outfit? Even if you don't work in an office or your workplace is casual, the right jacket makes whatever else you're wearing look sharp and intentional.
While a Little Black Jacket is one of my wardrobe staples, during warmer months a lightweight jacket in a lighter neutral color can also be a real workhorse. But the last few seasons it's been a challenge to find those that work with my shape and wardrobe. Everything available seemed to be too "shrunken," too boxy, too cropped, too heavy/stiff, too "top half of a suit" or….black. But the tide seems to have turned; as the spring collections start to roll in, I've been seeing a lot of promising options. I've included mostly neutrals here, as I find them more versatile, but if colors and prints are more your thing, there are also plenty of choices showing up.
The Étoile Isabel Marant jacket shown in the collage above is one of those shouldn't-work-but-does pieces. Yes it's double-breasted, but worn open that effect is minimized. It's unlined, and the lightweight fabric isn't stiff at all and seems to have some "give" (which also makes it easy to push the sleeves up and have them stay put, a real plus!). It looked boxy on the hanger, but not so on the body. It's pricey, but a classic style that shouldn't look dated in a heartbeat. I loved it the moment I tried it on, but want to try with a few other pieces in my closet before I remove the tags.
I haven't seen it in person yet but this denim jacket has styling along the lines of that Fashionista-annointed Balmain number but with a softer look and certainly less stratospheric price. (Watch the little video* on the website for a better idea of how this drapes and falls.) I have this on order, will report back. (This style is also offered in ecru and canary colors if denim isn't your thing.)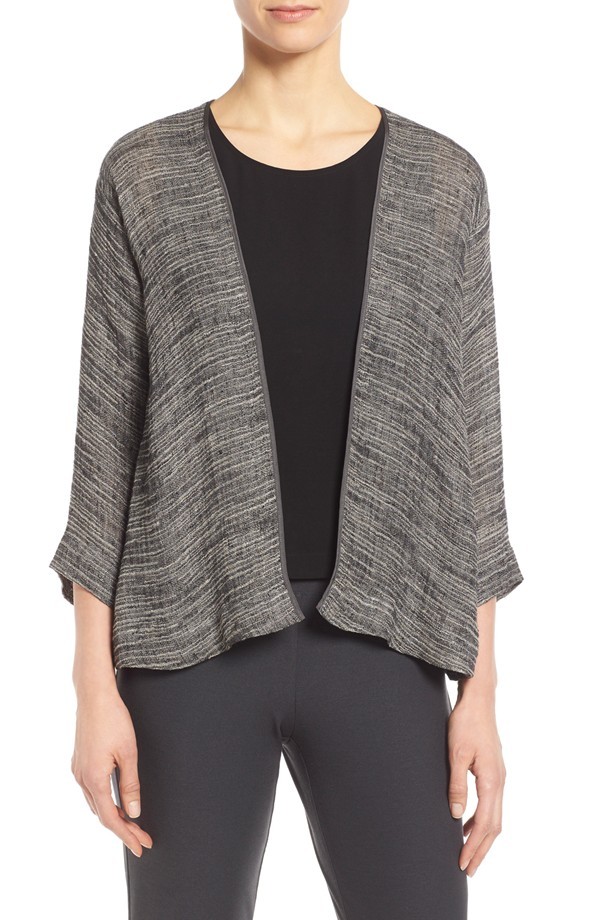 If your style is more relaxed, this linen blend kimono-style jacket is a nice middle ground between a cardigan and a structured jacket. I'm picturing this worn over a maxi dress for summer evening al fresco situations. It might also be a good summer travel wardrobe piece. Again, I have this on order to try and will report back.
I had the black version of this jacket in my wardrobe for a few seasons, and was really impressed with the fit and how well it worked with both casual and office looks. I'm really tempted to try this 100% linen version!
*I love that so many retail sites are now including a short video of how pieces look in motion. Still images can be deceiving as to the weight and drape of fabrics; seeing how they move is another valuable piece of information when considering a purchase.
Do you wear jackets during spring and summer?
OPTIONS….

Affiliate links in this post may generate commissions for unefemme.net. See complete disclosure policy here.
Affiliate links in posts may generate commissions for unefemme.net. See my complete disclosure policy here.