First, my sincere condolences to those who have lost loved ones in recent terrorist attacks, both in Brussels and in Turkey. I wish the injured a speedy recovery. We have travel planned to Europe in just a little over three months, and will not be changing our plans. I'm in agreement with this piece from Travel + Leisure, that the intention of terrorists is to disrupt our lives by making us live in fear, and closing us off from each other. I refuse to give in to that.
We returned from our anniversary weekend getaway in Las Vegas, and immediately had to dive back into our regular schedules. I'm still getting caught up, both at work and home. But it was a fun and relaxing time, and I'll share a recap soon.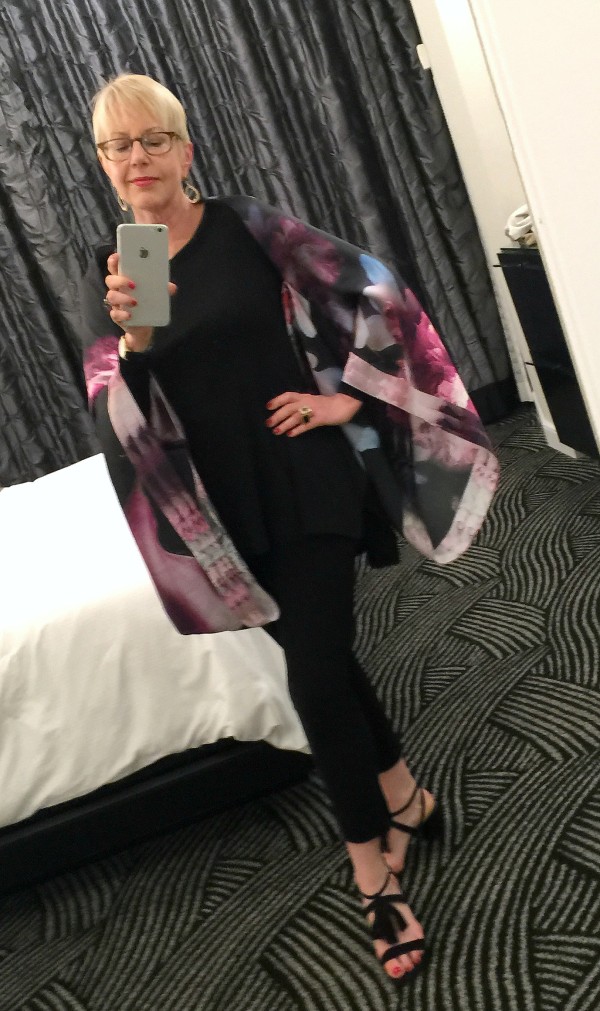 Here's what I wore out for our anniversary dinner. You may recognize the sandals from my Instagram feed; they were comfortable right out of the box and even after walking around quite a bit before and after dinner. That cape scarf was an anniversary gift from le Monsieur and it's a winner! The bold print features roses and peonies, my two favorite blooms. (More print options here.) It can be worn as either a cape as shown here or a regular scarf. I was very happy to have worn it, as we were seated right underneath a serious a/c draft at dinner! The top (similar) and pants are travel wardrobe stalwarts.
Anyone else watching the latest season of "House of Cards?" I won't give away any spoilers, but we're down to the last couple of episodes and I can't help but feel they've come close (at times) to jumping the shark, plot-wise. Though Ellen Burstyn as Claire's mother was some brilliant casting; she does some great work here. I noticed that Claire's wardrobe has gravitated back to jackets and her version of "power suits" with her new roles, both public and private.
Edited to add: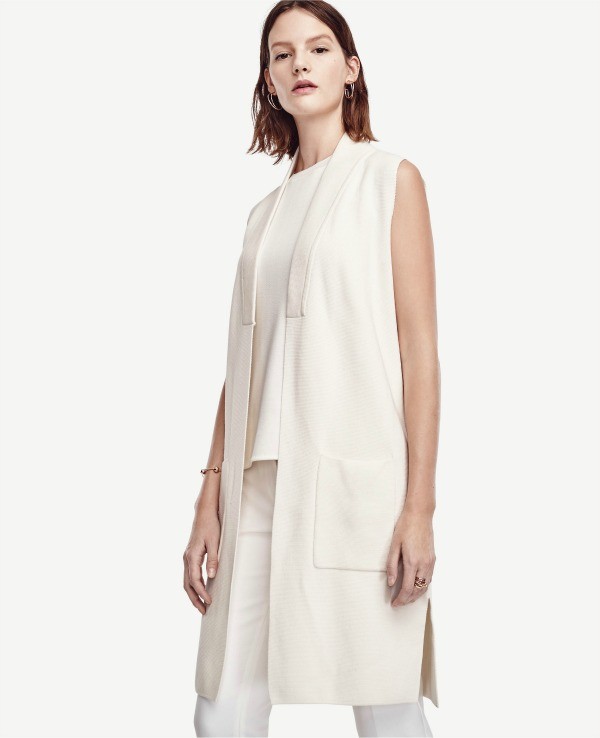 I was planning to feature this sweater vest in an upcoming outfit post, but wanted to mention that I just received an email from Ann Taylor announcing 40% off almost everything with code MARCH40. I thought this was a good buy at full price; at 40% off it's a great buy. The fabric is a cotton/rayon blend, so it's a fabulous transitional season piece.
There's a lot going on now at work and with jeune homme's potential living situation. I'll be free to share more on one or both soon, I hope!
How's your week going?
Linked up: Visible Monday
This post may contain affiliate links which generate commissions for unefemme.net. See complete disclosure policy here.
Affiliate links in posts may generate commissions for unefemme.net. See my complete disclosure policy here.