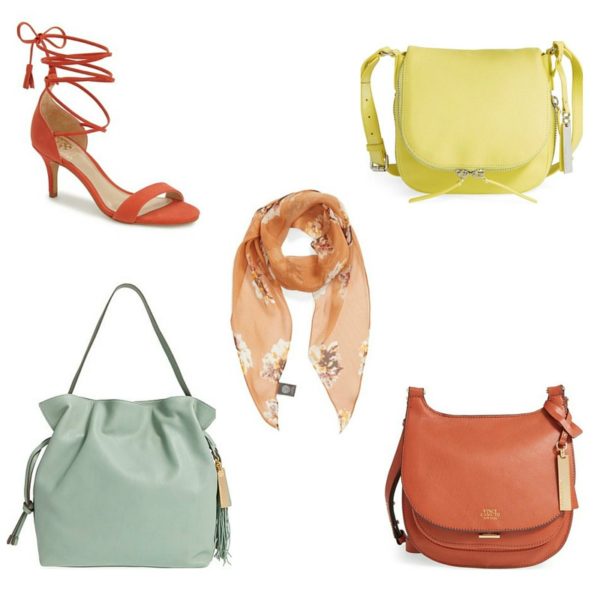 This post is sponsored by Nordstrom. All ideas, words and opinions are my own.
Shown above: shoes | crossbody bag | scarf | tote | crossbody bag
First, I've come to believe that just as there are very few universally flattering colors, there are almost no universally "bad" colors. Sure, some are easier to wear than others, but for the 97 people who look atrocious in mustard yellow, there will be the 3 that were born to wear it and look amazing.
Let me also stipulate that I am not a professional stylist or color consultant. I have the utmost respect for those who have spent time and effort to learn the science of color and style, and have benefitted myself from their advice. But sometimes the rules were meant to be broken, or at least bent, and if there's a color you absolutely love, there are ways to wear it.
I tend to love color most on other people. 😉 I find it very hard to break out of my neutral zone, even when I find a piece in a pretty color that suits me. But I do sometimes crave color, and have found that adding it via accessories is my best bet. (And a colorful accessory really pops against a neutral outfit.)
Some of the colors currently trending such a Citrine (lemon yellow) or various shades of bright orange or rust, or even soft pastels may not do your own coloring any favors when worn in broad swaths or near the face, but in a bag or shoe can add an interesting and unexpected accent. Adding a scarf in a flattering shade for your complexion can be a way to "buffer" a top in a color that you love but that may not love you as much.
Nordstrom has asked me to pick some of my favorite pieces from Vince Camuto to feature, and while browsing the current season's selections, these accessories first caught my eye. How fabulous would those bright orange lace-up sandals look with a pair of white jeans? And how nicely would that mint green tote liven up a navy jacket? Nordstrom carries a wide selection of Vince Camuto clothing including petite and plus sizes, as well as shoes and accessories, and offers free shipping and returns. Their customer service is the best, and can help with sizing and other questions.
How do you incorporate colors that may be outside of your best palette?
More from Vince Camuto:

This post contains affiliate links which may generate commissions for unefemme.net. See complete disclosure policy here.
Affiliate links in posts may generate commissions for unefemme.net. See my complete disclosure policy here.