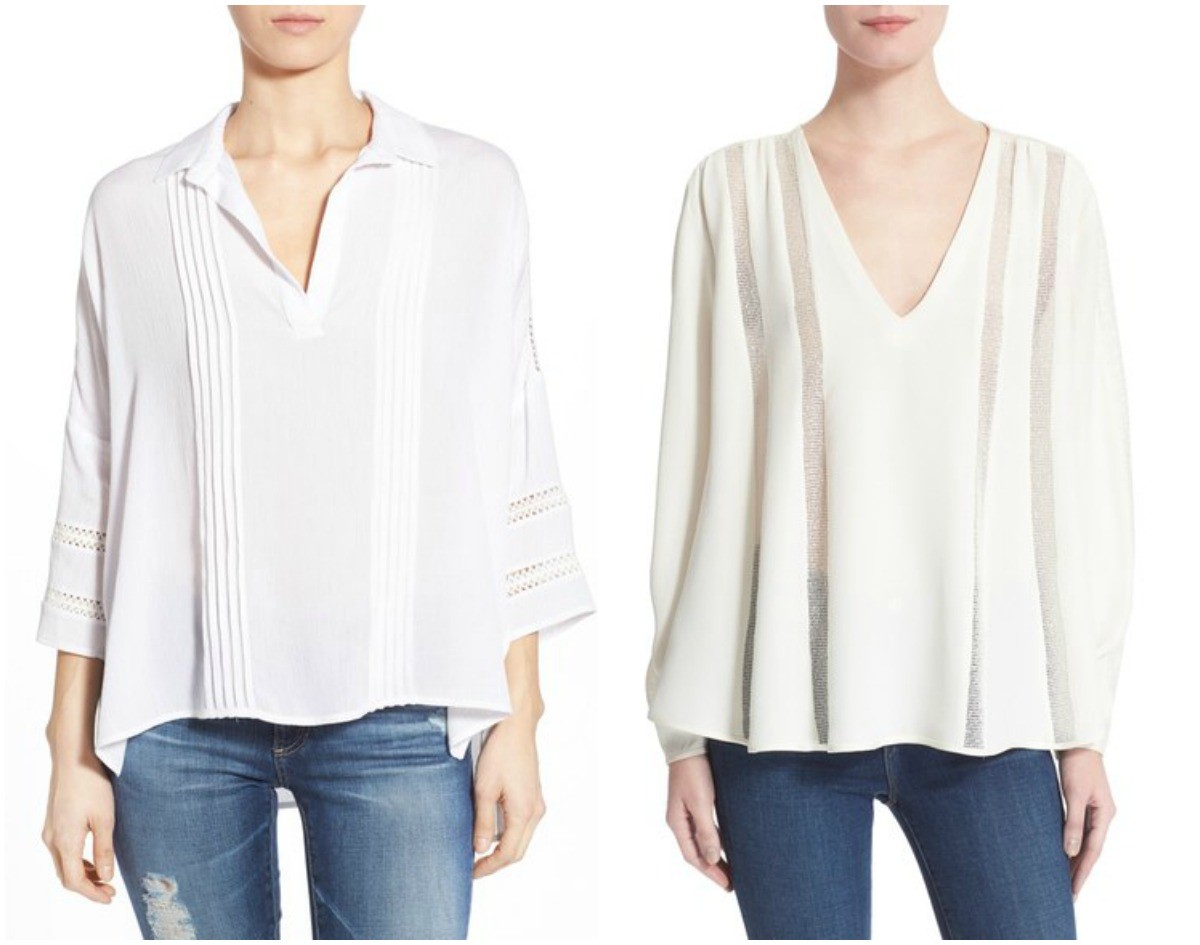 Nordstrom is having their Half-Yearly Sale with markdowns up to 40% including clothing, shoes, accessories and some beauty items. I spotted these two White Shirt Alternatives, on the left from Ella Moss, and on the right from L'Agence (yes, it has sheer panels, but you could easily add a nude camisole underneath without losing the effect).
I'm granting myself a couple of weeks to catch up with some errands and small projects around the house before I try to put myself on any kind of writing schedule. I've enjoyed being able to do my grocery shopping mid-morning when the market is relatively empty, and to be able to pause and peruse a new shop or two that caught my eye without worrying about the clock.
Yesterday I went over to the Kit + Ace shop on Abbott Kinney to drop off the pants I'd ordered online, and take advantage of their free hemming service. I spent a few minutes looking around the store but find I'm lukewarm on many of their styles, perhaps a bit too "athleisure" for me, though I know many people love them. The store staff though were friendly and helpful.
On my way back to the car I stopped in at Caudalie to pick up another travel-sized Beauty Elixir, and spotted this "Favorites" set of travel-sized products which I may get on my next visit. They offer many of their products singularly in convenient travel sizes which are not only great for packing, but also a good way to try new products for a more extended period without making a major commitment. I also learned that Caudalie has a spa at this location, and am going to schedule a facial before we travel.
I'd been meaning to swing by the Warby Parker store to try on some eyeglass frames, and had fun playing with different styles. I have a small head and a narrow face, so I like that they display frames by width, which makes it easy to know which styles will work best. No I didn't come home with these…
though I was very tempted by another style with a colored, bold frame and blue lenses. I have plenty of sunglasses at this point, but have been looking for a new pair of optical frames that are different from any I already have. I've had several requests over the years to do a post on eyewear, so look for something soon.
And in other news, I've begun taking the dogs out for a second walk in the late afternoons, which is good for all of us. 🙂
This post contains affiliate links which may generate commissions for unefemme.net. See complete disclosure policy here.
Affiliate links in posts may generate commissions for unefemme.net. See my complete disclosure policy here.