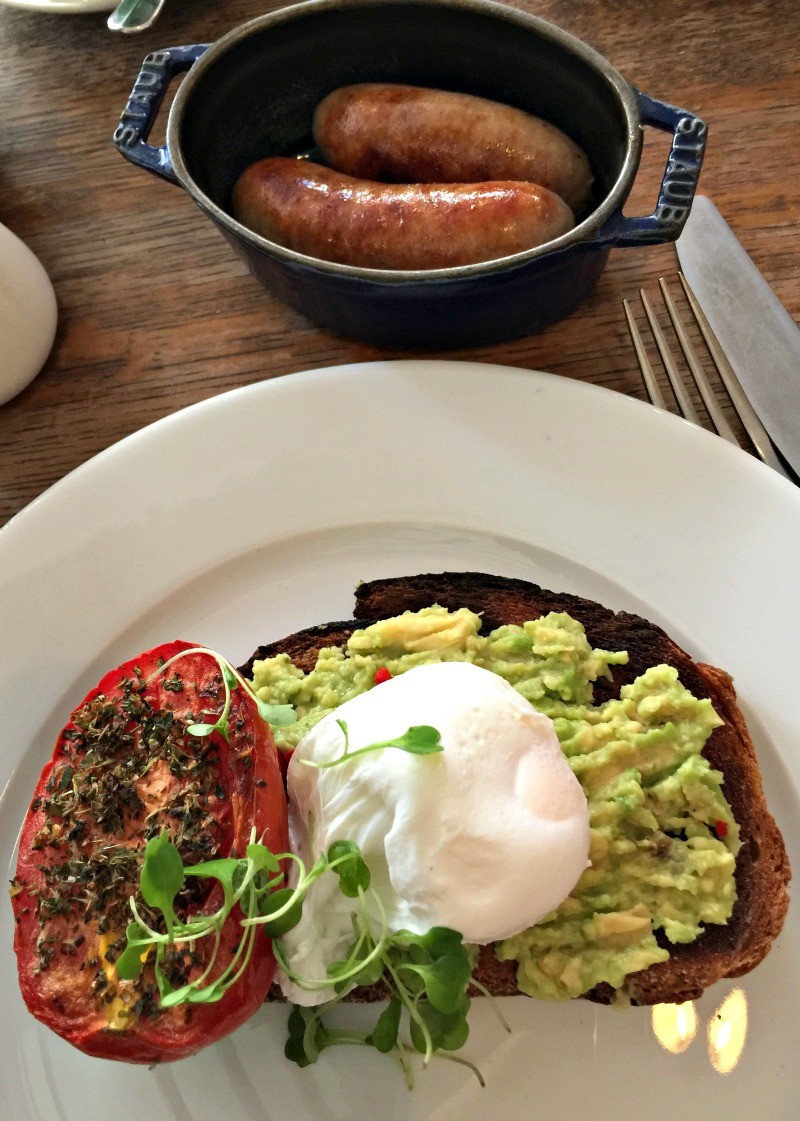 We enjoyed some really outstanding meals during our few days in London, and if you're planning a visit, you may want to consider some of these.
Breakfast/Brunch:
I mentioned Grain Store in Monday's post, and have already recommended this spot to friends who live in or visit London frequently. Broad menu, family friendly, and sustainable, it's easily accessible from the King's Cross tube stop.
The Alfred Tennyson – this place near Belgrave Square gets packed at lunchtime, but is quiet and mellow in the mornings. It was a few minutes walk from our hotel, and we came here twice for breakfast. They offer the "Full English," as well as lighter fare. We opted for the avocado toast with poached egg, and a side of Cumberland sausage (pictured above).
Lunch:
The Ivy Chelsea Garden – I met up with Vicki Archer (French Essence) and Josephine (Chic at Any Age) here for lunch, and this lovely spot was Vicki's suggestion. (We had a great time catching up, and it was so nice to see them both again!) The decor is pure English Garden Charm, but not kitschy. The patio was full, but our table just inside was comfortable, and the food was quite good. (Had the roast chicken.)  We also had a Celebrity Sighting here, the stunning and elegant Gitte Lee, who graces the cover of Ari Seth Cohen's first Advanced Style book. This place does fill up, so suggest you book ahead.
Dinner:
Rules – billed as "the oldest restaurant in London," Rules offers traditional English fare featuring seafood, game, meat and savory pies, very well prepared in a setting with great Old School ambiance. Be sure and check out the upstairs, where Prince Edward (later King Edward VII) and his mistress Lily Langtry used to sneak in through a secret door to dine away from prying eyes. A portrait of Lily Langtry hangs above the table they reputedly frequented.
Chutney Mary – If you like Indian food At. All. this place is not to be missed. The dishes are creative takes on traditional Indian food, and everything we tried was outstanding. Both the duck salad and samosa appetizers (pictured above) were amazing. Le Monsieur very much enjoyed his lamb curry. Vegetarians, try the "silver crescent platter." This is another spot that fills up, so do book ahead.
Corrigan's Mayfair – this was a recommendation from our hotel concierge. Both the decor and menu are contemporary with a nod to the traditional. The food and service were both outstanding, yet done with a light hand. (If there's gazpacho on the starter menu when you go, don't miss it…best I've ever tasted!) This isn't the kind of place where you feel overwhelmed, either by the food or atmosphere. The tables are nicely spaced and it isn't noisy. This one's a splurge, but they don't miss a note.
Lobby Crawl: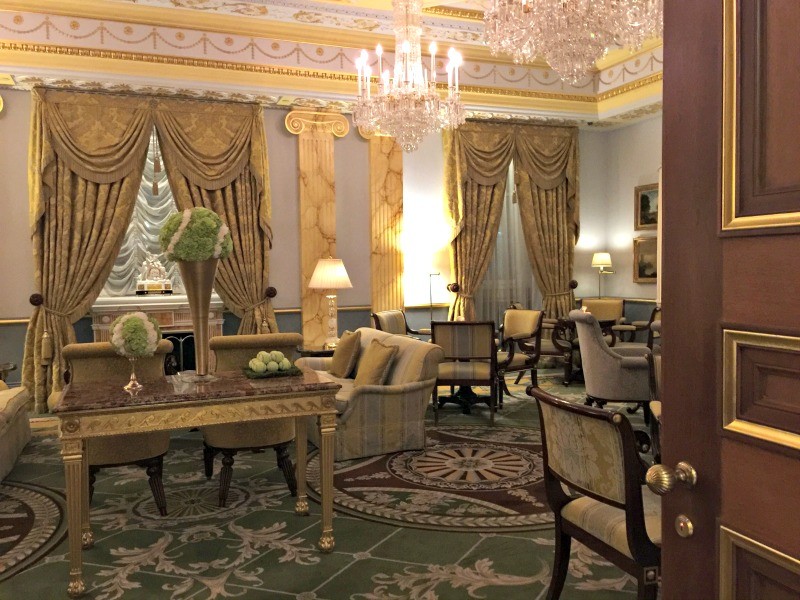 Some nights we're just not up to a full meal, so we've come up with a favorite travel tradition we call the Lobby Crawl. Pick a nice hotel, and go have drinks and appetizers in the lobby bar. Then if you're feeling ambitious, move on to another for coffee and dessert. We had a lovely time at the Library Bar at The Lanesborough and would have gone back again had we more time. (Pictured above, "The Withdrawing Room," which can also be accessed for drinks or tea.)
What's your favorite spot to eat in London?
Affiliate links in posts may generate commissions for unefemme.net. See my complete disclosure policy here.