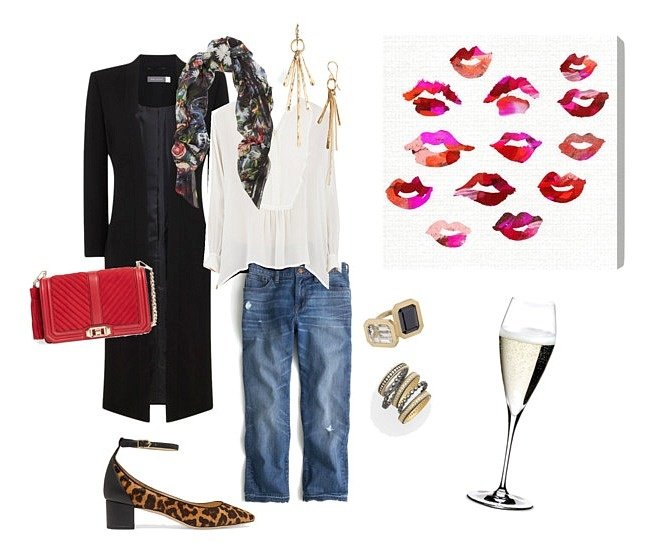 This is the second in a series of collaborations with Josephine of Chic At Any Age, comparing styles between our two respective cities. Part one HERE. Today we're dressing for an art gallery opening and then dinner.
Ok, I have to confess that I haven't been to an actual opening at an art gallery in some time. The kind with wine, canapés and maybe even someone photographing the event. But we have visited a few galleries in recent months. Los Angeles has a really thriving art scene, and there are plenty of galleries and studio spaces nearby. I've promised myself that I'm going to start taking myself out on an "art date" either to visit a museum or some galleries at least once a month.
There really are no set guidelines for what to wear to an event like this. Unless the gallery is expressly upscale, most people will probably be dressed casually, with personal flair. If you have something vintage, artisanal, fun, dramatic…go for it! If you're going out to dinner afterwards, the level of formality of the restaurant can guide your own.
Above is an approximation of what I'd wear (if it's not raining).
jacket | scarf (similar) | earrings | top | bag |
jeans | ring | rings | shoes (similar)
I think it's hard to go wrong in LA by starting with jeans, and adding more polished pieces or materials that dress them up a bit. I've chosen a more "aged" looking pair here, but this look would also work with darker, non-distressed styles. My velvet jacket is actually this duster, which I'll be showing in an outfit post soon.
Some things to remember:
You'll probably be on your feet for a while, so comfortable shoes are a must.
I always prefer a small cross-body bag as opposed to a clutch to keep hands free for libations, brochures or snapping photos (if allowed, depends on the venue).
Again, this is LA so don't count on a coat check, even in cold or wet weather.
Go check out Josephine's London version, HERE.
Do you have a favorite museum or gallery that you visit regularly?
More Like These…

Affiliate links in posts may generate commissions for unefemme.net. See my complete disclosure policy here.