Even though I grouse (a lot) about our lack of a proper Autumn, it's hard not to love Southern California in the winter. In between rainstorms we get some absolutely gorgeous clear days with mild temperatures, and the hills and open spaces turn a luscious bright green (provided we've had enough of the aforementioned rainstorms). I took advantage of one of those days last week, and went out exploring along Abbott-Kinney Boulevard in Venice.
Wearing: sunglasses (similar) | scarf (similar) | top (similar) | jacket
jeans (DIY raw hem) | bag | ring | shoes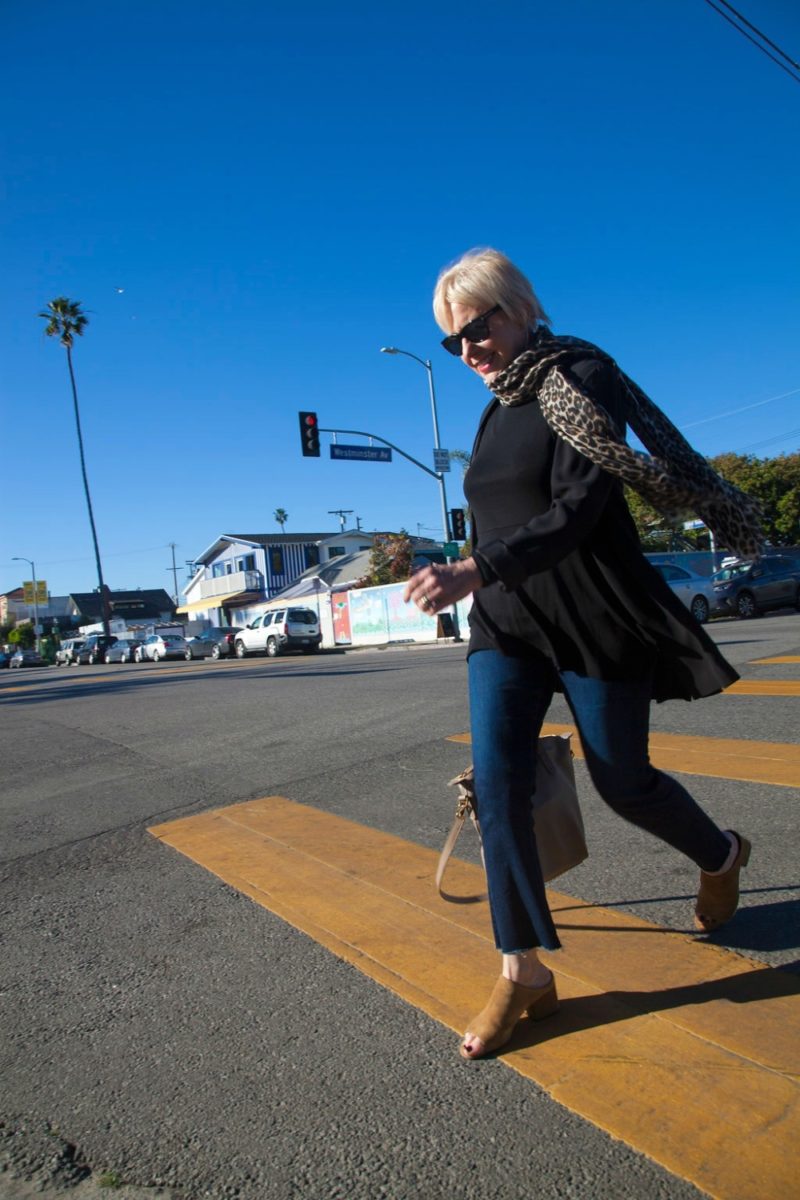 I've had some version of a soft, easy black jacket in my wardrobe for years, and it's one of my most-often-worn pieces. They are super for travel, and add polish to jeans and a tee. The one I'm wearing here is from last year and is on sale in size Small here. It's very lightweight, drapes and moves beautifully.
I know the cropped or raw-edge jeans aren't everyone's cup of pour-over French Roast, but I really like them.
(I'm going to have to bring le Monsieur over to this men's store…they had some really nice fabrics!)
This was my first outing with Tannaz, the wonderful photographer I'm working with. I think she did an amazing job! I can't wait to share more of her photos with you.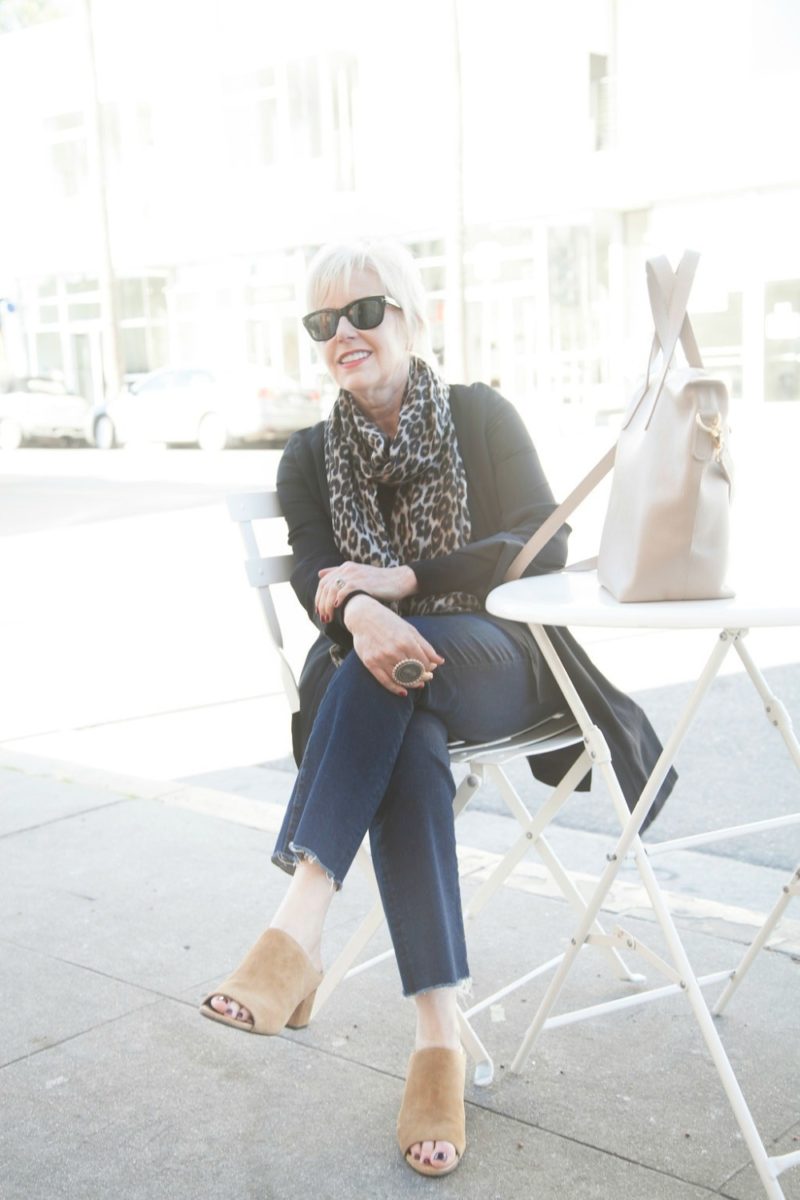 If you're planning a visit to Los Angeles in the winter or early spring, don't expect a lot of hot weather. While it can be warm and pleasant in the sunshine, shady spots or cloudy days can be chilly. (Yes, I know that's relative.) Close to the coast, we often have cool afternoon breezes. Lightweight layers are key, though you may want at least one pair of open toe shoes for those warmer days.
I'm really liking this Cuyana small carryall bag. It's practical for every day use, lightweight and goes with everything.(I have no relationship with Cuyana, and this is an unsolicited opinion.) I've added a purse organizer to mine so I don't have to rummage for keys or phone.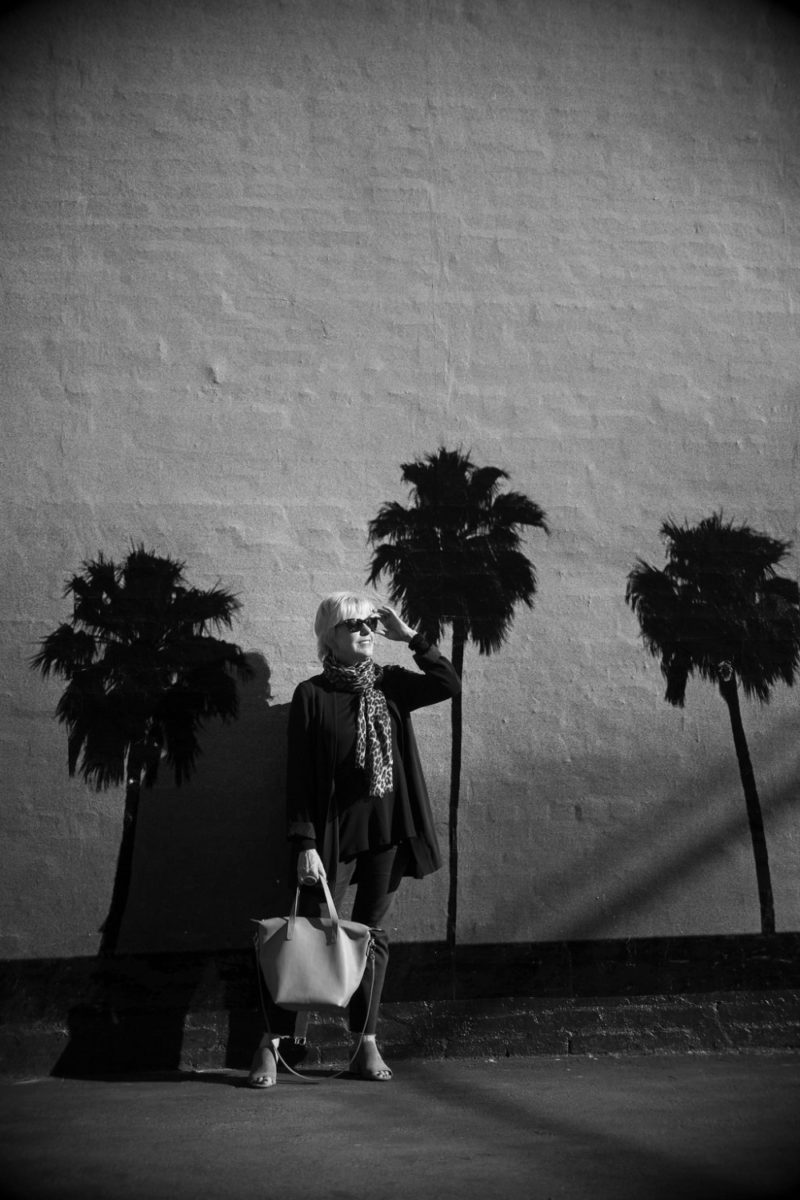 All photos by Tannaz Photography.
The Easy Black Jacket, LA-Style…

Affiliate links in posts may generate commissions for unefemme.net. See my complete disclosure policy here.