Lest you think we did nothing but drink wine on our visit to Napa Valley last month, mais non, we also tasted some lovely locally made artisanal chocolates! The first shop we found was on Main Street in Saint Helena, Woodhouse Chocolate.
With window displays like these, how could we not go in?
We selected a few assorted pieces and truffles from the dozen or so varieties in the case…
The shop definitely had a French vibe. Note the Lady and The Unicorn tapestry above…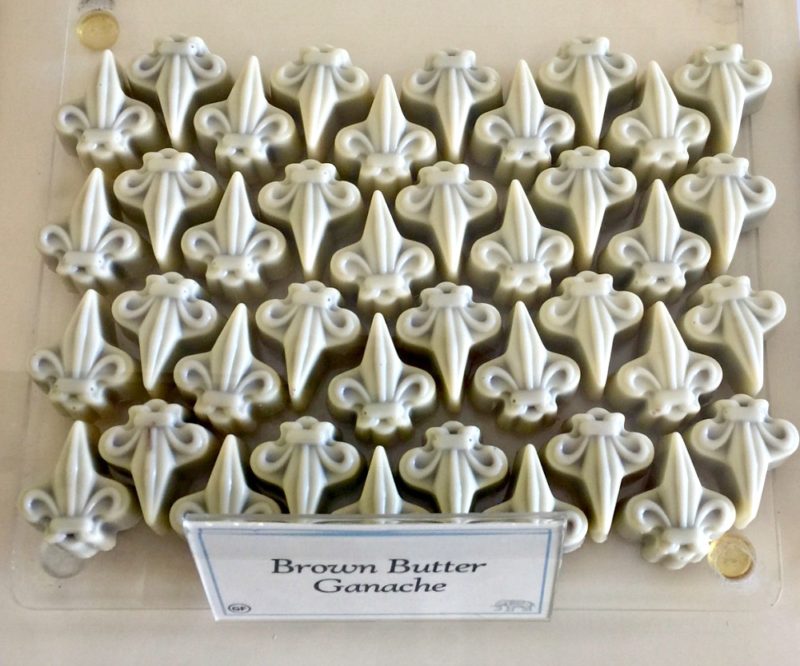 and these fleur-de-lis-shaped ganaches, which were a favorite of mine. I also picked up a bar of the 75% dark chocolate which was excellent.
Down the valley a few miles in Yountville, we stumbled across Kollar Chocolates, a small shop and show kitchen in the V Marketplace. The picture above is from their website; when we visited the shop was full of people and it was hard to get pictures. Chris Kollar is a self-taught chocolatier, and likes to create confections mixing sweet and savory tastes. A favorite of mine was the Fennel Pollen truffle. I also especially liked the Lavender truffle and one with chili.
The truffles and other confections are not only unique and delicious, but truly beautiful as well.
We also spent a little time in the town of Napa itself, wandering around the Oxbow Public Market. It's mostly a giant, upscale food court, but they also have a few stalls selling small home goods, packaged foods and cookery accoutrements.
I was especially fascinated with this shop which featured a huge assortment of "bitters" for cocktails and recipes as well as other spirits and mixers. I meant to swing back and pick up a few of those bitters to try, but we ran out of time.
Do you have a favorite chocolatier, or type of chocolate or truffle?
Affiliate links in posts may generate commissions for unefemme.net. See my complete disclosure policy here.