Some people just naturally gravitate toward color and love wearing lots of it. I've never been one of those people. But each Spring, with the return of sunshine, warmth and longer days, I find myself craving a bit more color in my wardrobe. In past years, I've tried adding some bright cardigans or tops to the mix, but find those pieces are the ones I ultimately wear the least. I'm not immune to Spring's siren call for Something Pretty either, but as with color, it works best for me in small doses. That means accessories: scarves, bags, jewelry and shoes.
Above: floral embroidered mules.
Below: floral print mules.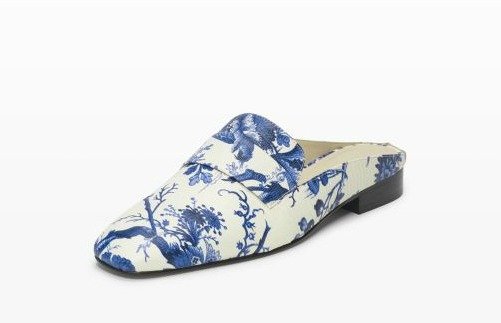 I've been absolutely giddy about some of the footwear coming out this Spring. Mules and slides are back in a big way, and I've been a fan since their last heyday in the 90's. They're great for our climate, and those times when it's not quite warm enough for sandals, or when a sandal feels too casual. (For shoes that don't flap when you walk, stick to styles with a higher vamp.) This season, it's all about embellishment…prints, bows and bling. But for those who don't like mules or slides, there are also some fun, pretty choices in loafers, and even sneakers.
Here's a floral print loafer, pretty, practical and reasonably priced.
For some styling inspiration, check out Lisa's "Polished Tomboy" look with patterned Gucci mules. She nails that whole hi-low insouciance thing.
I've focused mostly on low-heeled options here, just to show that pretty or even dressy doesn't have to mean a high heel. What shoe styles are inspiring you this season?
Pretty Shoes Are Back!

Affiliate links in posts may generate commissions for unefemme.net. See my complete disclosure policy here.