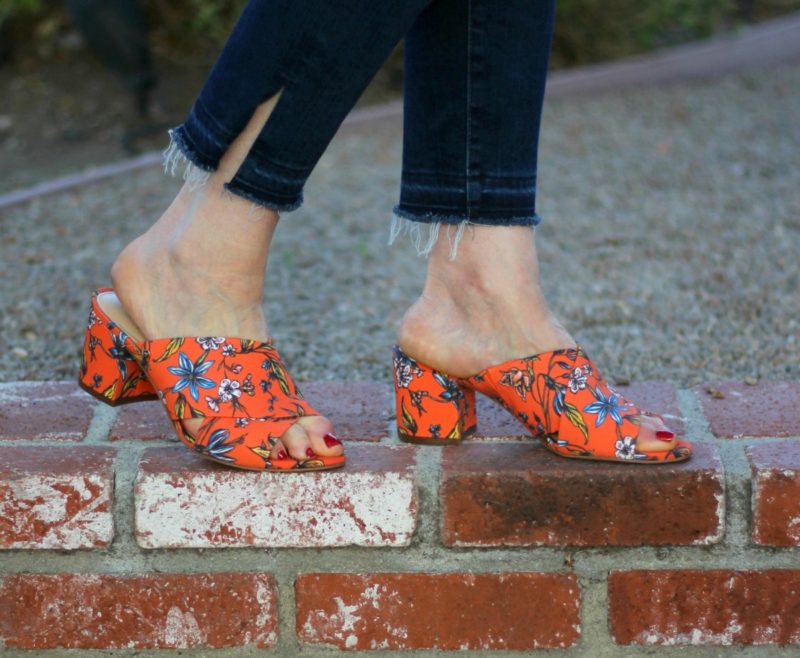 The last several weeks have been such a whirlwind of activity, so this weekend I've been giving myself the gift of some "down time." Playing a bit of catch-up today.
Shoes…
I ultimately couldn't resist these cute slides on sale. I just love the color and that print, and they're quite comfortable as well. I'm already planning outfits around them!
Friends…
Friday, I met up with Imogen Lamport (Inside Out Style) who's visiting from Australia. We hadn't seen each other in years and had a lovely time catching up.
Shows…
A few weeks ago, I finally broke down and signed up for Hulu just to be able to watch The Handmaid's Tale. It's wrenching at times to watch, but very, very good. I think they've done an excellent job adapting Margaret Atwood's landmark dystopian novel from the 1980's, not only updating some elements of the story, but also adding context and fleshing out some of the characters. Great performances by the entire cast, too. Though the story occurs in an alternate reality to our own, some aspects hit a little uncomfortably close to home.
For lighter fare, we've also watched the entire first season of Harlots, which Lisa has been recommending. It's entertaining, bawdy, feminist, soapy and engaging (even if a bit implausible and convenient at times). Le Monsieur enjoyed it too. As with Handmaid's Tale, a theme that runs through the show is women's agency and control of their own lives in a culture that limits their options. And the costumes are fabulous! We can't wait for the next season.
Hope you're enjoying the long weekend here in the States; if not, hope your week is off to a good start!
Affiliate links in posts may generate commissions for unefemme.net. See my complete disclosure policy here.