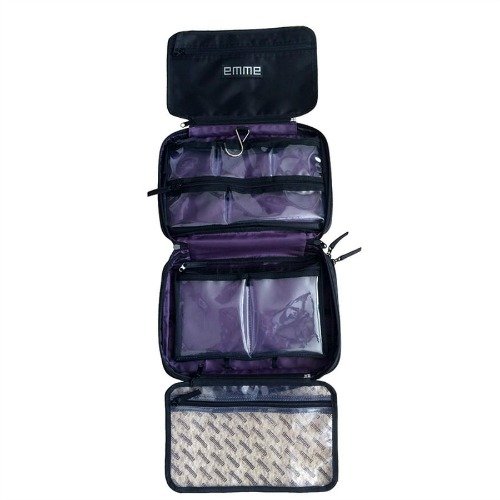 I am thrilled to be working with Emily Constantini who developed the EMME bag, and who has kindly offered to give one away to a lucky reader of une femme d'un certain âge!
As so often happens with great new products, Emily developed the EMME bag because she traveled frequently and couldn't find a high quality toiletries bag that satisfied her need for organization and efficiency. I've been using this bag for our last few trips, and absolutely love it. Everything about this bag is well-designed and of very high quality. And that zip-off clear pouch for your TSA liquids…pure genius!!
If you'd like to be entered to win the EMME bag, you need to enter using the widget below between now and midnight on December 10. The winner will be chosen at random, and I'll announce the winner on Tuesday, December 15. I'm keeping it simple: just enter using the widget and comment here with "I'm in!" If this is your first time commenting, your comment goes into a moderation queue, so please don't be concerned if it doesn't show up right away. I'll moderate comments throughout the day as I'm able. (Please use a valid email address; I'll need it to contact the winner and it will not be made public.)
a Rafflecopter giveaway
Affiliate links in this post may generate commissions for unefemme.net. See complete disclosure policy here.
Affiliate links in posts may generate commissions for unefemme.net. See my complete disclosure policy here.