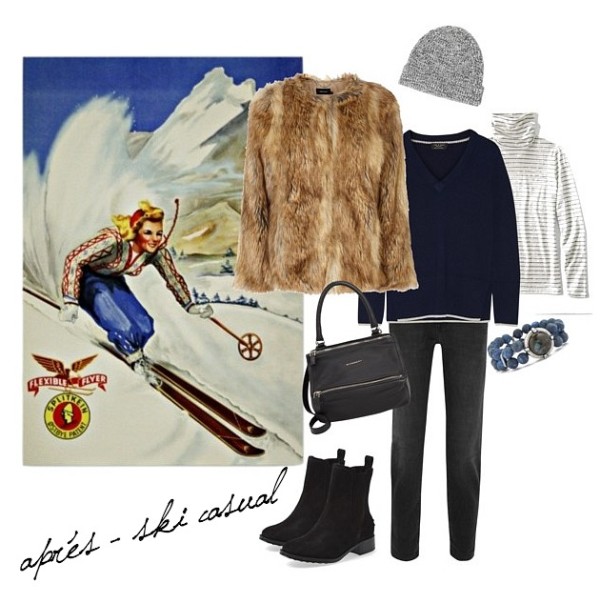 faux fur jacket | beanie | sweater | turtleneck | bag | jeans | bracelet | boots
Well yes, I have Ski Trip on the brain at this point. I used to stress out about what to pack for a somewhat posh ski resort, but no more. Sure, there's the Ostentatious Display contingent, but there's no need to feel intimidated by those folks; they pull their ski boots on one at a time too. 🙂 As with everything else these days, the vibe off the slopes is mostly casual.
Yesterday Susan of High Heels In The Wilderness penned this great post about happiness and acknowledging those negative feelings that sometimes trip us up. This was timely for me, as even though I very much enjoy and look forward to travel, I find that right before we leave for a trip, along with the excitement I also experience strong waves of sadness or anxiety. I think some of it is just feeling overwhelmed by all of the preparations, and some guilt about leaving jeune homme and knowing how much I'll miss him and our dogs. But just allowing those feelings to surface and acknowledging them releases the "charge" and they don't overpower me.
I'll share my ski trip packing list on Monday.
If you enjoyed my post about Crisp White Shirt alternatives (and it seems that many of you also struggle with this one…so glad to know I'm not alone!), next week I'll have the second installment of "when must-have's are no-go's" featuring another "classic" item that doesn't work for everyone.
And, I'll have a fun giveaway launching in a few days, so stay tuned…
Bon weekend!
Affiliate links in this post may generate commissions for unefemme.net. See complete disclosure policy here.
Affiliate links in posts may generate commissions for unefemme.net. See my complete disclosure policy here.