Even with our freeway mishap on the drive up to Napa Valley, we managed to have a lovely and (mostly) relaxing birthday weekend. Here's my recap; be advised it's a long and photo-heavy post.
Where We Stayed
The Harvest Inn in Saint Helena had good reviews and had also been recommended by my friend Adrienne who writes The Rich Life In Wine Country. We booked a Vineyard View room, and the view did not disappoint.
The room itself was spacious, with a vaulted ceiling, fireplace and outside patio deck.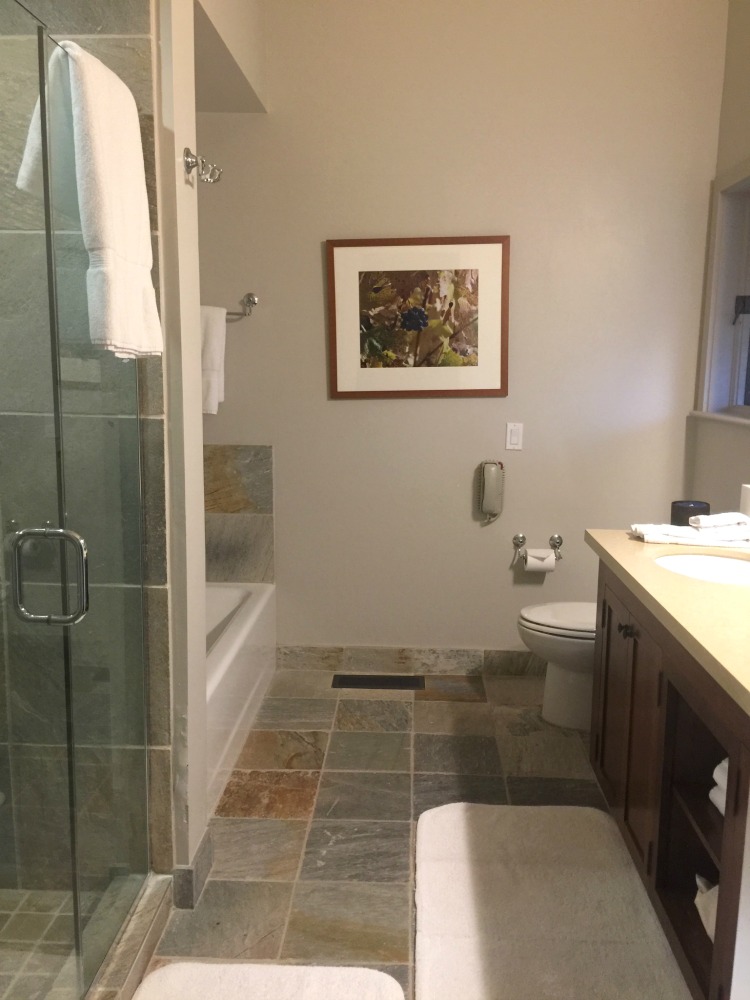 The bathroom was quite large with a separate tub and shower, two sinks, and plenty of counter and storage space. The stone tiles were a nice touch. Plenty of large, fluffy towels, too.
When we checked in there was a nice bottle of wine waiting for us, and some complimentary waters and juice. Our stay included a daily breakfast buffet, which featured an array of pastries and breads, fruit, yogurt, cereals, sausages or bacon, oatmeal, scrambled eggs, and usually one other egg dish such a Quiche or frittata.
The grounds were beautiful and seemed to be well-maintained. Our room was pleasant and comfortable. We had plenty of closet and drawer space. There were only a few minor annoyances. The mattress was too soft (or may have needed to be replaced). I suspect the heating system was a bit older, and was noisy when turning on and running. The one night we decided to light a fire in our fireplace, the wind picked up and blew smoke back down the chimney and into our room which set off the alarm (the staff was very responsive and helpful, though).
Among the other amenities, they provide house car service to nearby restaurants, wineries and to downtown Saint Helena. We used this a few times. I would stay there again, though I'd check the mattress first.
Where We Dined
Harvest Table. This is Charlie Palmer's restaurant at The Harvest Inn. Everyone we'd spoken with told us "get the Truffle Chicken!" (whole chicken, for two, served over a seasonal risotto) and it did not disappoint. We enjoyed some lovely wines by the glass, including a Stony Hill Vineyard Riesling which paired beautifully with the food, but would also be a lovely summer sipping wine.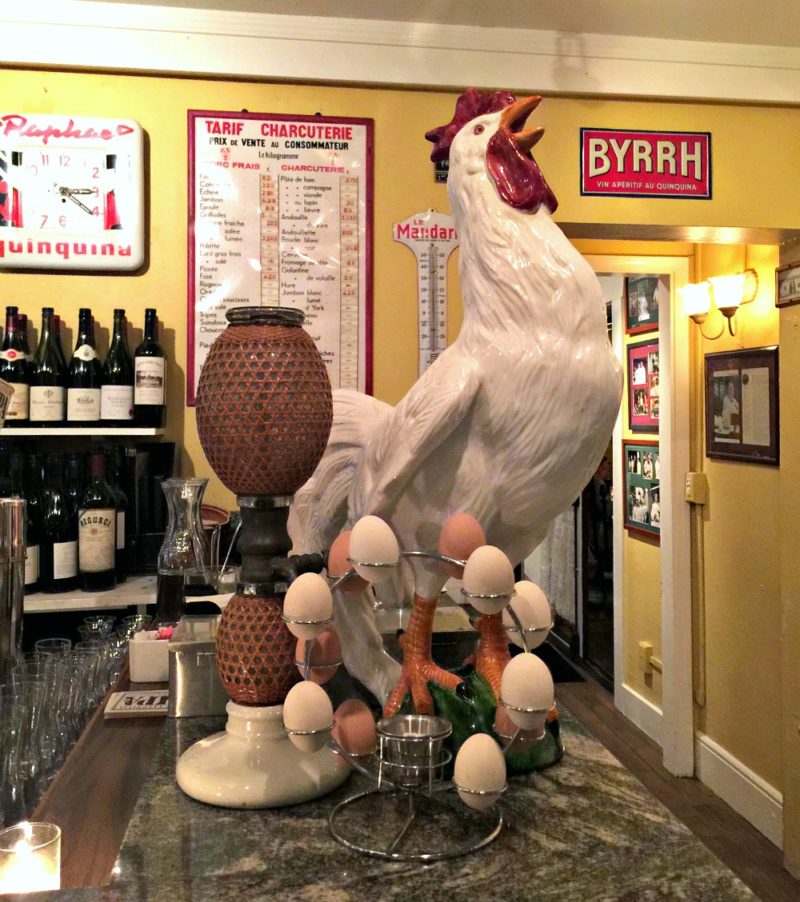 Bistro Jeanty. (pictured above) It's a smallish place, and bustling, but the French fare is excellent. We'd had a late lunch here when we visited the area in 2010, and have been wanting to come back for dinner ever since. I'd been craving moules frites so had that for my main course, and it was plenty. The preparation was lovely: the moules were small and fresh, and the sauce was light (though was hard to get to initially at the bottom of the deep serving dish). The wines recommended by the waiter were excellent, though I didn't write them down and don't remember what we had after our initial glass of champagne. This place books up for dinner, so be sure and reserve in advance.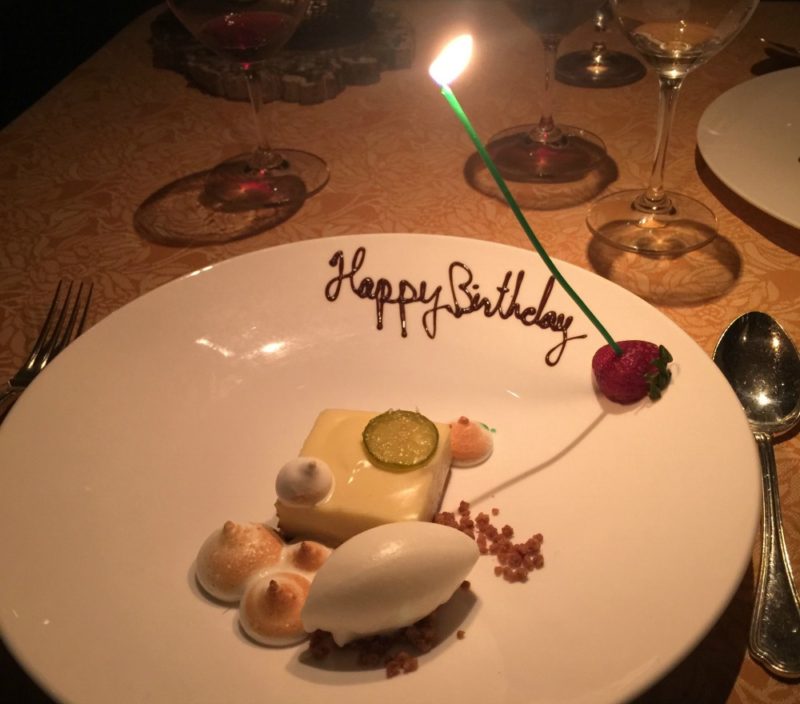 Auberge du Soleil.  Le monsieur made reservations here for my birthday dinner, and it was really a treat. The food and service were outstanding. I loved that they pour half-glasses of wine, so we were able to try a couple of different wines during the meal. (We enjoy our wine, but we're lightweights.)  My main course was a Moroccan-seasoned lamb, and I ate every bite. Would have licked the plate too. Above was my dessert, a Key Lime tart that was delicious and SO light.
Our last night in Saint Helena, we met Adrienne and Bill for dinner at Archetype. It's a more casual place, and the food was quite good. I enjoyed the artichoke soup for my first course, which arrived in a bowl bigger than my head. I was glad I'd stuck with a kale salad for my second course, and couldn't even finish that. Le monsieur very much enjoyed the fried-chicken-and-waffle special. No one had room for dessert. We had such a lovely time catching up with Adrienne and Bill, and our evening whooshed by all too quickly.
Market Saint Helena. Our first full day in town, we stopped here for lunch, and loved it. I had a chopped winter vegetable salad with grilled chicken, two enthusiastic thumbs up. We sat at the gorgeous wooden bar, and got a few wine and winery recommendations from the bartender.
Rutherford Grill. We'd tried to get in here for lunch on our second day, but arrived at 2pm at the tail end of the lunch rush, and were told the wait would be 90 minutes, so we moved on. The next day, we happened to be tasting at BV next door, and decided to pop over and see how bad the wait looked. We were told 20-30 minutes, and were seated in 15. This restaurant is owned by the same group that runs Houston's (which it reminded me of). I had a Caesar salad with popcorn shrimp, quite tasty.
Where We Wined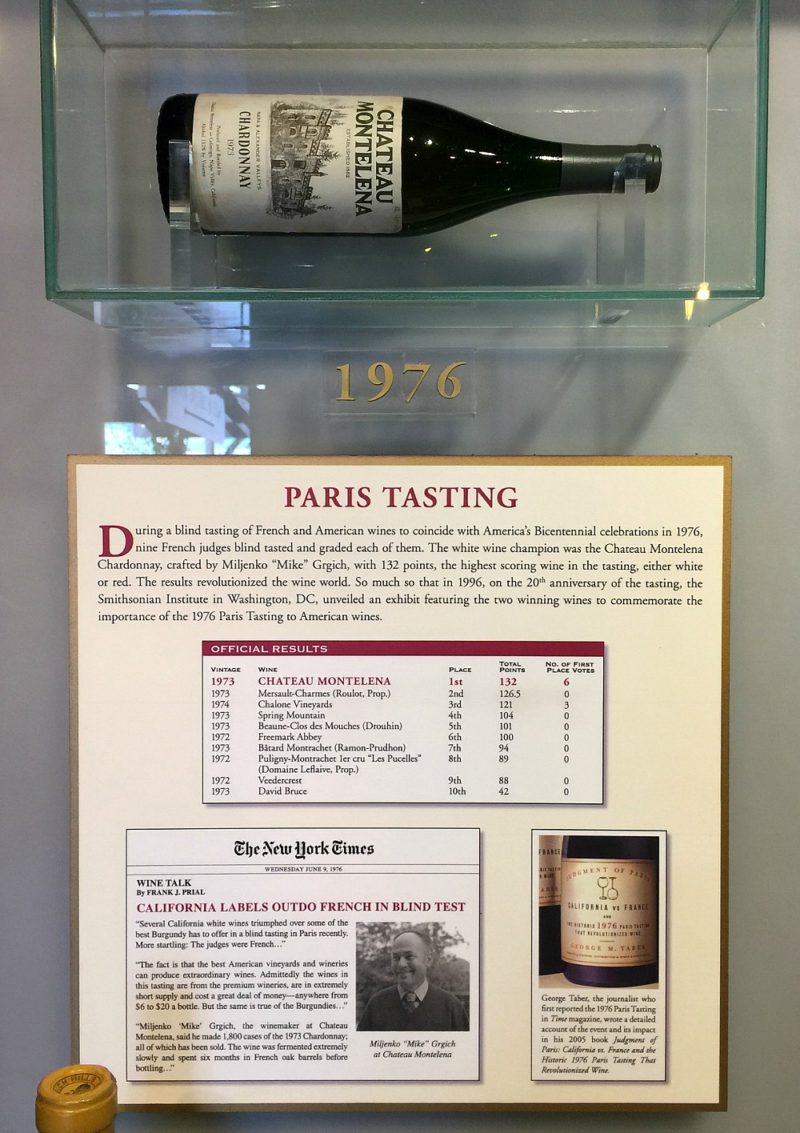 Grgich Hills Estate. If you've seen the movie "Bottle Shock," you'll remember that in 1976 in a blind tasting, French judges gave Chateau Montelena California chardonnay the highest score. The winemaker, Miljenko "Mike" Grgich, went on to found this winery 40 years ago. Grgich Hills is known for their excellent white wines, but also makes some not-to-be-missed reds, including a killer Zinfandel. This winery is popular and the tasting room does fill up, so recommend going before noon or making a reservation.
Cliff Lede Vineyards. If you're looking for a fun, un-stuffy wine tasting experience, be sure to visit Cliff Lede in the Stag's Leap area. The tasting room decor features Rock and Roll memorabilia, and the vineyard plots are named for hit songs. One of the wines includes a note on the back label that it "goes to eleven." And the wines are pretty darn good too. We brought home a few bottles.
Beaulieu Vineyard. One of the Old Venerables of Napa Valley, it's still got chops. We chose to taste some of the Reserves and limited editions, and selected a couple of bottles to bring home that are only available through the winery.
Caymus Vineyard. This was the priciest and (IMO) least impressive flight of wines we tasted. The tasting fee included a souvenir wine glass. They do have some outstanding reds, but our tasting flight only included one or two of the "good" ones. However we had a lovely time chatting about wine, food and travel with the young woman who was pouring our tastes.
A few notes about wine tasting:
Most wineries charge for tastings, usually a "flight" of 5 or 6 wines, starting with the lightest and working toward the most intense. Some wineries offer different flights at different prices, so it helps to have some idea of what kinds of wines you're looking to try.
We almost always split one flight between the two of us (again, we're lightweights). Most tasting rooms will accommodate this.
Usually if you make a minimum wine purchase, your tasting fee will be waived.
Many wineries now offer "wine club" subscriptions, where you purchase and are shipped a few bottles per year at discounted rates. Often these will be selections that aren't available anywhere else, so if you really like a particular winery's selections, it might be worth signing up for.
Don't feel you have to drink all that you are poured. If you don't care for the wine, or if you just don't want to consume that much, pour out what's left and move on to the next.
And on our way out of town, we stopped off at Rubissow, a small family run winery that we'd become acquainted with on our first visit to Napa Valley in 2010. Located in the Mt. Veeder area, in the hills at the end of a mile-long gravel road, this winery has no commercial facilities or tasting room. Because we've been Rubissow wine club members for several years, we were able to arrange a private visit and tasting which was held in the living room of the family's century-old farmhouse that sits on a ridge overlooking the vineyards. Barbara, whose official title is Wine Club and Merriment Director had set out a lovely nosh and some limited edition reds for us to try. It was a perfect finale for a splendid weekend.
View from the farmhouse porch. There's a lot of history behind this winery and the family, but this post is already reaching epic proportions, so I'll share in a dedicated post in the near future.
Do you have a favorite winery or wine region?
Disclaimer: no compensation or consideration was received by any of the establishments mentioned. All opinions are my own.
Affiliate links in posts may generate commissions for unefemme.net. See my complete disclosure policy here.