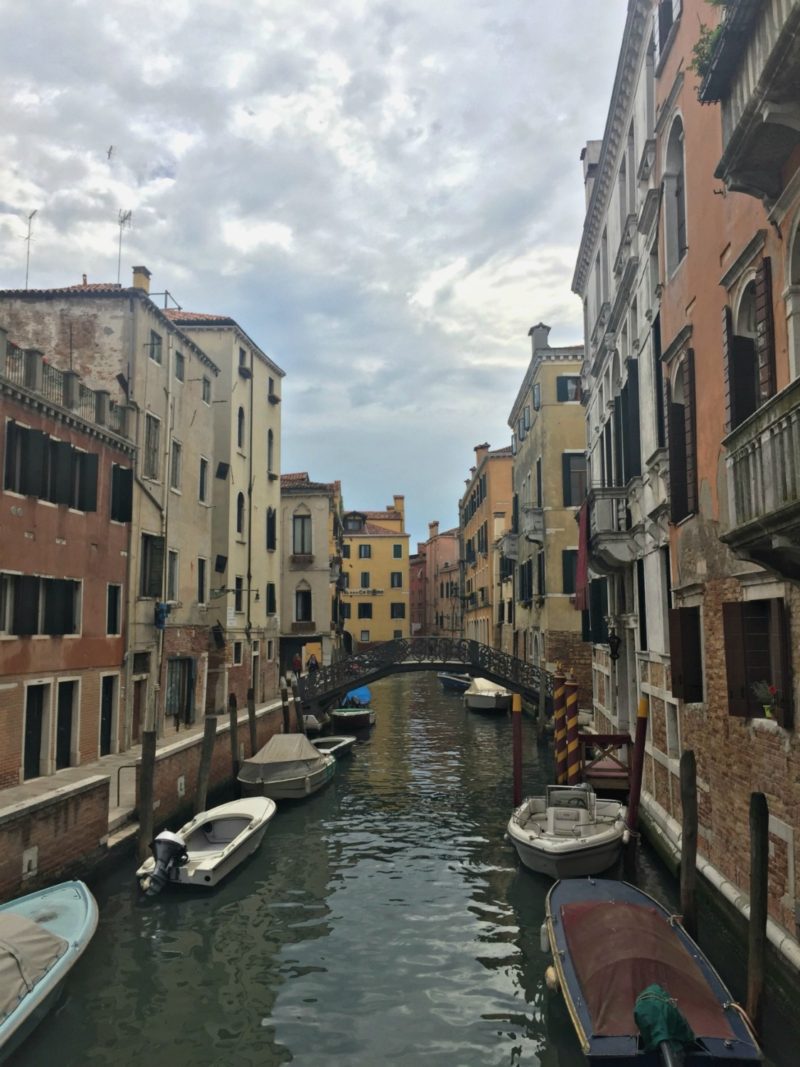 Le Monsieur and I have joked that it can be tough to find a truly bad meal in Paris, and tough to take a bad photo in Venice. I've probably snapped hundreds of pictures here just in the last 4 days. I'll share some of my favorites so far, and a few more once we're home (and have faster internet).
The canals are lovely and romantic of course, but they are also working waterways and how many of the locals get around and ferry goods such as food and construction materials from one place to another.
The little squares or "campos" tucked away on side streets are often a bit quieter and a good place to find a meal. That chimney in the upper left corner above is a very typical Venetian design, created to reduce the risk of hot embers escaping and starting fires.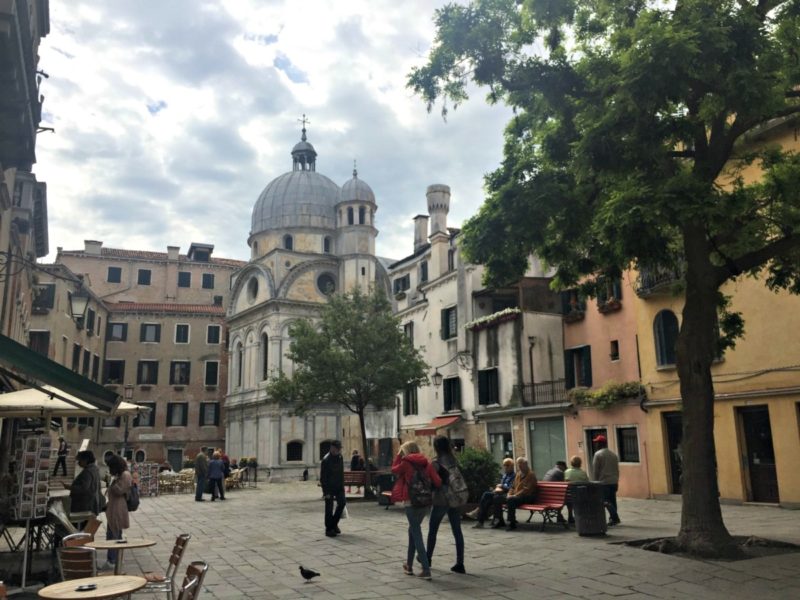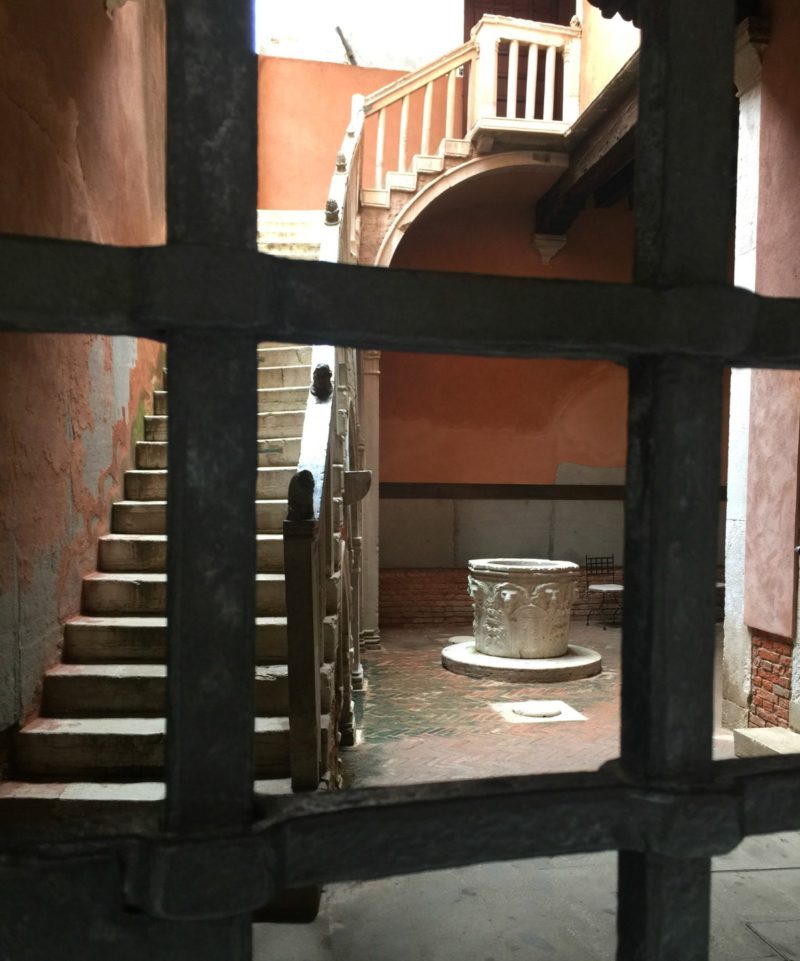 This family seems to have a private cistern (fresh water source, collected rainwater) in the courtyard.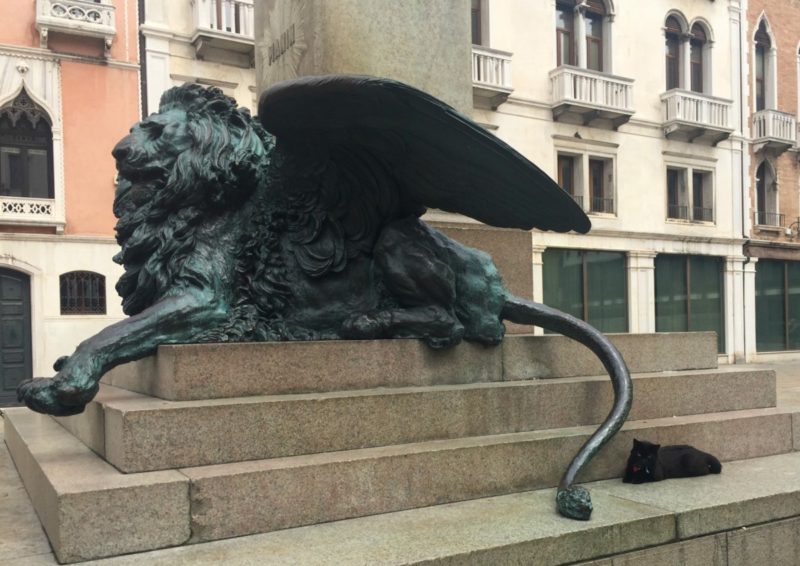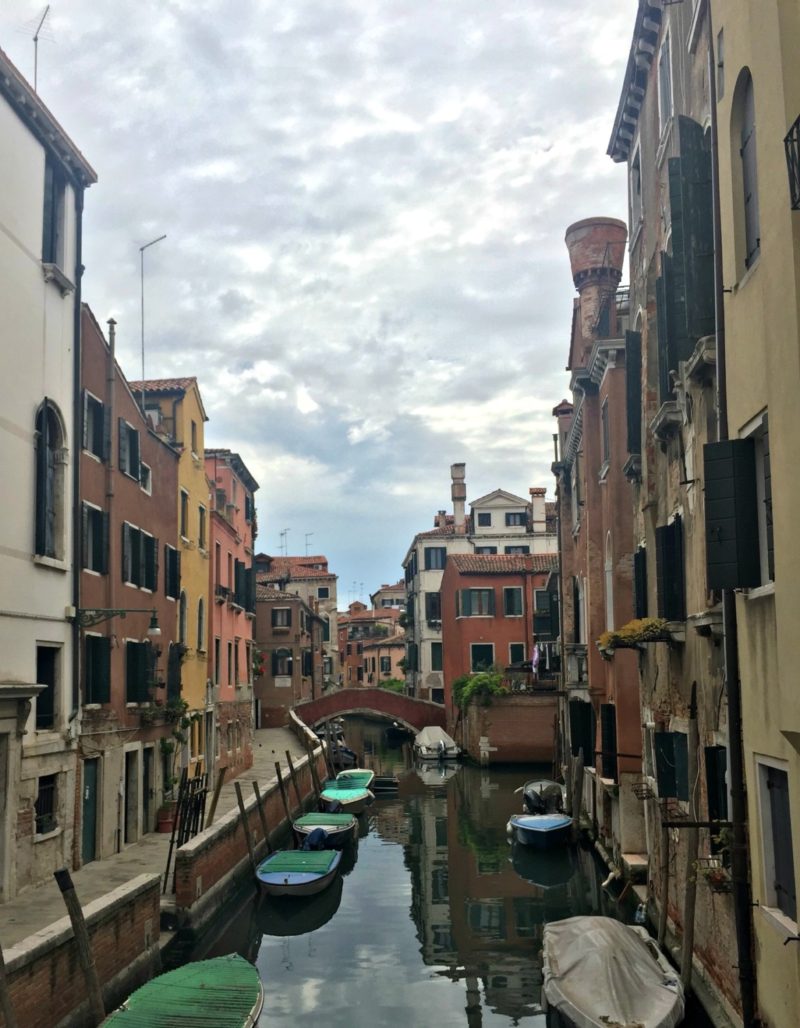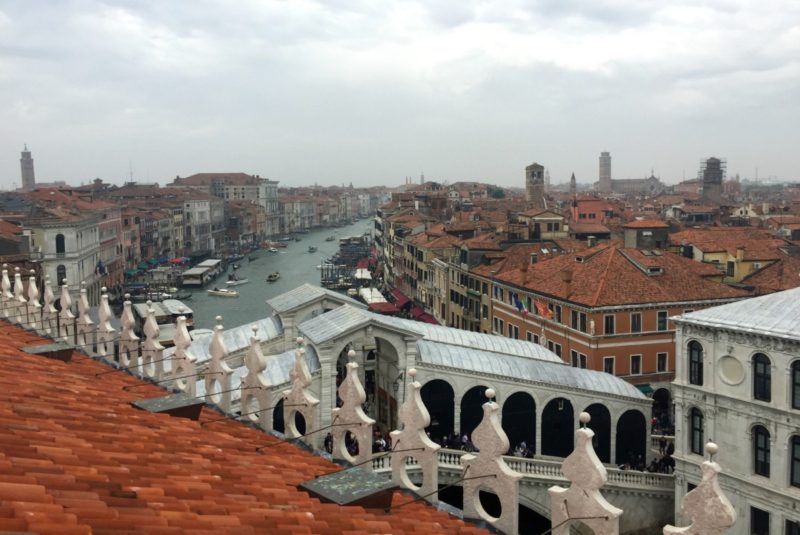 We discovered there's a terrace at the top of the Fondaco dei Tedeschi department store (gorgeous building inside, used to be the post office). You can visit for free during store hours, but they only allow a few people up at a time, in 10-minute intervals. The views are wonderful. Above, the Rialto bridge in the foreground, the Grand Canal behind.
The best way to see Venice though, is from the water. The vaporettos (water busses) go everywhere, and you can get day or multi-day passes for unlimited use. We also took the vaporetto out to Murano (known for glass blowing and glass products) and Burano, famous for its brightly colored houses, and lace making.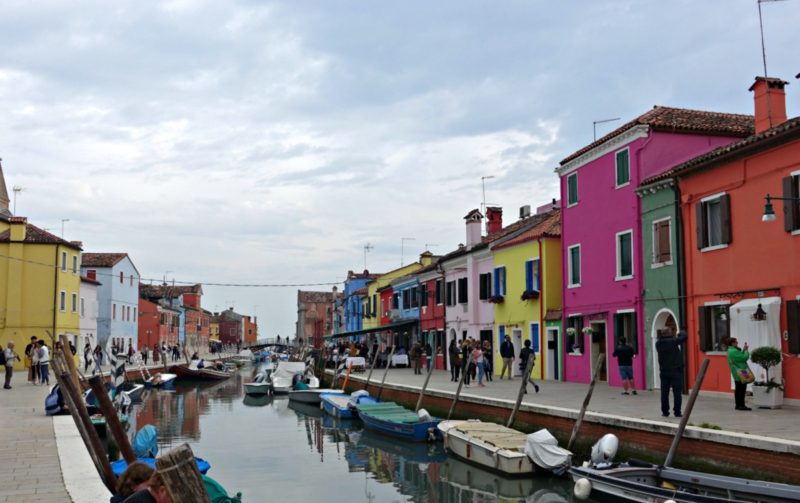 We'd heard that much of both the glass sold in Murano and lace in Burano is actually produced elsewhere more cheaply now, though discerning shoppers can still find the locally made products.
Even better than a noisy vaporetto though, is a gondola. On our first visit to Venice we'd taken a ride in one of the commercial gondolas; this time we opted for a rowing lesson from Row Venice. By any measure, this has been the highlight of our visit to Venice!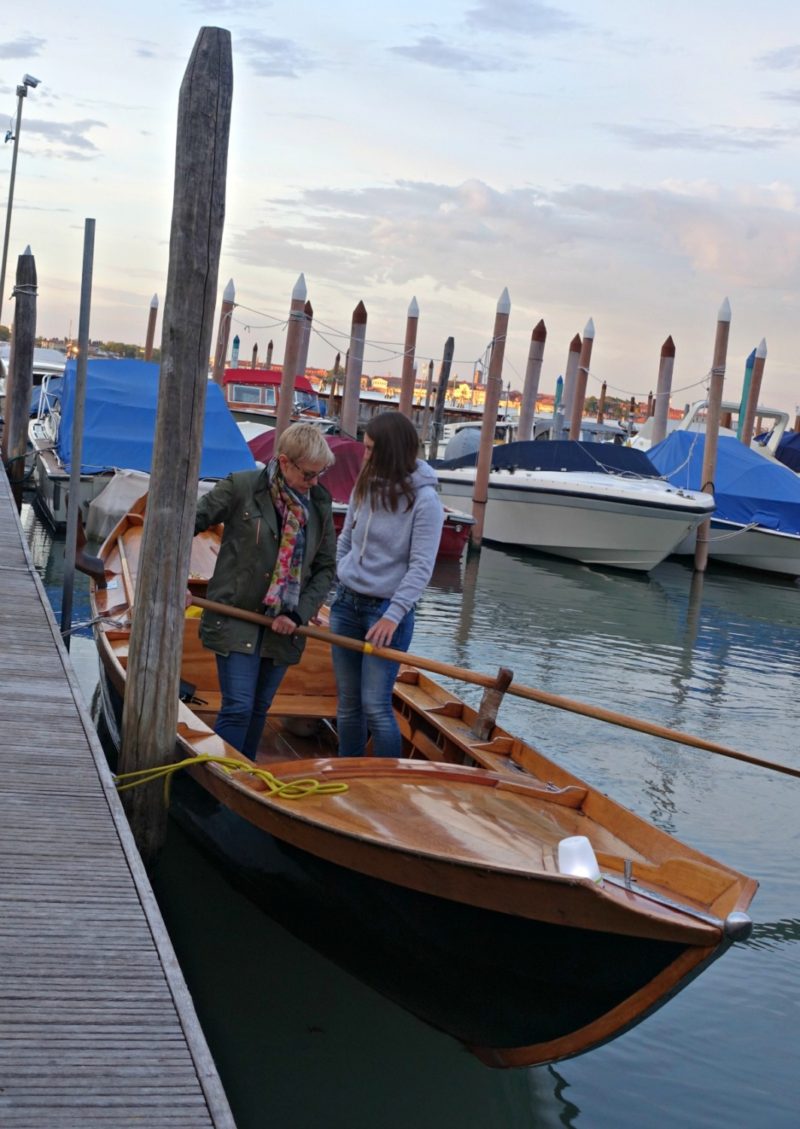 Row Venice is a non-profit organization of
passionate (and almost all female) vogatori, Venetian by birth and by choice, dedicated to the preservation and promotion of traditional Venetian cultura acquea, the water culture.
After a short lesson on rowing technique and moving about safely in the shrimp-tail batellina, we set off. Le Monsieur and I took turns rowing in the front, while our instructor Elena did the more difficult part of rowing and steering from the back position. The rowing itself is actually fairly easy to do (though probably more difficult to do well), and requires a lot less strength and exertion than one would imagine.
We moved up a small canal to get the hang of it, and then turned into the Grand Canal! It's much quieter and less congested in the evenings so we never felt apprehensive with the other canal traffic.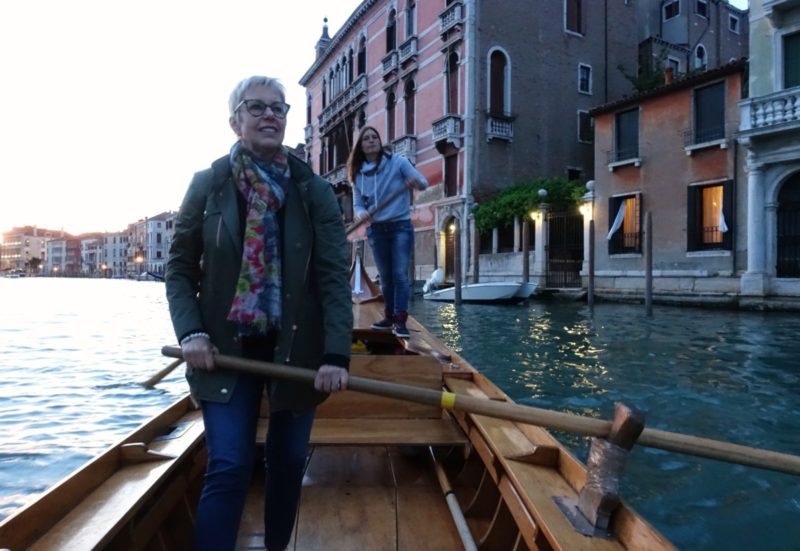 It was such a joy to be out on the water in a quiet boat, and the rowing motion is quite rhythmic and relaxing. And the views…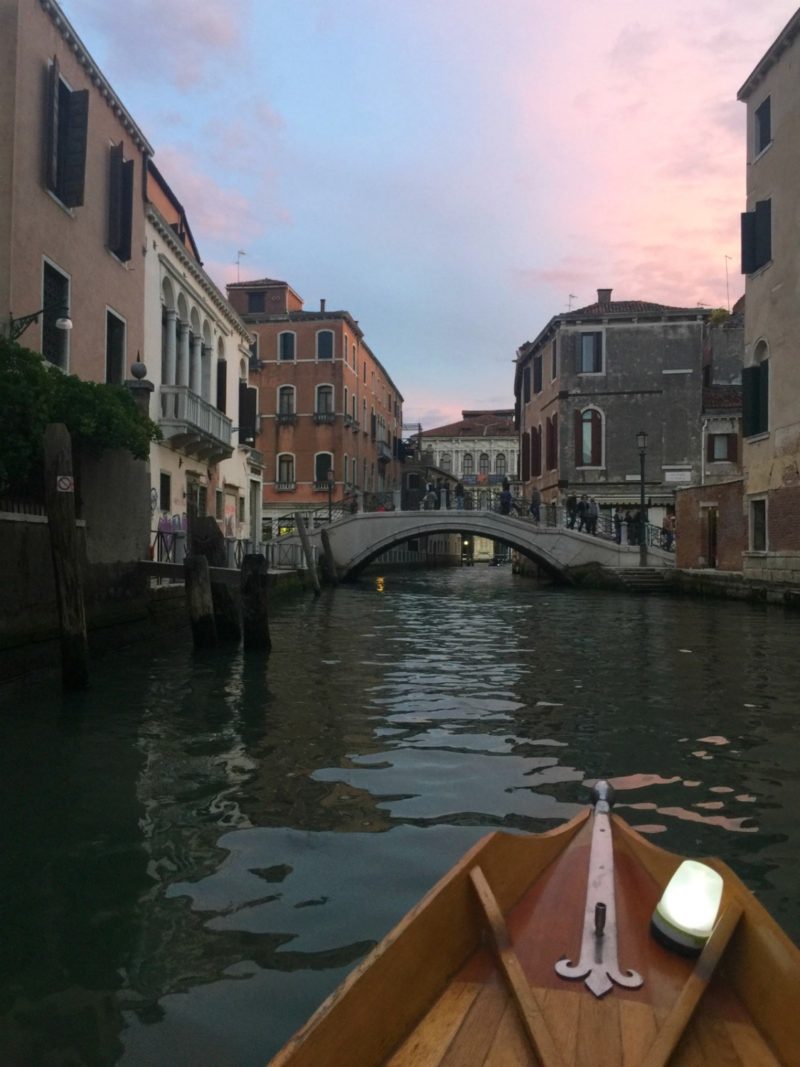 It was so lovely to be out at dusk, as the sky darkened and the lights came on.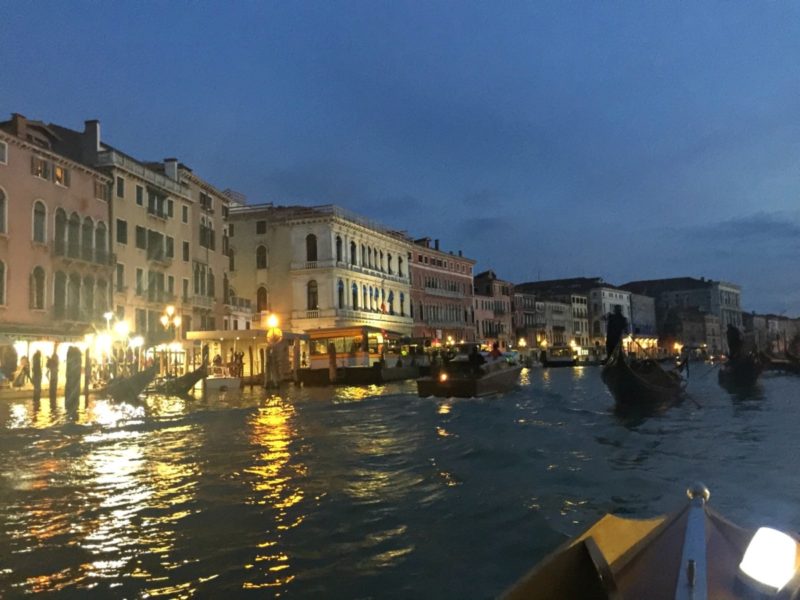 I have to say, if you only have time to schedule one activity in Venice, I'd do this one. It was a truly special and unforgettable experience!
I have much more to share about this Venice visit, including some fantastic meals and accommodations. But it's our last day, and we still have some getting lost to do…
What activity from a favorite vacation or destination would you consider "not-to-be-missed?"
Affiliate links in posts may generate commissions for unefemme.net. See my complete disclosure policy here.