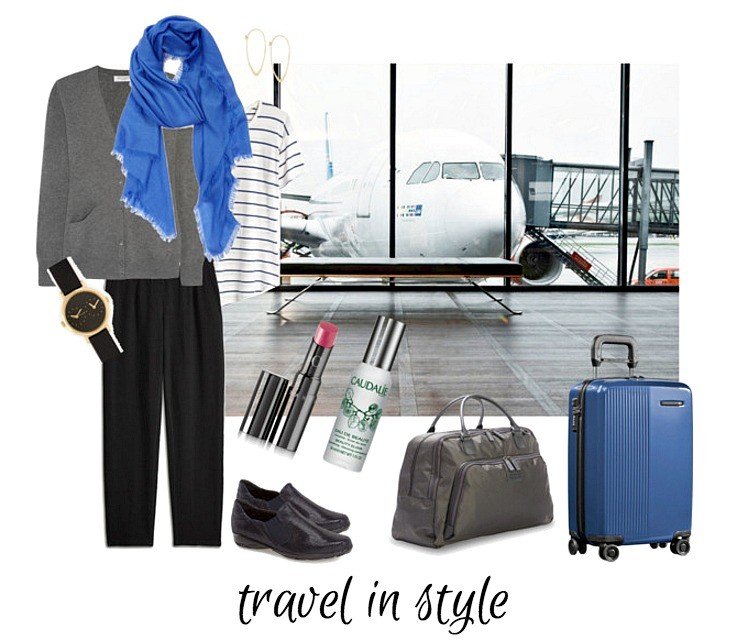 It seems I can't open a social media platform or style website these days without half a dozen "Celebrity Airport Style!" features popping up. I can understand the fascination, but some of the examples are just laughable. High heels, skin-tight pants, midriff-baring tops, mini dresses with thigh-high boots, wraps big and bulky enough to be horse blankets, huge and heavy designer bags…of course we don't see the celeb's personal assistant(s) actually toting the majority of luggage, or the hustling of celebrities through the "elite" security screening to private waiting rooms. We mere mortals are left shlepping our own stuff, standing in (long) lines, possibly removing shoes, emptying pockets and taking electronics out of our carry-ons to go through security, and having to deal with different logistical requirements.
Long gone are the days when air travel was a special and even luxurious experience that people dressed up for. But that doesn't mean you have to completely sacrifice style for comfort and functionality. With a few well-chosen pieces and some planning, you can travel comfortably* and arrive at your destination looking polished and put-together. Shown above:
earrings | scarf | tee | cardigan | watch | pants | shoes | tote | suitcase | spritz
Some people bring a change of clothes or even pajamas for long flights, changing out of and back into street clothes at the beginning and end of the flight. That's one way, but I've never been entirely comfortable with doing a complete outfit change in an airplane lavatory. Still, if you are and this works for you, don't let me dissuade you. My personal preference is to wear clothes that are travel-friendly, and wear or bring along some extra layers as well as keeping a "just in case of spills" backup (usually another top) in an easy-to-access place in my luggage. If you're traveling across multiple time zones, you may arrive too early to check into your hotel, so you'll want your travel clothes to be spiffy enough to do some sightseeing, and pop in somewhere for breakfast or lunch.
Over the years of traveling, I've developed some travel outfit strategies that can be modified to work with whatever particular climate and flight conditions I'm anticipating.
Layers, layers, layers. Temperatures in airplane cabins can be notoriously unpredictable, so I usually plan on at least three layers of tops that can be added or removed as needed. I find knits most comfortable and practical for travel, and usually start with a silk jersey camisole as a base layer, then a linen tee, and a cashmere cardigan, plus a cashmere wrap or large scarf.
Breathing room. OK, so the change in pressure combined with the relative immobility of a long flight can make me a little (ahem) bloated. I've learned to avoid anything too constricting, but that doesn't have to mean wearing sweatpants or baggy clothes. I tend to stick with darker pants, and again go for knits, but in styles that look polished. I'm a big fan of the Eileen Fisher stretch crepe pants, as they look good, adjust to a range of temperatures, and can be hand-washed and hung to dry. In cool seasons, a ponte knit pant is also a good choice. Look for fabrics that include a good percentage of plant-based fibers like viscose or rayon, as they'll have more breathability. I recently tried on these "Mulberry" pants from Kit + Ace and was very impressed with the look, fit, fabric, comfort and especially the pockets.
Footwear. While sneakers might be the obvious choice for comfort, if you're asked to remove them going through security, putting them back on and lacing up if there's no place to sit can be a pain. The slip-on sneakers that have been popular the last few seasons are another option. I tend to travel in a pair of easy-off-and-on ankle boots, which also protect my feet in crowds. (When a family jockeying for a spot in a taxi line ran over my foot with a wheeled luggage cart that probably weighed over 200 lbs, I was very glad I had mine on, even though it was a warm day!) A pair of walking loafers is another good choice if ankle boots are too heavy or warm. I can't fathom people who wear flip-flops, sandals or shoes without socks to travel…who wants to have to walk barefoot through airport security?? Ick. I also find that the floor of most airplane cabins can get very cold and am glad for a pair of socks. And speaking of socks, compression socks are a wise choice for long flights. If you don't want to wear them at the airport, just be sure to put them on once you've boarded but before takeoff.
Keep it simple. For travel wardrobes in general as well as your in-flight outfits, simple styles in neutral colors will look more polished. I use scarves for color and pattern, though a tee in a favorite color or pattern can work too. I tend to stick to closer-fitting styles, without extraneous details like fringe or flapping sleeves. No, you probably won't attract any paparazzi, but who wants that after a long flight anyway? 😉
Looking good on arrival. As much as I try to guzzle water in transit, long flights can leave me looking a bit haggard, especially if I haven't slept well. What helps: a spritz of invigorating face mist toward the end of the flight, a dab of beauty balm, and re-application of a very hydrating lipstick with a little color to brighten my face. (More tips on bringing liquids and cosmetics on board here.)
*OK, "relatively" comfortably. Some factors, like leg room and seat-mates may be out of our control.
What are your airport style preferences and strategies?
Depart and Arrive With Style…

This post contains affiliate links which may generate commissions for unefemme.net. See complete disclosure policy here.
Affiliate links in posts may generate commissions for unefemme.net. See my complete disclosure policy here.