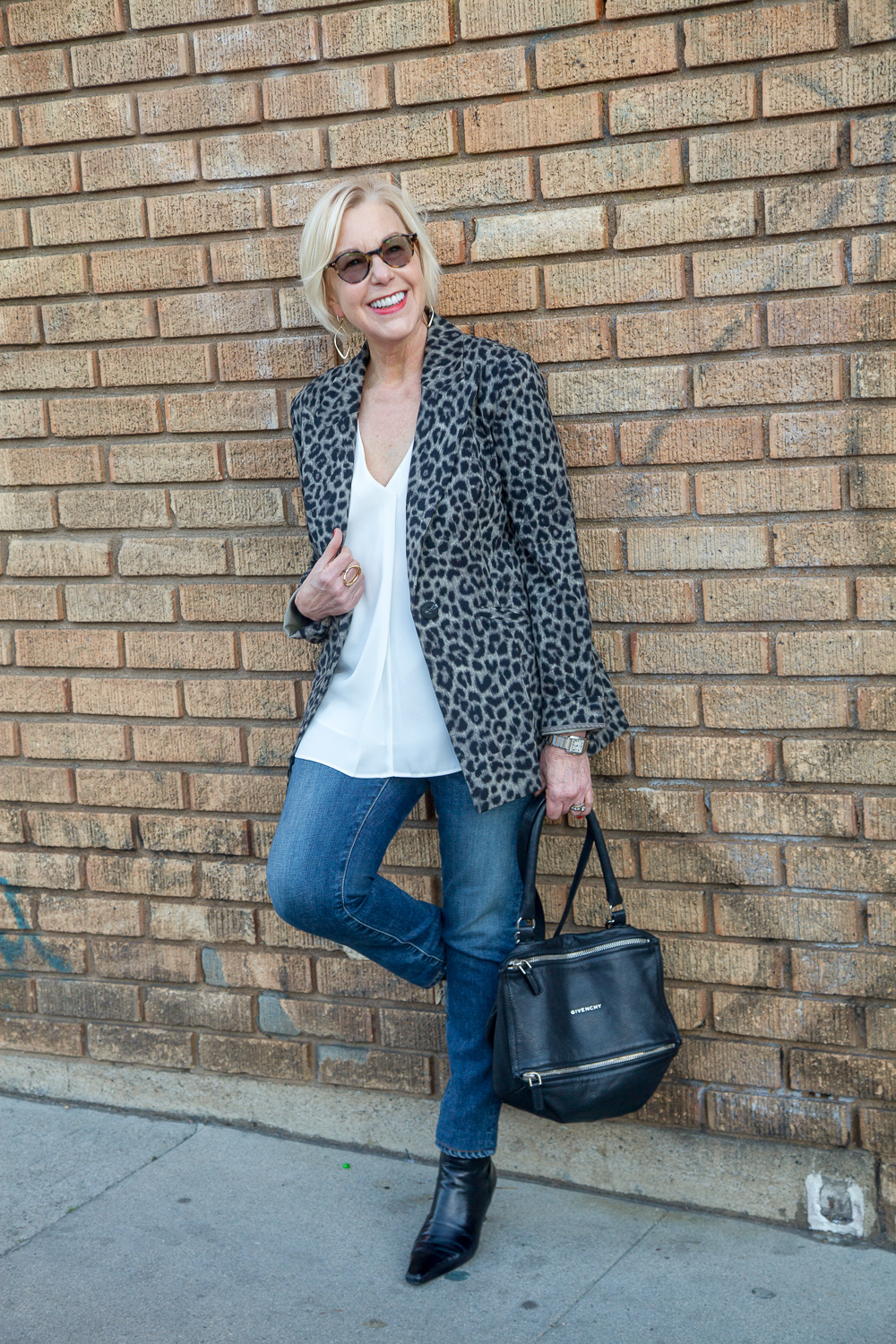 Jeans? ✅ Jacket? ✅ Leopard print? ✅
Everything seems to be in order here. Carry on. 😉 I thought with Valentine's Day coming up, I'd put together a casual date night look (because casual is how we roll these days).
Plus options: Jacket | Top | Jeans
Truth be told, le Monsieur and I usually don't make a fuss about Valentine's Day. We don't exchange gifts, or try to go out anywhere, as restaurants are usually overcrowded. We'll often wait until the following weekend to enjoy a nice dinner out, and a more relaxed time together. We're both quite happy with this arrangement!
A Lucky Find
The leopard jacket (gifted) is from the cabi Fall 2017 collection. When cabi invited me to their Spring fashion show, that included the opportunity to shop pieces from prior collections (and a gift card to use toward purchases). I didn't have a lot of time to peruse the inventory, but did a quick pass through the racks and selected this jacket without trying it on. As it turned out, luck was on my side…it fit perfectly (except for the long sleeves which I'll roll or push up anyway). And it's a beautiful ponte knit, so comfortable to wear and perfect for our climate. Even le Monsieur loves it, and he's not usually a fan of leopard print!
I was able to find a few of these jackets on ebay, and if you have a favorite second-hand source, you may want to try there, or ask a cabi stylist. I've also found a couple of pieces from the current Spring collection that are right in my wheelhouse; you'll be seeing those soon.
Details…
I've had this Givenchy bag for five or six years. I love it even more now that it's really soft and slouchy. Yes, it's that ring again…I wear it often!
The boots (similar) are 15 years old or so, and I've (sadly) decided it's time to pass them along, as they're no longer comfortable. They're from Stuart Weitzman, and at the time I purchased them, were the most expensive footwear I'd ever bought (aside from ski boots). But they've earned their keep and more over the years! And they lasted longer than the ski boots did…
I'm on the lookout for something similar but more comfortable to replace them. These are on my short list (and on sale!)
What's the longest you've kept (and worn) any wardrobe item?
Images: Tannaz Telikany Photography.
Affiliate links in posts may generate commissions for unefemme.net. See my complete disclosure policy here.