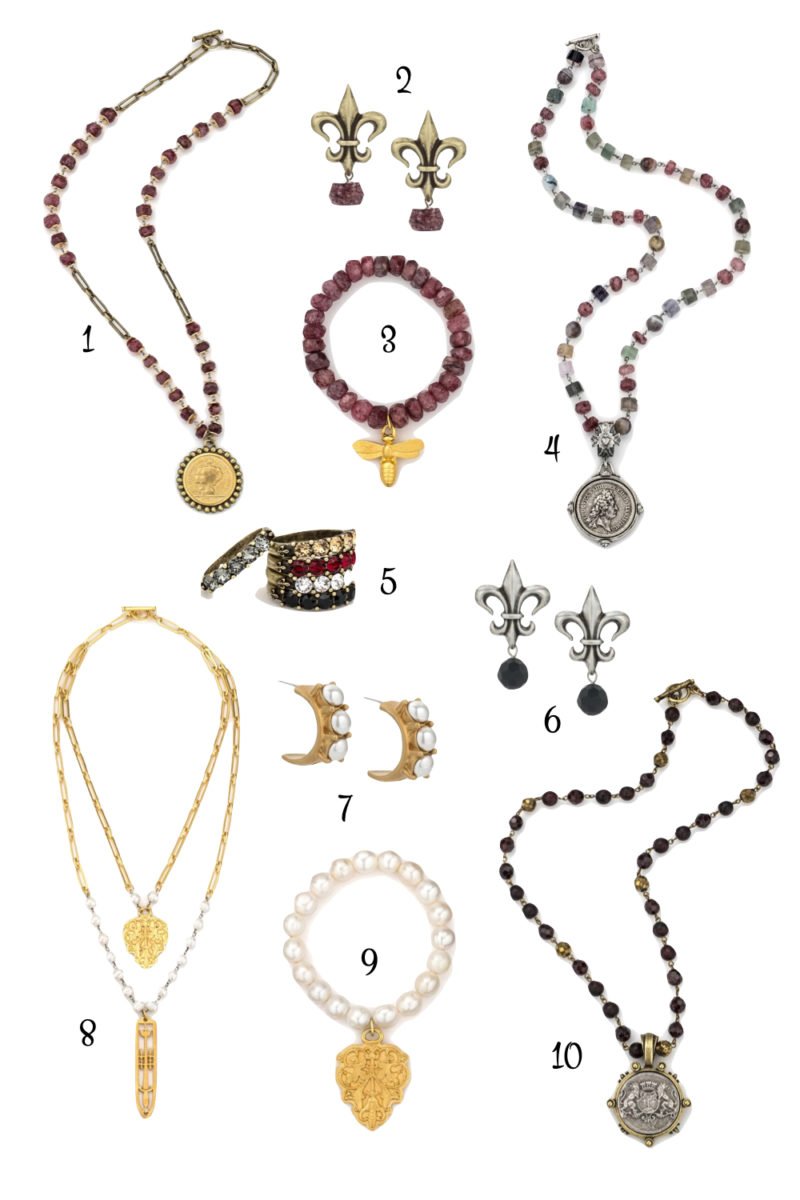 I first discovered French Kande jewelry a little over 7 years ago, and immediately fell in love with vintage-French-meets-modern-casual vibe. Over the years I've collected quite a few pieces, and wear them often.
Kande began creating jewelry after discovering a box of vintage medallions at the marché aux puces several years ago in Paris. These medallions dating from the mid-20th century were tokens that businesses created to give to their best customers, and often included references to French culture and history.
They've just dropped a new collection, Palais Royale Holiday, and wow, c'est magnifique! The collection includes some gorgeous new materials and designs. These pieces can add a little holiday sparkle but aren't too OTT to wear everyday. I already have few items in my shopping cart… 😉
As shown above, here's a sample of some of the new pieces from this collection…
Paris-inspired jewelry, made in Los Angeles
1 – One of the new stones in this collection is Raspberry Quartz. This is a longer necklace, which can be worn alone or layered with shorter necklaces. I love the mix of chain and stones, which keeps it lightweight. The "Monaco" medallion features profiles of Princess Grace and Prince Ranier.
2 – These fleur-de-lis post earrings with a faceted Raspberry Quartz dangle will coordinate nicely with the necklace or your other French Kande pieces. They're smaller and lightweight, but still make a statement.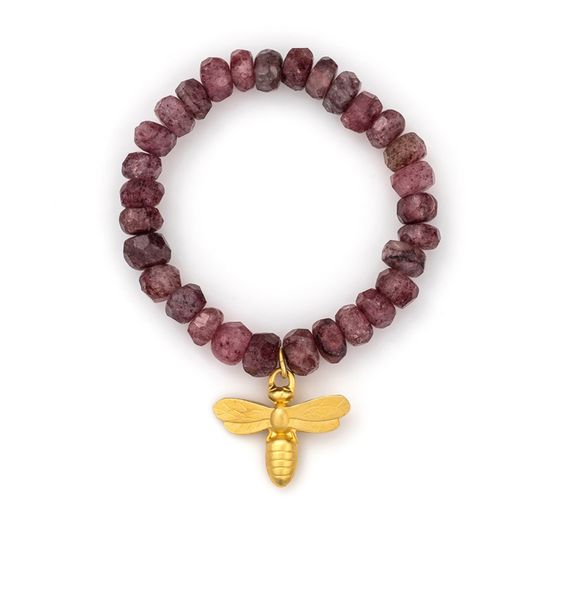 3 – The Miel (honey) bee pendant is one of my favorites. Here it dangles as a charm from a stretch bracelet of faceted Raspberry Quartz stones.
4 – If you're contemplating your first French Kande purchase, I usually recommend a mid-length stone necklace with a classic medallion. It will look great worn alone, and can be layered with shorter and longer pieces. This "Melange Mix" necklace features multi-colored stones which give you lots of options to coordinate. And with this style you can select a different medallion to create a truly custom piece.
5 – These stacking rings with Swarovski crystals are available in brass, silver, or gold metal. They're sold singly, so you can mix or match metals and crystal colors.
6 – If you prefer silver-toned jewelry, here's another option in the fleur-de-lis post earrings. These have a black onyx dangle.
7 – I love smaller "huggie" earrings for everyday wear. These are gold with pearl Swarovski cabuchons. More metals/Swarovski crystal options HERE.
8 – Pearl girls…this one's for you! It's such a great throw-on-and-go layered style. Those are real freshwater pearls. I love the new "filigree" pendant, too.
9 – Here's that Filigree pendant again, this time hanging as a charm from a single strand pearl bracelet. (This one's on my short list!)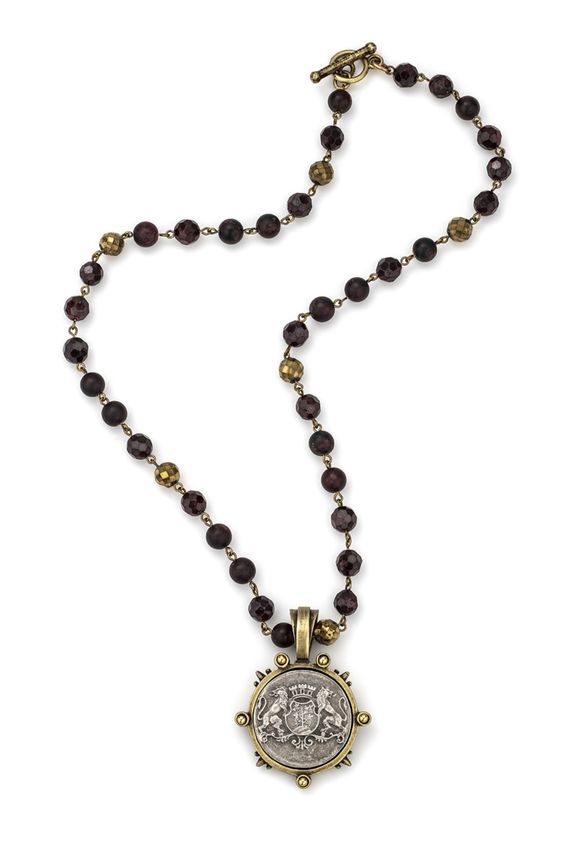 10 – The stones in this Garnet Mix necklace really catch the light! The Aime medallion is one of my favorites, but you have the option to choose a different medallion if you prefer. This would be another great "starter piece!"
Made to order…
Each French Kande piece is assembled to order, right here in Los Angeles. Kande and her team are sticklers for quality and creating unique pieces you just won't find anywhere else.
This isn't a sponsored post, just me sharing something I love. I do have an affiliate relationship with French Kande and may receive commission if you purchase through my links.
Anything catch your eye?
Affiliate links in posts may generate commissions for unefemme.net. See my complete disclosure policy here.