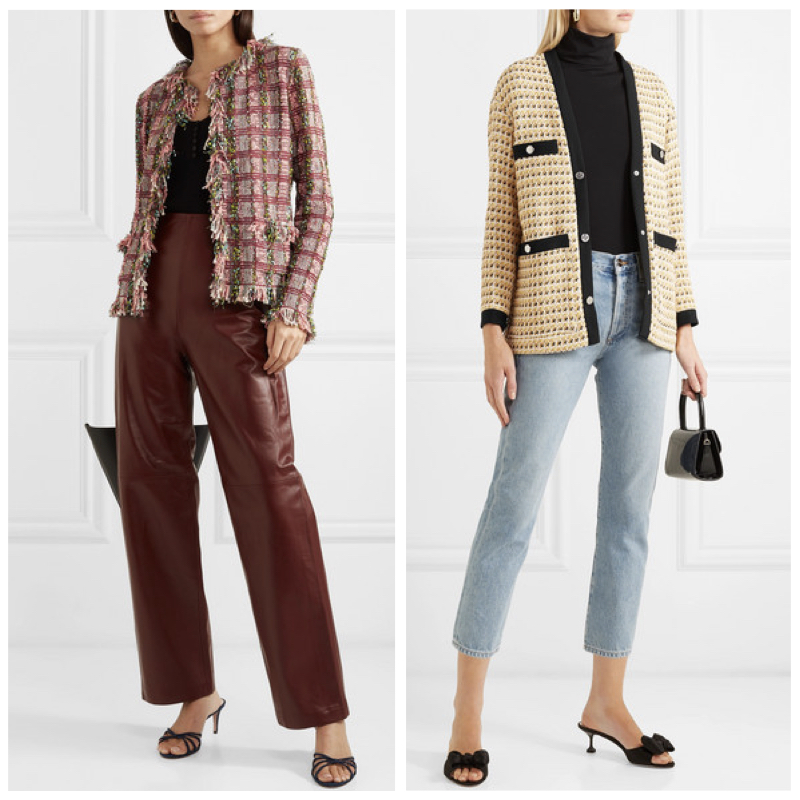 The ladylike bouclé tweed jacket made popular by Coco Chanel has seen many iterations over the decades, but has retained its iconic status. A real Chanel jacket can be an exquisite piece (oh, that little chain sewn into the hem!), but is priced well beyond most budgets. Fortunately for those who adore this look, there are "inspired by" versions in a range of prices.
I've always had a soft spot for these jackets, but find they can skew a bit matronly if you're not careful. Styling with more casual or edgy pieces as done above makes the look feel more current and relaxed. My take: don't try for the Chanel runway look circa 1987; keep it simple, wear as part of a casual outfit, be selective with accessories, and let the jacket take center stage.
With the passing of Chanel's long-time creative director Karl Lagerfeld earlier this week, I expect a renewed interest in All Things Chanel, including jackets.
Here's a moto style (on sale) that will appeal to those who like a bit of sparkle.
This one in black and ivory is offered in Misses, Petites, Plus and Petite Plus sizes.
This jacket is soft and understated. It's unlined, so perfect for a milder climate. (I have this one in black, see how I wore it here.)
Here's a style in Plus that looks like a jacket but is actually a cardigan.
The classic collarless, boxy style isn't to everyone's taste. Here's a longer, more shaped style in a metallic tweed.
And a budget-friendly option, also with a longer line and collar.
Are there any iconic designer styles that have inspired you?
My friend Wendy Brandes has written a very informative (and entertaining, because of course, it's Wendy) post about Karl Lagerfeld.
More "Inspired" Styles

Affiliate links in posts may generate commissions for unefemme.net. See my complete disclosure policy here.