Prints, charming
If you're looking to add visual interest to a simple outfit, a printed top can be an easy and effective way to do it. I've described myself as "print-averse," but that's not entirely true. I love many prints on their own, but often find them hard to wear.
We seem to be awash in florals at the moment, and if you love them, the world is your oyster. But for the rest of us, A Good Print Is Hard To Find. (Especially in pieces that aren't too precious for everyday wear.)
While price is not a guarantee of quality, I have found that prints at the lowest price points tend to look, well…cheap. It can be worth paying a little more for a quality print that you love.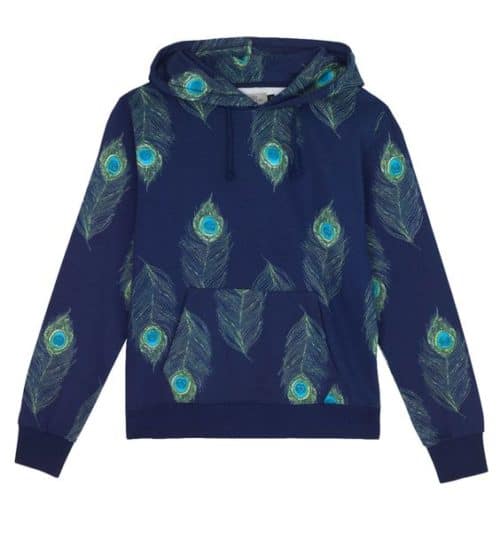 If I needed another hoodie, I've be all over this peacock feather print number. It's 100% cotton and machine washable. Stock is limited. Here are a couple of other prints offered…

I like the abstract take on leopard print on this cotton peacoat. It's offered in Misses size XX-Small to XX-Large, and Petites XXS-XL.
And no, nothing groundbreaking about polka dots, but I haven't seen many of them lately, especially not on a tee. (A neutral dot print like this one is a nice change up from stripes, and just as easy to wear.) This tee is made from sustainable linen, so will be nice and cool come summer. Sizes XS – XXL.
Whimsical but not twee. This intarsia wool greyhound sweater is spendy, but what a fun and unique piece!
I love a paisley print, and this one looks really fresh in a bright aqua green. Sizes 00-24.
Smoothie Operator
I'll admit, I never really understood the appeal of smoothies. I mean, why drink a meal when you can eat one? 😆 I've changed my mind, thanks to the Faster Way Smoothie Challenge I've been doing this week (replacing 1 or 2 meals per day with whole-food based smoothies).
I really expected to be hungrier than usual, but found the opposite to be true. Even just replacing one meal per day with a smoothie, I've not only been much less "noshy" in the afternoons, but have had more energy and am less bloated.
You can make a smoothie with just about any fruits and many vegetables, but this one is my favorite so far.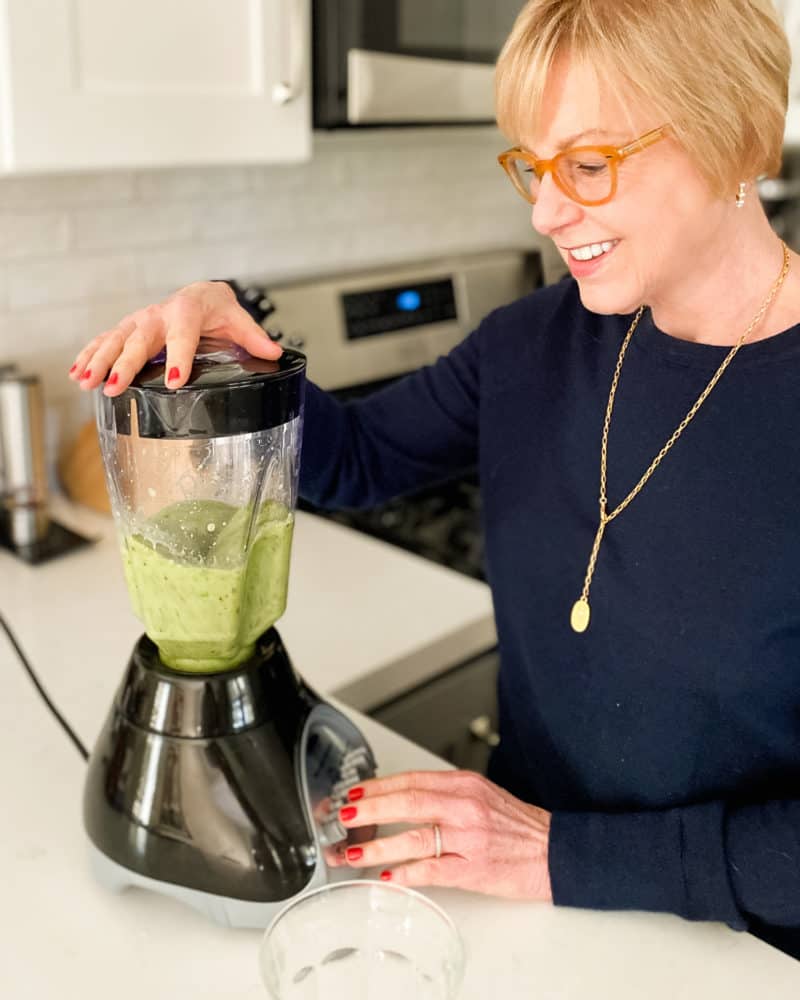 Add to blender:
1½ cups cold water
1 cup chopped kale
½ to 1 frozen banana 🍌
1/4 avocado 🥑 (pitted & peeled)
1 TBSP flaxseed meal
2 TBSP hemp seeds
1 TBSP honey (or date nectar) 🐝
Protein powder (optional, I use this one, add toward the end of blending)
Blend it up and enjoy!
Do you enjoy smoothies regularly? What's your favorite?
Don't forget…
I'll be doing a live Zoom tomorrow…3pm ET/12pm PT! Brian from Brian + MW will be walking me through a guided at-home spa facial. My skin could definitely use a little TLC, and I'm looking forward to it!
If you'd like to join the fun, just click HERE to register. After registering, you will receive a confirmation email containing information about joining the meeting. (And if you have any skincare questions for Brian, you can add to the registration form.)
Hope to see you tomorrow!
Affiliate links in posts may generate commissions for unefemme.net. See my complete disclosure policy here.