Inspired By: Classic Parisian Chic (Encore)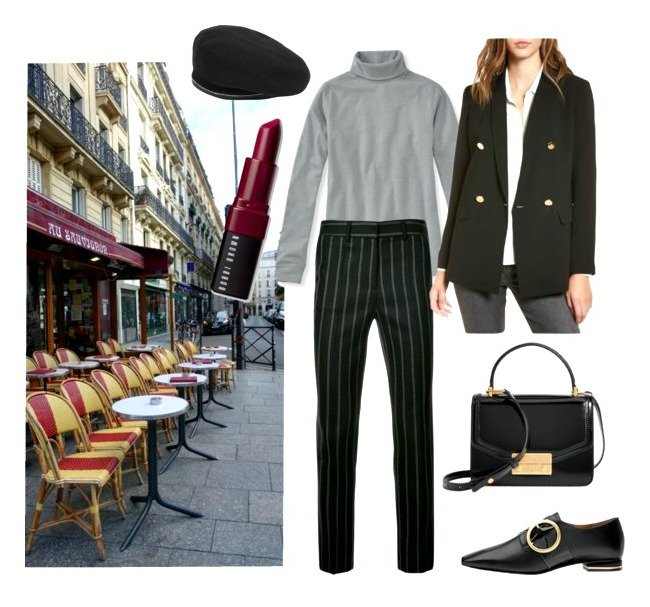 I thought it might be fun to periodically document some looks I've spied on real women that have inspired me in some way. It's not about copying someone else's style wholesale; it's about identifying what elements might translate well to one's own style, and finding ways to incorporate them.
Modern Classic: Parisian Chic
This look was inspired by Jeanne, the young woman I introduced you to in Monday's post, Paris, With Friends. I thought she looked very polished and soignée, without a hint of fussiness. Her outfit was timeless and ageless. There was that nice balance of masculine and feminine elements. She managed to look quintessentially Parisian yet modern. (And yes, she's French.)
Shown above: beret | lipstick | turtleneck | pants (similar) |
jacket (similar) | bag (similar) | shoes (similar)
Takeaways:
When in doubt, wear black. It simplifies getting dressed, yet looks polished. Don't worry about matching your blacks, rather mix textures to add interest. (I know many of you have sworn off black, or just never liked it. You could also put together something similar with navy or dark grey.)
Simple doesn't have to be boring. It's all in the details: the pinstripe on the pants, the gold buttons on the jacket, the edging on the bag, the distinctive buckle on the shoes.
A red lip counts as an accessory. I saw more women of all ages wearing red lipstick in Paris this fall than on any previous visit, and I loved it. Satin or matte finish usually, never glossy.
Structure. It doesn't have to be stiff or formal, but including a piece or two with some structure ups the polished factor. I'm a big fan of a softly structured jacket. Bags and shoes like the ones shown above can also be a way to incorporate structure.
I get that this minimalist look may not appeal to everyone. If you prefer more color, pattern, focal points, you could also use an outfit like this as a starting point, and add color with a sweater or scarf, and change up the look with other accessories.
Get The Look
Striped Pants
Liverpool | Karen Kane | T Tahari | NY Collection (Plus) | Banana Republic
Easy Jackets
Halston Heritage | J.Crew | Vikki Vi (Plus) | Lauren Ralph Lauren | Everlane
Buckle My Shoe
Paul Green | Roger Vivier | Via Spiga | Aquatalia | Isaac Mizrahi | AGL
Have you met or seen someone lately whose style has inspired you?
Stay in touch
Sign up to be notified of new posts and updates from une femme d'un certain âge.