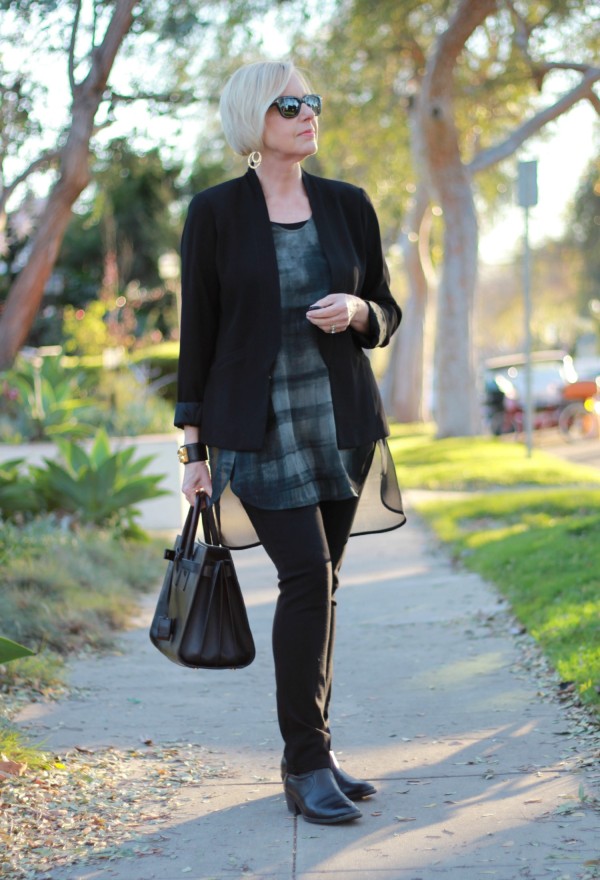 I'm not going to lie; thanks to the sugary, salty, boozy things that have crossed my lips the last couple of weeks, I'm feeling a wee bit bloated and gravitating toward comfortable (but still work appropriate) outfits. Once again it's Eileen Fisher to the rescue.
Wearing (or similar):


Those are my trusty ponte knit jeans (I recommend sizing up as they seem to run smaller than other EF pants) and open front tropical suiting jacket (still available and on mega sale at NM). I've worn this jacket about twice a week on average since purchasing earlier this year. Don't let the fact that it's polyester put you off; it looks, feels and drapes like silk. Then, things get interesting. I'd tried on this Eileen Fisher printed silk tunic several times and loved it, but hesitated to purchase as it seemed like exclusively a warm weather piece. But a few weeks ago I saw one of the EF sales associates wearing it over a long sleeve tee and Bingo! It looked great and that was all the reassurance I needed. The frisson between destructed plaid print and soft ethereal fabric and shape feeds my need for a little drama and movement. I love the interest it adds to a basic outfit.
Sunglasses are from Tom Ford…my long-time optometrist was clearing space for new spring inventory and offered me the frames at half off. They fit like a dream and I love how they look.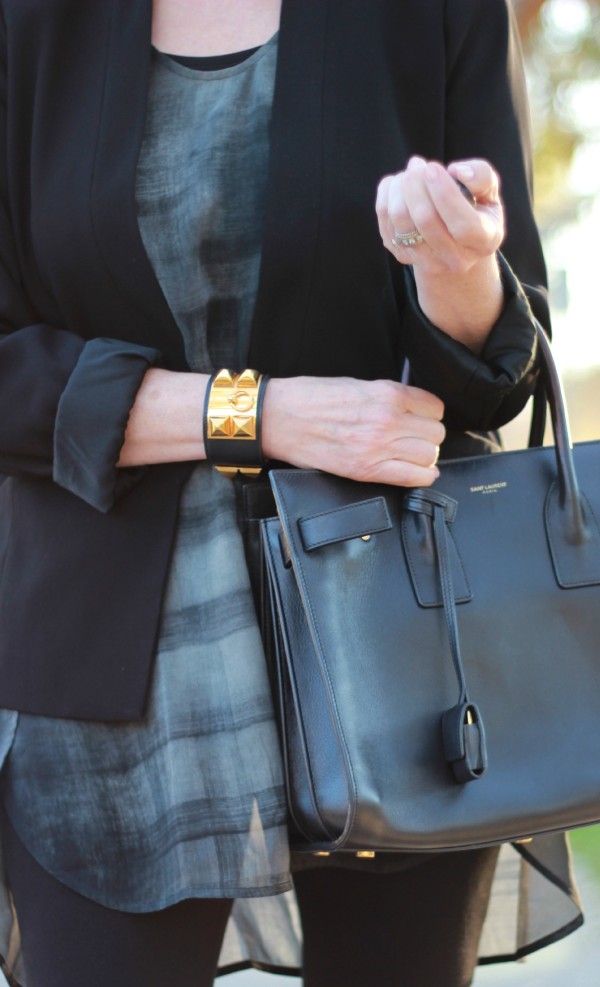 The leather cuff is vintage, purchased several years ago. More Hermés "Collier de Chien" cuffs here.
Are there pieces in your wardrobe that you've found are more versatile than you originally imagined?
Linked up with Visible Monday at Not Dead Yet Style.
OPTIONS:


Affiliate links in this post may generate commissions for unefemme.net. See complete disclosure policy here.
Affiliate links in posts may generate commissions for unefemme.net. See my complete disclosure policy here.