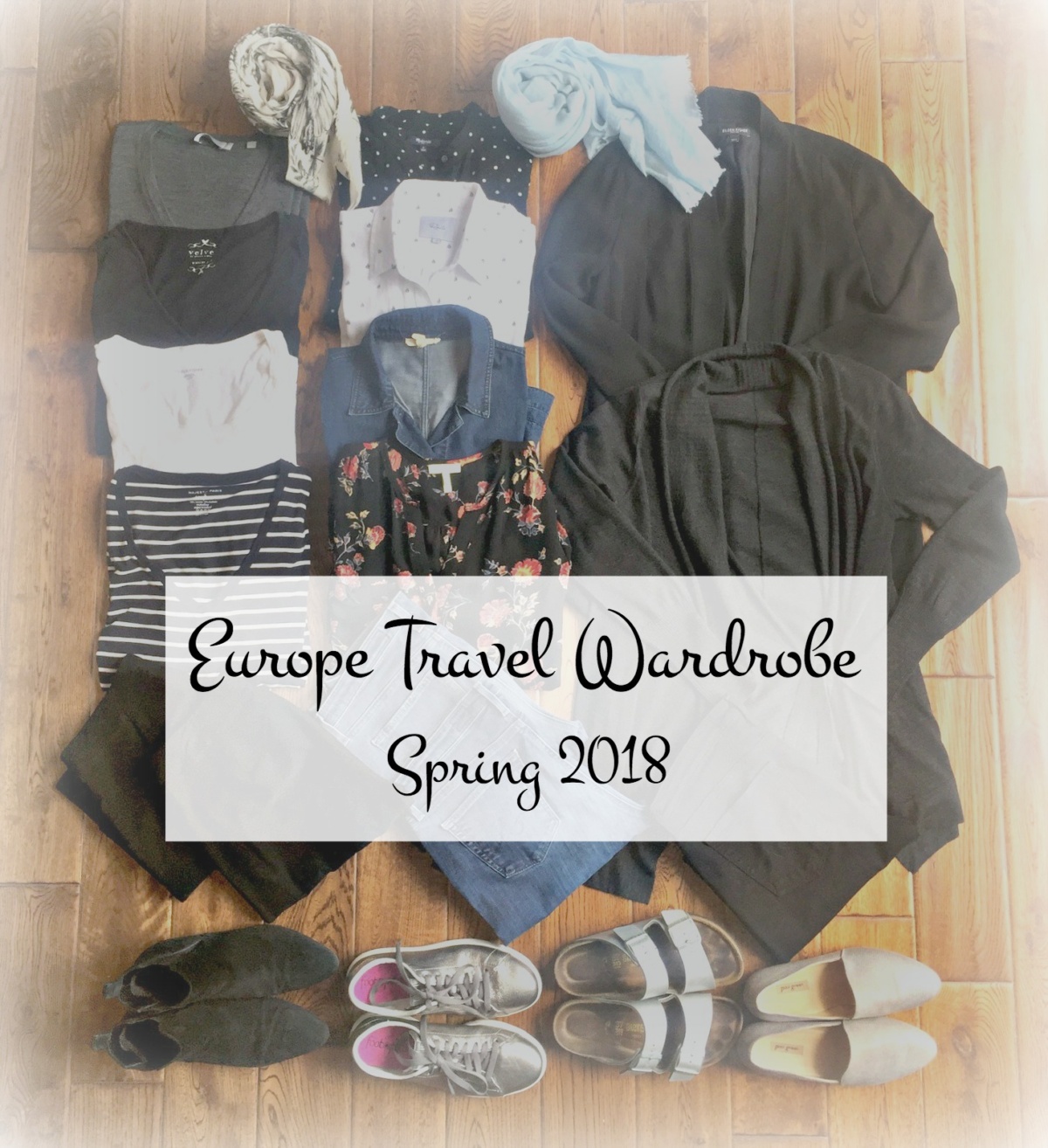 And away we go! Though we'll be staying in France on this trip, this wardrobe could work almost anywhere in Europe (or much of the Northern Hemisphere) during Spring.
France/Europe Travel Wardrobe For Spring
The biggest challenge for packing for this time of year is gauging the weather. Forecasts (especially beyond the next few days) change almost hourly. As of this writing, the forecast is calling for warm, humid weather for week one, and substantially cooler temperatures for our last week, when we'll be in Paris. But it's really anyone's guess. What I've tried to accommodate here are temperatures from 50F/10C to 85F/30C and sunny, wet, and/or windy conditions.
While some might find a capsule like this boring, I find that keeping everything very simple actually saves me a lot of stress. When we travel, I place a premium on wardrobe cohesion. Having pieces that can mix and match easily helps me keep the wardrobe down to a manageable size and saves me from those Nothing To Wear freakouts. I'm not parading for street style photographers at Fashion Week; I'm trying to dress appropriately and comfortably for a variety of activities. And out of a single suitcase.
That said, I'm allowing myself a few more pieces this time to accommodate variable conditions, and to build in a little more variety. I'm still hewing to a mostly neutral wardrobe for maximum cohesion. Though we have a couple of nice dinners planned, we don't have anything scheduled that requires clothing more formal than "smart casual." I'm sticking with a mostly long-over-lean silhouette, and with pieces that can be layered easily. And as with past travel wardrobes, I'm allowing myself a "wild card" piece (or two) that I'll add at the last minute based on weather forecasts and my mood.
Travel Wardrobe Details
First, my apologies for the photo quality. I was trying to shoot with natural light, which kept changing as I was working! I've lightened the images a little bit so you can see more detail on the darker pieces.
Shoes
Boots: I really went back and forth about whether to include a pair of ankle boots (similar). On past trips, I've missed having them when I didn't bring them. They're my favorite choice for travel days as they're easy to slip on and off going through security checkpoints, and will be nice to have should the weather turn cool. Though black is a little heavy for the season, this is the most comfortable pair I own. Mine are a from a few seasons back, here's a similar style.
Sneakers: I decided to go with the metallic pair, as a) they'll be less likely to show dirt and b) they're easier to style than the white ones (for me, anyway). I replaced the white laces with dark grey, and like the look much better.
Sandals: went with another metallic choice (silver). I picked these as they're the lightest of my walking sandals.
Loafers:  These are my "dressy shoe" option. In the past, when I've packed heels, even low ones, I never wear them. These are comfortable enough to walk in, and will look dressed up enough when I need them to.
Pants
Knits: I'm bringing two pairs of the Eileen Fisher stretch crepe pants (Plus option here) one of which I'll wear on the plane. These pants are my favorites for travel; they dress up or down, are washable in the sink, and comfortable in a range of temperatures.
Blue Denim: I'm bringing two pairs of lighter weight, ankle-length jeans. Mine are from prior seasons, similar here and here.
Black denim. On the last couple of trips, I found myself wishing I'd packed a pair of woven black pants. None of my remaining styles of work trousers felt right, so I went with a smooth, non-distressed denim pair.
Tops
V-neck sweater. This lightweight wool sweater (similar) is a versatile layering piece. If the weather is as cool in Paris as currently forecast, I'll be glad to have it.
Tees. I no longer bother with short-sleeved tees. I've learned from experience that I just don't wear them. Even on warm days, I prefer a bit of coverage.
Shirts. I've tried to include a few options with some pattern and/or color that will add some visual interest when it's too warm to layer.
Jacket, Cardigan. I've learned to bring pieces that are light enough to go underneath a layer of outerwear if needed.
Scarves. I'm hoping to find some fun scarves en route. In addition to a travel wrap I'm bringing a lightweight cashmere-silk in pale blue (similar), and a mostly monochromatic printed lightweight modal large square (similar).
Outerwear And Bags
Lightweight wool topper. This is the jacket I bought last year in Italy. It can be worn either as a long blazer or as outerwear, is lightweight and looks sharp. I haven't been able to find anything similar currently available online, but will keep looking.
Water-resistant utility jacket.This is one of the Energizer Bunnies in my wardrobe. It just keeps going and going and… Similar styles: Lands' End | J.Crew | Charter Club (Petite / Plus)
Down vest. This is a just-in-case piece, but it weighs almost nothing, takes up a minimal amount of space in the suitcase, and adds a little bit of color, so why not? Mine is the color "Brown" (actually more of an ochre IRL) which isn't currently available online, though stores may still have it.
Bags. 
I'm assembling a few accessories now, will share those in upcoming posts. Whew, I think that's everything…
Affiliate links in posts may generate commissions for unefemme.net. See my complete disclosure policy here.