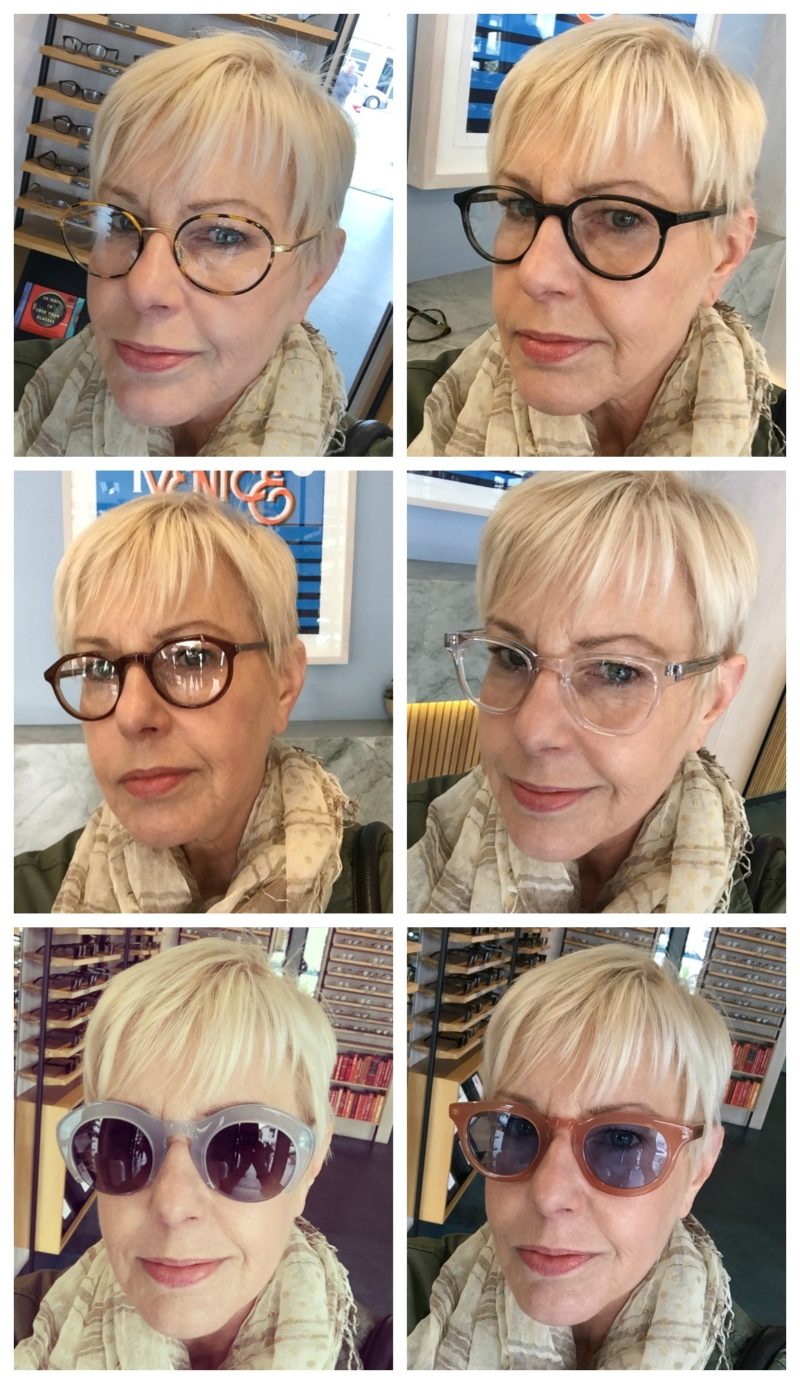 I've been promising to write about eyewear for eons now, but I always wrestle with how best to approach the topic. I've worn glasses since my early 20's, and have always considered them an important accessory and a great opportunity to make a style statement. (For that reason and extreme squeamishness about my eyes, I've never tried contact lenses.) There are so many factors that go into choosing eyewear, most of which are very personal and individual (face shape, nose shape, coloring, style, comfort…) that it's hard to tackle except on a purely subjective basis.
My current stable of frames is dominated by variations on rectangular or cat-eye shapes in shades of tortoiseshell, so I've been looking for something completely different. I tend to gravitate toward "geeky" frames which are very on trend now, and I had a lot to choose from.
I started my search at Warby Parker, one of the companies that offers both frames and lenses online. All of the frames in the collage at the top of the post are from that brand. Their frames and lenses are reasonably priced (starting at $95 for single-vision, add another $200 or so for progressive lenses).  They group their frames by width, which makes it easier to find styles that will work with your face size. They'll send you 5 pairs to try for free. And they partner with non-profits to help get glasses to those in need. They have a few brick and mortar shops, which is where I tried these on. Many of their styles lean a bit "hipster," so if you're looking for something more traditional you may not like the choices.
My friend D., who always has the coolest eyewear, offered to take me to some of her favorite shops so we made a day of it.
These shots were taken at a few different shops in my area. That top left pair are kid's frames from the Hello Kitty line, and actually fit me quite well. I like the idea of round frames, but when I put them on, I can't help but think "Harry Potter."
I've always felt that eyewear should express one's personality, or some aspect of it. D. goes even further. Her dad was an optometrist, and she told me about childhood memories of him taking her and some of her siblings into his shop after hours when he needed to do paperwork. The kids would play and try on the glasses and pretend to be other people. She still looks for that distinct sense of Persona in her eyewear…it needs to take her beyond herself. Here are the two pairs she chose:
It's important to find an optometry shop or eyewear line that "gets" you. I've had so many people try to put me in glasses that, while they may have been flattering for my face shape and coloring, were just so darn generic. D. introduced me to SEE Eyewear and out of all the shops we visited, they had the best combo of reasonable prices and fun styles. They do not sell online unfortunately, and make a limited number of each style.
The last shop we visited on our Eyewear Quest was Morgenthal Frederics in Beverly Hills, which had an amazing selection of unique frames. They carry brands from all over the world, and the styles range from subtle to very avant-garde. Their merchandise is on the pricier side, but again, you'll find pieces that you'd probably never see anywhere else, including one-of-a-kind vintage frames. If you come in to browse, prepare to spend some time as their inventory is substantial.
I also tried on several pairs of sunglasses that I really liked, but I'm pretty well set for those at the moment, so filed these styles away for future reference…
All except the pair on the top right were from Morgenthal Frederics. The top right pair is Saint Laurent. I really liked that one, but it was too big for my face/head.
In each shop, I asked the Sales Associates about biggest eyewear trends, based on what people were requesting and purchasing. Their answers were pretty consistent: cat-eye shapes, clear frames, mirrored lenses, and interesting textures or finishes.
I'm not trained in choosing the best styles for your face shape, so I'll send you over to Inside Out Style for an expert's advice. I find that I choose eyewear by three criteria: it has to be comfortable, it has to fit my face (I have a small, narrow face and many styles are just too big or wide) and I must love it immediately; it must feel like a good fit for my style.
A few things I've picked up along the way:
There's a reason that tortoiseshell frames are so popular; they are one of the most neutral and versatile choices, and there's a shade of tortoiseshell that will flatter every skin tone.
Clear frames are very on-trend right now, and are also a versatile choice.
Nose pads can sometimes be added to plastic frames.
The darker and thicker the frame, the more it will cast dark shadows on the eyes. If you really love a frame style but don't like this effect, you can always have them made as sunglasses.
Glasses should not slide down your nose or be so snug that they hurt your ears. Have your optometrist make adjustments until you're completely happy with the fit. One of my ears is lower than the other, so I always have the ear pieces adjusted so the glasses sit level on my face.
So which did I choose?
(These are from SEE. I'd ordered these with nose pads originally, but found they weren't as comfortable as I'd hoped and had them removed.)
How do you shop for eyewear? Do you find you buy certain styles over and over?
Affiliate links in posts may generate commissions for unefemme.net. See my complete disclosure policy here.