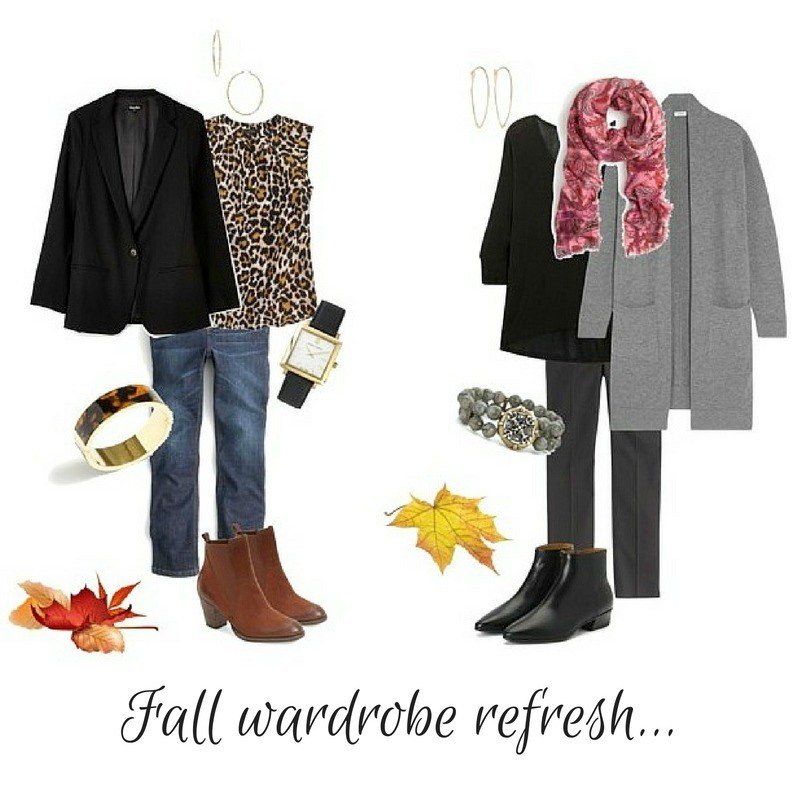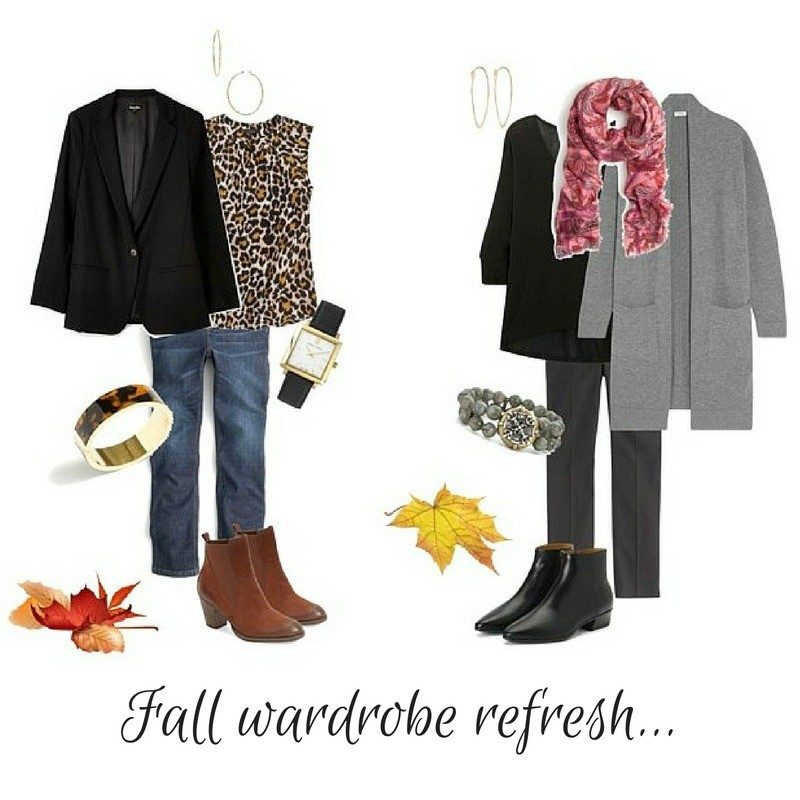 Today Tish (A Femme d'un Certain Age) and I are sharing another of our "From Paris to L.A." collaborations, this time approaching a fall wardrobe refresh from the perspective of each of our cities. 
Above left: earrings | top | jacket (similar) | watch | bracelet | jeans | boots
Above right: earrings | top | cardigan | bracelet | pants | boots (similar)
Here we are in September already! La rentrée can mean back-to-school, or more loosely "early September," when we begin to transition from summer to fall, perhaps return from vacation to routine with renewed energy, or just begin looking forward to cooler days. This has always been my favorite style season, probably a holdover from that back-to-school-with-new-clothes-and-lunchbox feeling. Now though, the allure of fall fashion has more to do with the types of items that are offered, and fabrics and weights that are wearable 9 months out of the year here in Southern California.
While I do tend to add wardrobe basics most often during this season, as I'm transitioning from a full-time office job to the wonderful world of self-employment, I'm mostly holding off on adding any more core pieces at present. I need to figure out where my style is going and what works for my life now. In the meantime, I'm looking to add a few things that will refresh my current basics (jeans, trousers, tees, jackets, sweaters) with some color, pattern, and interesting shapes.
Unlike much of the Northern Hemisphere, in L.A. our cooler days are still several weeks off, so I've chosen some of my fall wardrobe refreshers with that in mind. Some to wear now, some later, some both.
Something spotted…
First up, a silk leopard print top. I love how leopard print works with fall colors. This very lightweight silk top can be worn alone on the warmest days or layered under a jacket or sweater.
Something bright…
Yes, I caved. This is the Eileen Fisher boiled wool jacket I showed you a couple of weeks ago. It will be a bit warm to wear this for the next few weeks, but it's lightweight and not lined, so perfect for L.A. winter and spring. This red is just so special!
Something pink…
Scarves are an easy way to incorporate new colors and prints into your wardrobe. Here's a lightweight wool scarf that includes a bunch of my favorite colors all playing nicely together. Again, too warm for now, but will be perfect in a few weeks.
Something neutral but not black…
I picked up these Paul Green cognac boots during the Nordstrom Anniversary Sale, and can't wait to wear them!
I've found that these long cardigans are real workhorses in my wardrobe, and love the drama they add. The wool crepe fabric on this one from Eileen Fisher is lighter than you'd think, so I'll probably start wearing it once our evenings begin to cool down. Gorgeous swing and movement with this style too!
I can't wait to see what Tish has selected, go here to see! How are you updating your wardrobe for fall?
REFRESHER COURSE…

Affiliate links in posts may generate commissions for unefemme.net. See my complete disclosure policy here.