It's no secret that I've been a fan of Eileen Fisher for some time. Her clothes are the basis of much of my day-to-day wardrobe, and are some of my favorite pieces for travel. But I also like the ethos of the company, especially the commitment to the environment and sustainable manufacturing processes. Those of you who are familiar with the brand may have been aware of the GREEN EILEEN program, where used Eileen Fisher clothing can be returned to be resold or otherwise re-used. It's an innovative step to help reduce clothing waste.
Fisher Found
The GREEN EILEEN program has recently been relaunched as Fisher Found, and to introduce customers to the program and products, they're having a Pop-Up Event in the Eileen Fisher store on Robertson Boulevard, including a launch party on Saturday, April 22.
I was invited to have a sneak peek at pieces available and took some photos to share with you. Each item is one of a kind, and falls into one of three categories:
ReWorn – these pieces were in almost-new condition, and have been cleaned.
ReNewed – these pieces have been repaired, and refreshed, and sometimes dyed.
ReMade – these are new designs, unique pieces that have been re-fashioned by felting or sewing.
Above: an example of a "ReMade" item, fabric from two different pieces used to create this top.
They'll have dozens of pieces available, but each is one-of-a-kind. This is a great opportunity to find Eileen Fisher pieces at often very reduced prices (ReWorn and ReNewed). I saw items in all sizes from XS to XL (and they may have some Plus items as well, but I didn't look at every tag).
Above: this textured ivory silk jacket with tiny knot buttons is a gorgeous piece and would be a good fit for someone on the slender side.
You can still "recycle" your worn Eileen Fisher clothing at their stores, for a store credit of $5 per item; that part of the program hasn't changed.
Of course I saw a few things I had to try on…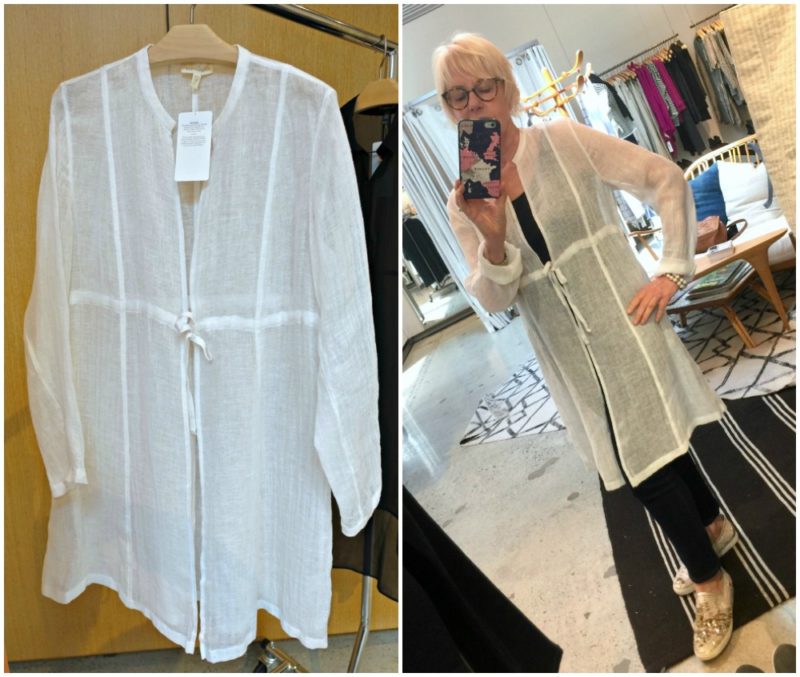 Above: this gauzy linen top would be such a great warm weather piece! It's gossamer-light.
Above: I was quite tempted by this sheer top in black silk. I may go back for this one…
I hope you have the opportunity to check out this event!
Pop-Up Event Info:
April 20-25 11am-6pm
EILEEN FISHER
113 S. Robertson Blvd. (Between 3rd and Beverly)
Los Angeles, CA  90048
(424) 302-0467
Launch Party: Saturday, April 22 2pm-5pm
Disclosure: I was given an Eileen Fisher gift card in consideration for this post.
Affiliate links in posts may generate commissions for unefemme.net. See my complete disclosure policy here.