Saturday night we stayed in and watched "Les Saveurs du Palais
," (re-titled "Haute Cuisine" for US release). It's based on the story of Danièle Delpeuch, a restaurant owner and truffle grower from Perigord who was asked to become the personal chef for French President François Mitterand. She agrees only reluctantly but throws herself into the task of cooking "like his grandmother used to cook for him." Obstacles abound of course, and make for interesting (and sometimes funny and very touching) story arcs, but this movie is really about the food, and the strong sense of terroir in traditional French cooking. There's a sensibility (and sensuality) in the recipes described evoking not only unique regions, but how the flavors and textures mingle that I would imagine is becoming more and more difficult to maintain and pass along with the globalization of tastes and products.
While cooking (and eating!) at this level is impractical for most of us, the movie reminded me of how important ingredients are, how with fresh ingredients even the simplest dish can utterly seduce the taste buds, and how difficult it is for so many of us to source local, fresh, reasonably priced foodstuffs. I'm very glad for the expansion of farmers' markets here, though they're often scheduled during my work hours. While not in the same league as your average French marché, our Sunday morning "local" still offers up some tasty selections from week to week.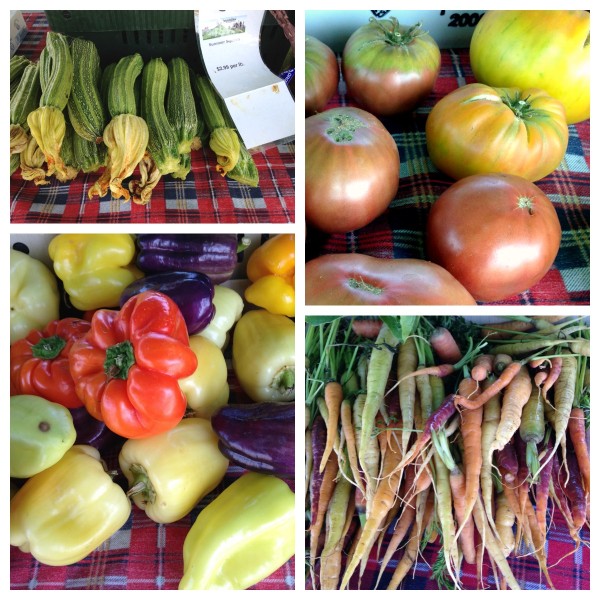 There's one fellow who's usually there with a gorgeous selection of heirloom veggies. Two of those tomatoes came home with me….sliced and sprinkled with salt and pepper they were Heaven On A Plate.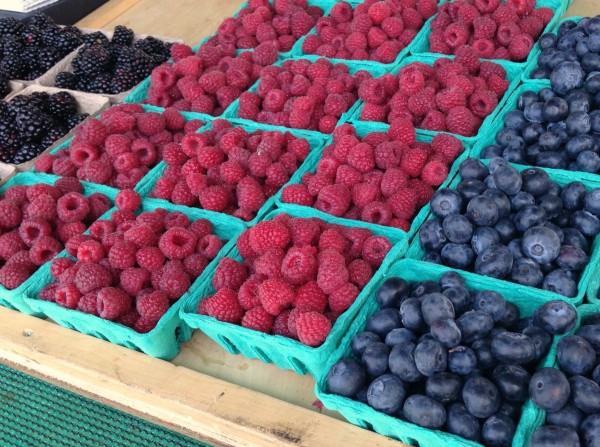 Another booth has had a wonderful selection of berries the past few weeks. One of each kind, please!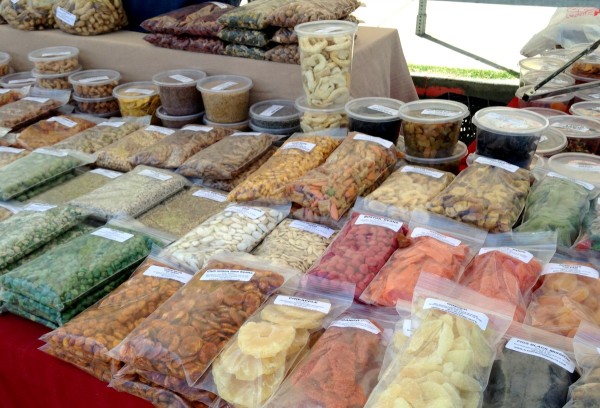 I was happy to find some organic roasted, unsalted sunflower seeds at this booth, which saved me a  trip to the specialty grocery.
You might be thinking Byron is disappointed by the lack of meat, however he LOVES fruit and veggies and would have been all over this loot had I turned my back for more than a second. I've been craving radishes for the last few days, think I have it covered here! That fresh hummus is from a local producer, and some of the best I've ever tasted.
These cherries aren't from the farmers' market, but they are Like Candy™.
I can think of a few other movies that over the years have brought home the joy and beauty of preparing and sharing good food: Eat Drink Man Woman
, Babette's Feast
, Julie & Julia
, Big Night
, Chocolat
, Like Water For Chocolate
…what are your favorites?
Do you have a local farmers' market? If so, how often are you able to visit?
Actions taken from links in this post may generate commissions for unefemme.net.
Affiliate links in posts may generate commissions for unefemme.net. See my complete disclosure policy here.