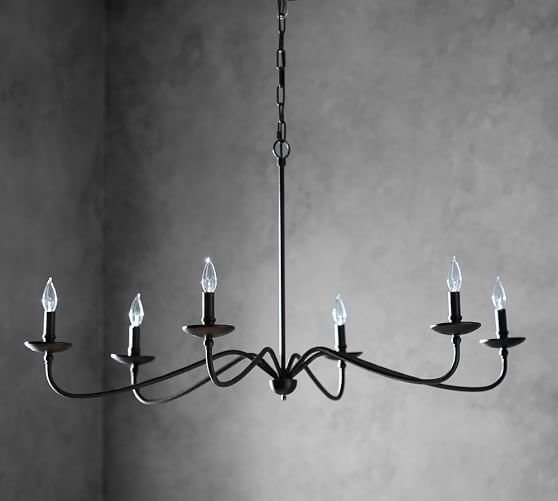 Gah. I've hardly made it out of the house this week. My car was acting up, so I lost a couple of days while it was it was a) not starting and then b) in the shop (needed the computer system reset). Things are starting to happen quickly on the kitchen/bathroom renovation, so I've been on call quite a bit this week. Is there such a thing as "decision fatigue?" If so, we're there. Paint color for the bathroom ceiling? Off white? Sure, fine, whatever. Dinner? Let's just order from the Thai place again.
Above: we still haven't decided on a lighting fixture to go over the dining table. This simple chandelier is on our short list. We haven't decided on a dining table/chairs either.
I did make it over to a screening of "All The Money In The World," which I have to say is quite good. It's a dramatization of the kidnapping of teenage J. Paul Getty III in the 1970's. Michelle Williams delivers a wonderful performance. Christopher Plummer does stunning work as J. Paul Getty. (Even more so,  considering he was brought in at the 11th hour to replace Kevin Spacey.) I remember this and the Patty Hearst kidnappings being so prominent in the 1970's news cycle. (The Patty Hearst kidnapping was why my parents freaked out and vetoed my attending U.C. Berkeley, despite my being accepted there with some scholarship $. That's a story for another time.)
In The Navy…
For those who prefer navy to black, you might want to check out this month's collection from Eileen Fisher. There are quite a few pieces offered in the color "Midnight" which is a really nice navy. This includes the stretch crepe pants, which are excellent for travel. Above, lightweight stand-collar jacket (Plus here).
Have you seen any good movies lately?
Bon weekend!
Decisions, decisions…
Affiliate links in posts may generate commissions for unefemme.net. See my complete disclosure policy here.