I don't get out much in the evening, but when I was invited to attend the Grand Opening of The Fisher Project store on Robertson Blvd. in Los Angeles, I wasn't about to miss it. Those of you who have read this blog for any amount of time may have deduced that I have an affinity for Eileen Fisher clothing (not all of it, but more than just about any other line it suits my body, life and aesthetic). The Fisher Project is a subset that's a bit edgier, and (I believe) intended to attract a younger customer. Still, most everything in the line is ageless, if the aesthetic suits your style.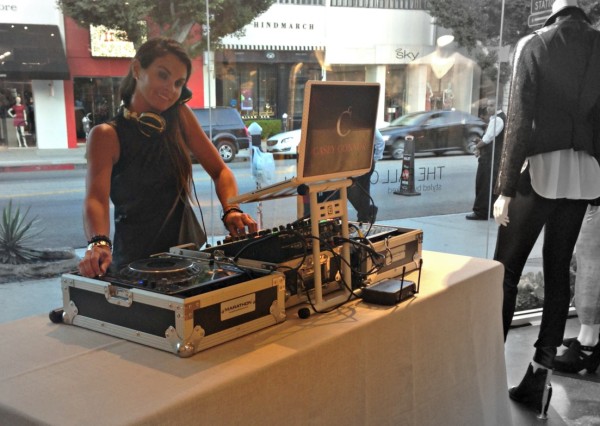 The party was well underway by the time I arrived. The DJ played a great mix of music. (All pictures taken with my iPhone, and lighting was not optimal.)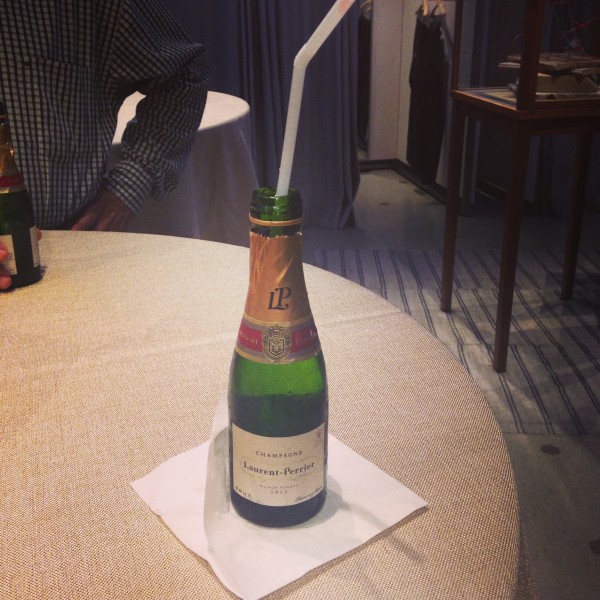 There were canapés, mini bottles of champagne served with a straw, bubbly water and some lemonade drink I didn't try.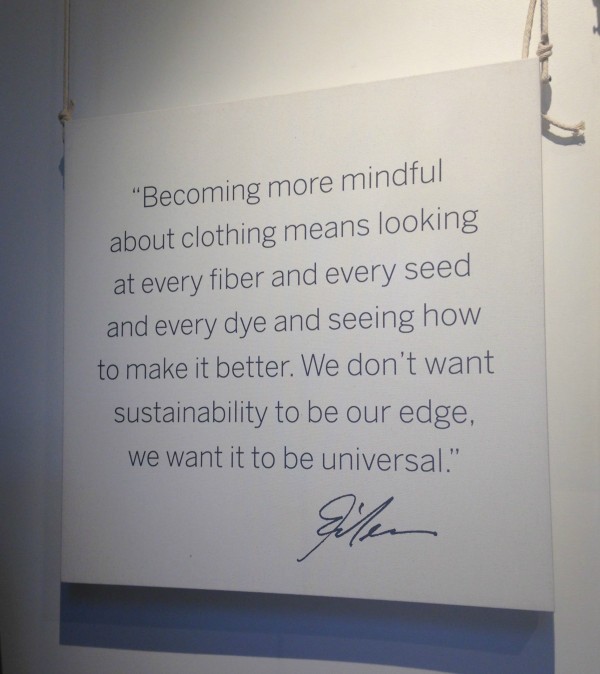 Can't argue with this.
For those who have asked about the range of clothing vs. what's online, what was stocked in this store seemed to be the items featured online within The Fisher Project, plus many of the basic pieces from the main collection. There were a few items that I don't think are online yet, like that olive jacket you see to the left of the mannequin above, or the short cardigan on the mannequin itself. Some of the items I spotted were from the September Seasonal Planner, not yet available online at the EF website but may be soon.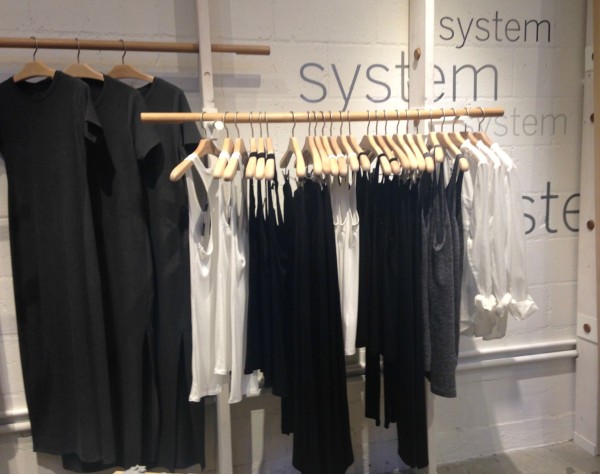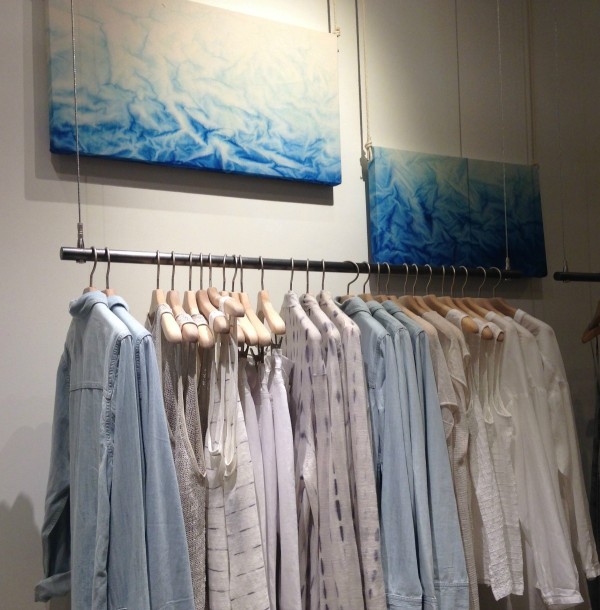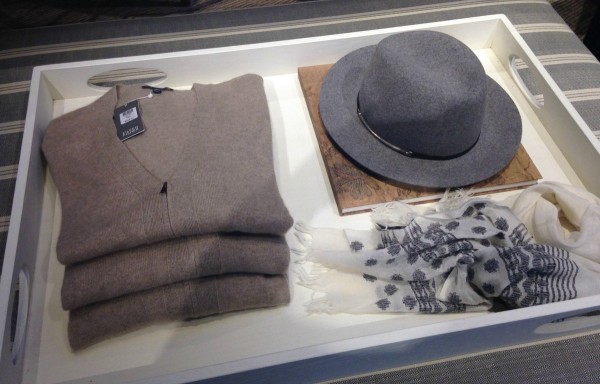 The layout of the store is not unlike any other Eileen Fisher store, mindfully arranged with lots of space and uncrowded racks, though a bit more spare, unfinished and industrial. There's some greenery too, and I was utterly entranced by this arrangement of potted succulents.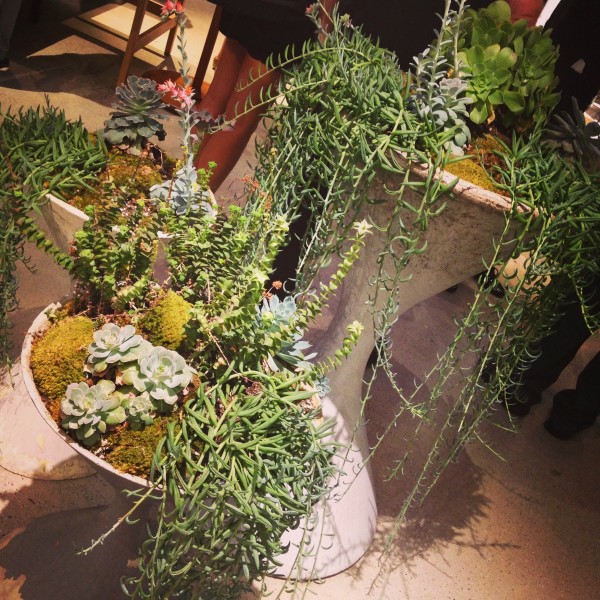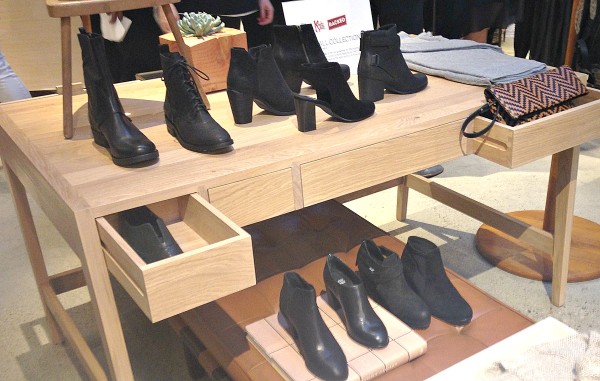 They had the full collection of shoes, which they were giving away to one lucky attendee. A portion of proceeds from the evening were being donated to Step Up Women's Network.
Many of the attendees were quite stylish…
This woman was in an off-the-shoulder top and the EF harem pants and looked AMAZING.
This fellow was much more interested in the hors d'oeuvres being passed by the waitstaff than the clothing.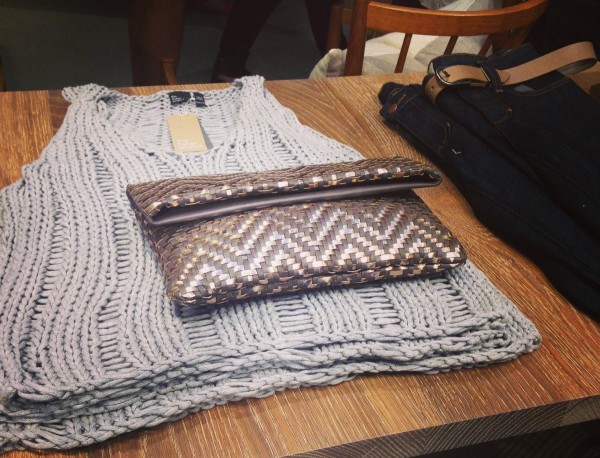 The clothing is almost all neutrals, but it's the textures (and mixing of textures within an outfit) that provides the visual interest. If I were more of a clutch carrier, I would have been sorely tempted by this one above. It's a beauty!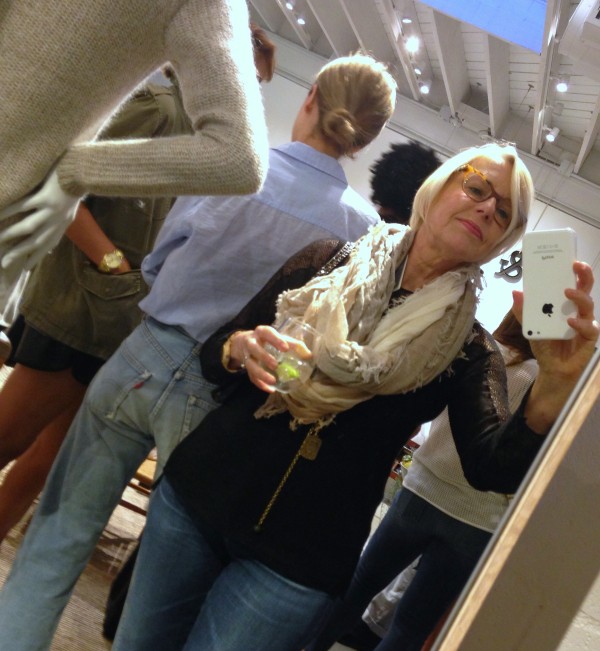 But this gorgeous linen infinity scarf with a bit of sparkle was more temptation than I could walk away from, and came home with me.
The place filled up quickly. All of the store associates were wearing pieces available in the store, and it's always great to see how they look on real, three-dimensional bodies of all shapes. Unfortunately, they don't stock Plus or Petites sizes in this store, but can order them for you if they are available.
You can see me strolling with my shopping bag in one of the photos here. 🙂
Next week I'll show you some of my picks from the Eileen Fisher fall collection so far.
Have you started looking at fall collections yet? Anything that's piqued your interest?
Bon weekend!
Affiliate links in posts may generate commissions for unefemme.net. See my complete disclosure policy here.