Hate the name, love the style: how to wear this fall's "lady jackets"
One of the fall trends I've been seeing at the retail level is a style that's actually quite classic. "Lady jackets" as they're often dubbed, might be considered an updated take on the iconic Chanel jacket silhouette.
A lady jacket is a shorter, straight, often collarless and usually single-breasted topper. It may be woven or knit, boucle, tweed or smooth. I'm not crazy about the name as it evokes something rather…prim. But I've always loved this jacket style, especially when mixed with more casual pieces, so I'll set aside that reaction.
Casual fall looks with a lady jacket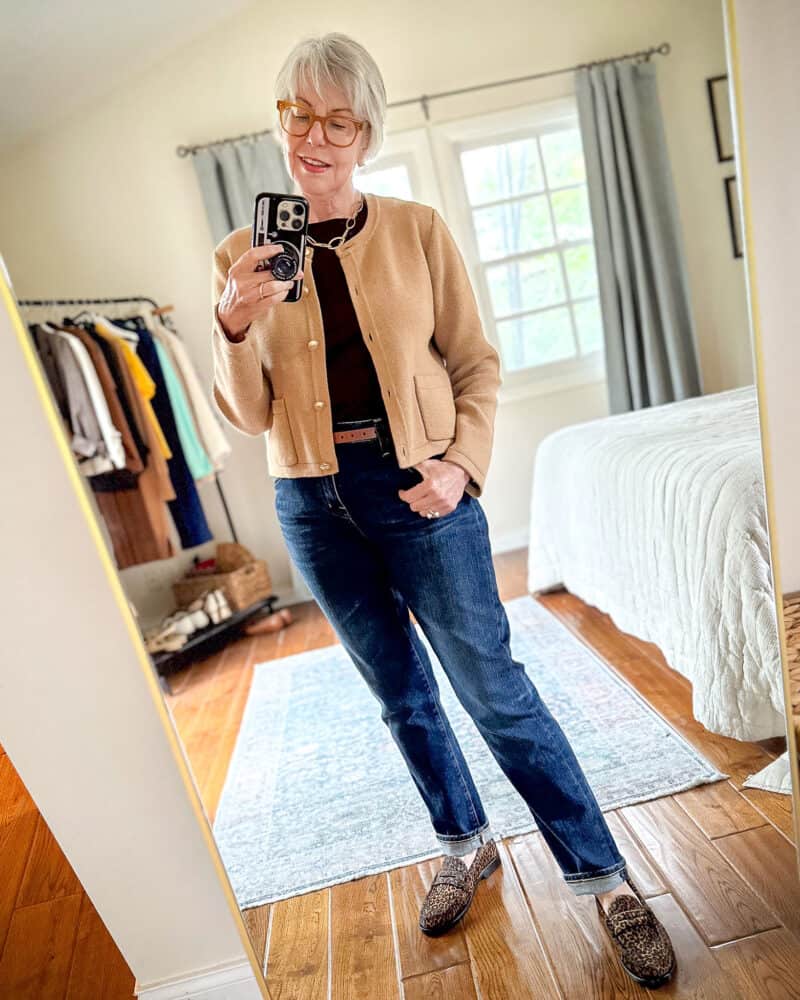 This is the "Emilie" sweater lady jacket, which I previously showed in red here. It's 100% cotton, so perfect to wear now for milder days. It's available in both stripes and solid colors, sizes XX-Small to 3X.

As I noted above, on some of us this style of jacket can lean a little bit stuffy if styled too literally. (Of course, if your style personality is straight-up Classic, a more structured and refined look is perfect for you.) As a Natural Gamine though, I like to mix in some slightly masculine elements, like the boyfriend jeans and loafers. (For an explanation of the Style Personality Profiles, check out my post, "How your style personality profile(s) can help build a cohesive wardrobe .")
I'd also avoid a very flowy, oversized or bohemian-style top with a lady jacket. Keep the layer underneath neat and simple. (Though a striped or graphic tee can work well too, as long as it's not oversized.)
Here's a similar look in a cool palette:
Here's another lady jacket outfit idea with a more textured sweater jacket and a graphic tee.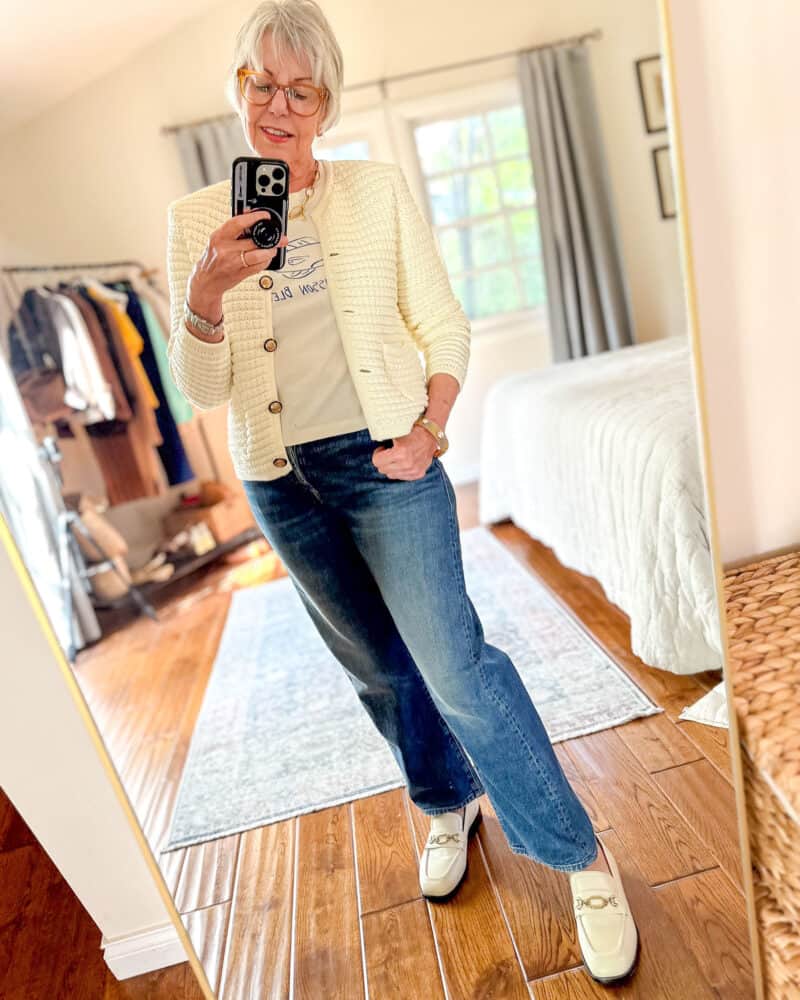 Here the cardigan/jacket and loafers add some polish to a graphic tee and jeans.
More lady jacket (and adjacent) styles…
It's hard to go wrong with a simple style. The knot buttons are an interesting detail.
This one's the same as what I'm wearing above, but I thought you Autumns might like this olive color! It's described as a cardigan, but it has enough structure that I'd put it in the "sweater jacket" category. (Great choice for you Naturals, who need texture and more relaxed styles.) There are five colors available. If you have narrow shoulders, go with your usual size. Broad shoulders and/or full bust, I'd suggest sizing up.
This one definitely has a more casual vibe, but I think it would also go to the office or out to dinner paired with some navy or black trousers.
Classics, this one has your name on it! And I think this light blue would be great for you Summers (though you might consider switching out those gold buttons for silver…) Offered in 3 colors, sizes 00-24.
If you prefer a slightly longer, less boxy style, this one might work for you. (Plus HERE).
A sharp tweed jacket like this one can be the focal point of a simple outfit. It's also on the more affordable end of the spectrum.
I'm getting some lumberjack or vintage Pendleton vibes here, and that's not a bad thing…
If you prefer a subtler look, here's a black and white windowpane tweed. Winters, this one's great for you, especially with those silver buttons!


Stay in touch
Sign up to be notified of new posts and updates from une femme d'un certain âge.