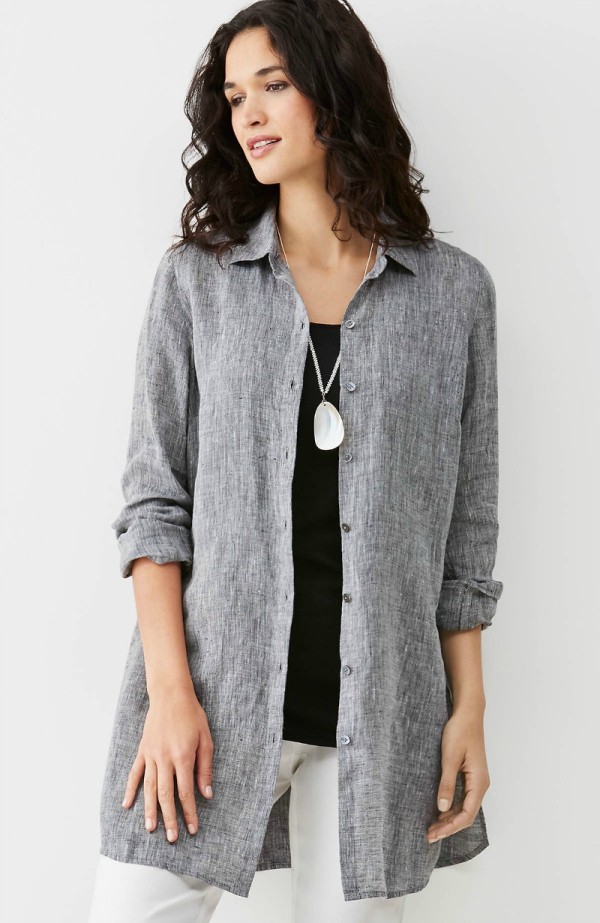 I've been working on a more comprehensive Spring/Summer travel wardrobe post, but wanted to share a couple of good options that I've seen recently. Some of my best summer-weight clothes were part of Resort or early spring collections which are available this time of year, so it's a good time to start planning (and shopping, if you have some gaps).
We're off to Las Vegas soon to celebrate our anniversary, and from the latest weather forecast, looks like we'll have some heat. But I also plan on bringing a couple of lightweight outer layers to combat the sometimes aggressive air conditioning, and for evenings when it cools down.
One piece I've come to rely on is a collared button-front linen tunic. Mine's a few years old from Eileen Fisher, but this one from J.Jill is also nice looking, and could be worn either buttoned as a tunic or open as a lightweight jacket. It's available in Misses, Petites, Women's and Tall sizes too. For those who worry about linen rumpling, I turn that bug into a feature: after washing, don't put in the dryer. Twist it up like we used to do with those "broomstick" skirts (leaving the collar flat) and let it sit twisted overnight, then put on a hanger to complete drying. The "wrinkles" will now be "pleats" and look intentional. If you prefer a regular length shirt with some color, there's also this option.
I've been looking for something like this new Eileen Fisher kimono jacket for years now.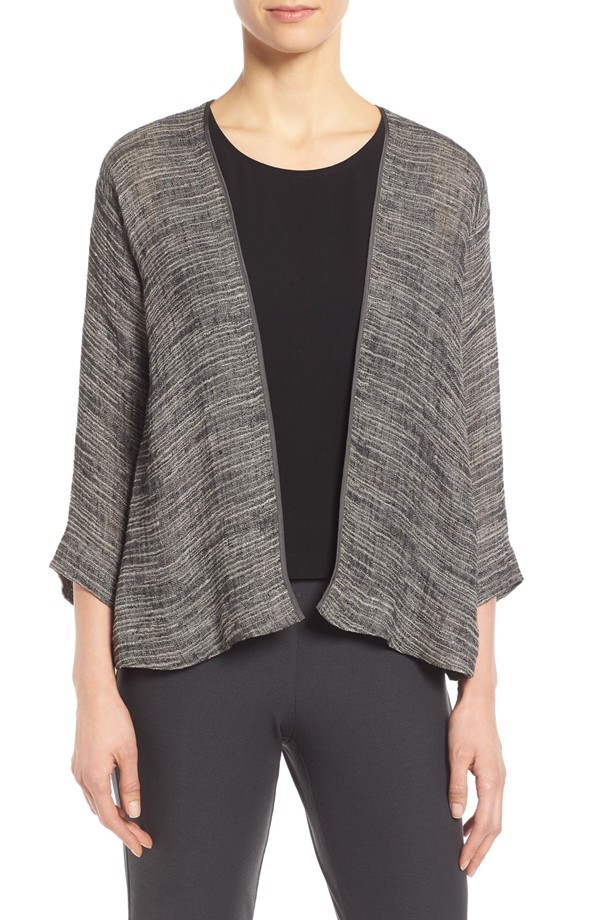 Yes, I snapped this one up, and yes, it's going with me on this trip. Even during the warmest conditions, there may be times when you want or need something over your shoulders and arms, either to keep the sun off or just to ward off a/c drafts. In many parts of the world visiting churches / cathedrals / temples requires a certain amount of coverage; this would be perfect for that. This fabulous little jacket weighs nothing and the fit is flattering too. (Also available in Women's.) If you prefer a longer cut, here's an option for you in the same fabric.
I'm also taking my stretch crepe ankle pants, my white jeans, one black and one white linen tank, and this jersey maxi dress, in its debut appearance. We have a couple of nice dinners planned, still figuring out what jacket and/or top to bring for those. I'll also use this trip to test-drive a few pieces and outfits that may go to Europe in July and Japan in September.
Do you have some warm weather travel on your calendar this year? What pieces do you rely on?
This post may contain affiliate links which generate commissions for unefemme.net. See complete disclosure policy here.
Affiliate links in posts may generate commissions for unefemme.net. See my complete disclosure policy here.