After the first "ask the makeup artist post" (tips for hooded eyes) I received several requests for a makeup tutorial for mature lips. Brian of Makeover Workshop has put together this very comprehensive step-by-step guide to creating smoother, fuller looking lips.
Susan asked me to create a how-to for mature lips, to help them look fuller and smoother. I found many women share challenges similar to the ones I hear at my Makeover Workshop Makeup Party events. They feel their lips have changed over the years: they're smaller, less plump and rougher in texture. Women also express frustration with lipsticks and glosses staying on, and with color seeping into fine lines around the mouth. Plus, some women say they no longer are sure what lipstick colors to choose.
Hopefully, I can provide solutions to these issues. Before I get into my how-to for lips I thought it could be helpful to look at why lips don't look and feel the way they used to.
As your lips age, your skin's thin protective barrier becomes even thinner. Unfortunately, this affects your lips ability to retain needed moisture.

The facial skin, particularly on your lips, is super delicate.

 

Because it shows aging quickly, special attention is needed to combat the loss of moisture, collagen and circulation.
Lip volume reduces as estrogen declines during menopause, typically around age 50-55.
What can you do to prevent this or slow it down?
If you're so inclined, you can add a moderate amount of an injectable to help return shape to your lips, plus use a lip treatment therapy along side it. I also find shaping and contouring the lips with lip liner and lipstick and/or gloss will also make a huge difference. I'll show you how to do this.
One amazing product I've created is a lip therapy that improves the plumpness, firmness and smoothness of your lips. I love this treatment. It also supports collagen production and adds moisture. It's called Re-Creation Lip Treatment. I find this treatment works amazing used alone or in combination with other therapies.
(Susan's note: I've been using this for a couple of months and love it! My lips seem smoother and don't get chapped and flaky the way they used to.)
Lips by Brian – Step by step
Skin Treatment Step – Apply Lip Treatment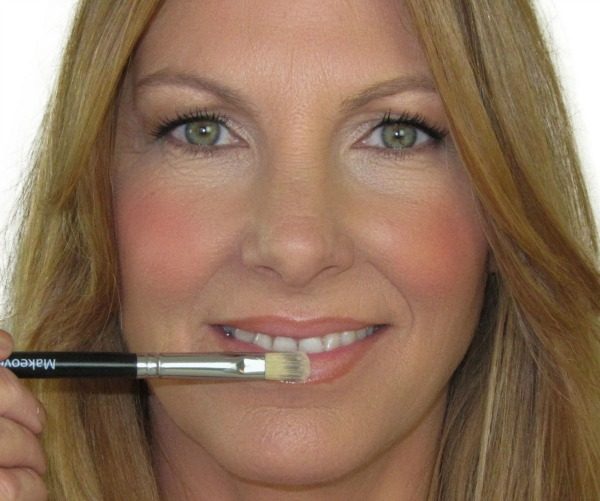 Before (or after) you line, apply Re-Creation Lip Treatment using a brush or a clean finger. Using my Face | Eye Conceal Brush, I apply a small amount of Re-Creation Lip Treatment to the lip surface and around the outside of the lip line (avoiding liner if you've lined already).
STEP 1 – Line lips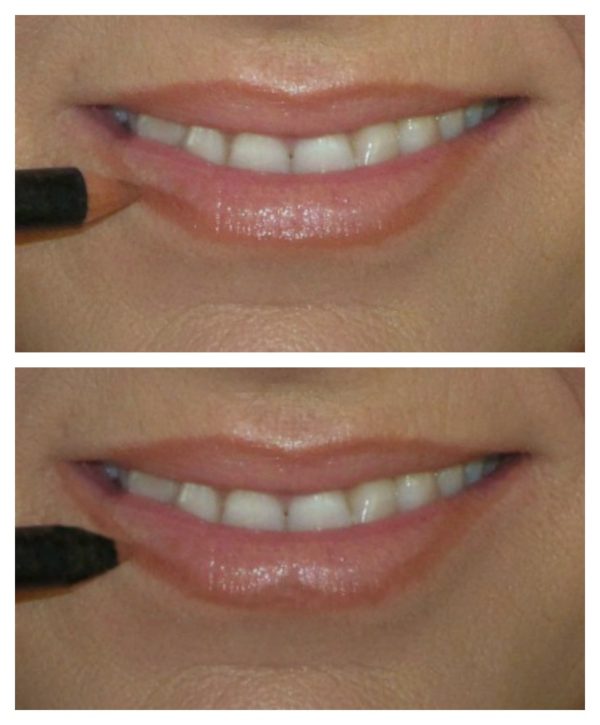 If you use a serum or treatment on your lips prior to lining, apply it at the very beginning of your makeup application, so it has time to be absorbed into the skin. If there's left over serum/treatment around the lips; blot the area with a thin veil of powder to absorb excess product. Now, line your entire lip on the natural lip line. Keep your mouth in a neutral position–neither smiling nor open. After lining the entire mouth, I often apply liner in an upwards squiggly line at the very center bottom of the lower lip. Draw horizontally left to right, and thin the line out as you continue to draw upwards, towards the teeth. This technique makes the lower lip look fuller. A long-wearing, or waterproof liner is great if you have challenges with feathering (when color bleeds into fine lines around the mouth). If you apply waterproof lip liner on the entire lip after lining, your lip color will last all day. Most often I use a lip liner that's similar to your natural lip or matches the lipstick or gloss.
STEP 2 – Apply lipstick
I use a lip brush but it's fine to apply straight from the tube. Follow the cupids bow on the top of your mouth, and coat the top and bottom lip with color. When I use a brush, I have greater control to create lip definition and shape. Using a lip brush can also help work the lipstick and liner together; marrying the two products can provide a longer lasting result.
STEP 3 – Gloss 
Use a gloss that is translucent or semi-opaque. Apply a thin layer of gloss over your lipstick using the wand, a brush or your finger. Using gloss adds moisture and gives a look of fullness.  But remember, you don't have to use liner, lipstick and gloss every day. Some days you'll use lipstick alone or liner plus a gloss. The most important thing to remember? There isn't one way to do lips. Liner plus lipstick is a long-wearing combo for days you need your lip color to really stay put. If it's a casual day, I always suggest my favorite Hyper Gloss shades for stand alone glossy color: Petunia Soft, Noontime, Saddle Glow or Crazy Love.
STEP 4  – Conceal
My final secret step is to apply a very thin layer of concealer around the mouth, just outside the lip line. This technique brightens the entire lip area and gives an appearance of fuller, defined lips. Finger application will be too messy. Be sure to use a concealer brush, it will define the edge of your lips and control the amount of concealer you apply. Less is more! Use a small amount of concealer on a firm brush to clean up the outer edge of the lips. This make your lips pop!
Here are some of my favorite lip colors from my Makeover Workshop line of lipstick, glosses and liners!
All-time favorite go-to neutral lip colors
01 Bliss Perfect soft pink for everyday
02 Peony Close to almost everyone's natural lip color
03 Ladylike Sheer glossy neutral fawn red, perfect for brunettes, adds richness to blondes lips
18 Bolden Soft beige pink, with a slight shimmer. Glow Baby and Sensual Glow gloss enhances perfectly. Reminds me of MAC Viva Glam 5.
35 rue Rivoli New favorite. I find it can go either berry or neutral red depending on the lip liner I use. S'more and Heather lip liner makes it more of a muted coral/berry tone. Raspberry Lip Liner makes is a bright berry. It's fun to play around with different lip liners to change the color.
Petunia Soft Hyper Gloss
Glow Baby Hyper Gloss
Sensual Glow Hyper Gloss
Great lipsticks for small thinning lips:
01 Bliss
02 Peony
07 Blur Shimmery light beige silvery soft color
09 Treat Vibrant super creamy soft pinky coral. Great for spring and summer
18 Bolden
35 Rue Rivoli (Susan's note: what I'm wearing in my headshot photo)
36 Spring Fling One of my new sheer soft neutral pink glossy spring and summer color (Susan's note: this one is really pretty!!)
Favorite lipstick and glosses with color:
Lipstick:
09 Treat
12 Posey
14 Ballroom Hot super creamy violet that works on everyone's skin. I'm amazed each time I use this lipstick how it brings the face to life and pulls everything together
35 rue Rivoli
38 Cinematheque
Gloss:
Petunia Soft
Noontime
Crazy Love
Juicy Great for red heads and bold peachy lips
Saddle Glow
Cinnamon Berry
Great nude or very light lip colors:
05 Telling A true nude.
07 Blur
17 Brazen Bronze nude. It has a soft shimmer beautiful on golden skin tones. When a woman is wary of wearing a nude shades I always recommend Brazen. Works on  pretty much everyone.
20 Pretty Belle Nude soft pink for very fair-skinned women. I use this anytime I want to keep the lips light and pretty. Sensual Glow Hyper Gloss is fantastic with this color
39 Marrekesh New favorite nude. Light golden peachy nude. It's glossy and a perfect summer to fall nude tone.
Waterproof
S'more 
Neapolitan
Cinnamon Sugar
Naked
Automatic
Heather
Vintage
Teaberry
Cappuccino
Thanks so much, Brian! I've also been using the Invisible Long Wear Gel Liner on days when I'm going for a very natural look. It really does help keep the lip color in place!
And here are a couple of gorgeous models, Ruth and Mindy, showing their before and after shots: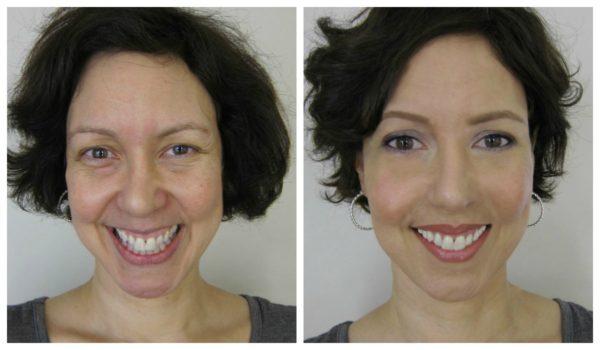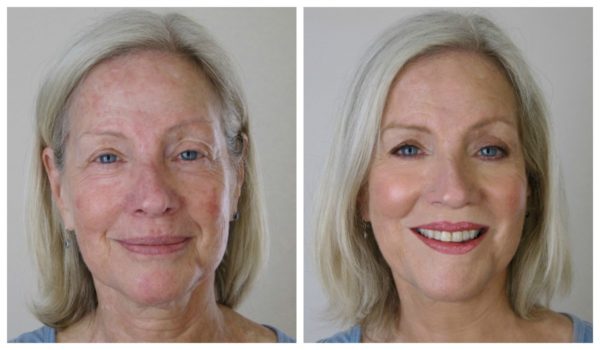 Just look at those fabulous smiles!!
If you have any questions for Brian, please ask away. And do check out his schedule of Makeover Workshops, or contact him if you'd be interested in hosting one of your own.
Affiliate links in posts may generate commissions for unefemme.net. See my complete disclosure policy here.