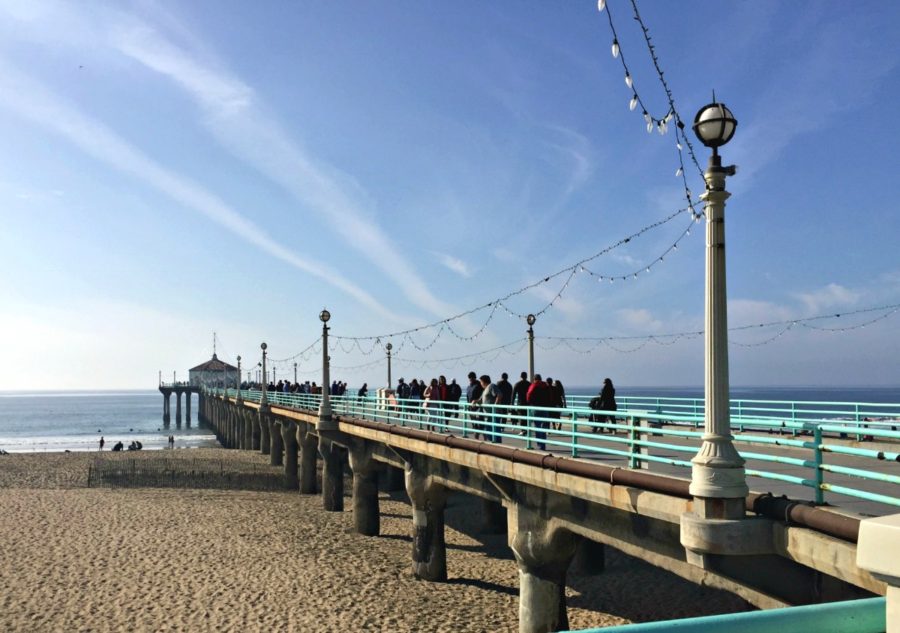 Above: Manhattan Beach Pier. We enjoyed a fabulous New Years Eve brunch at Fishing With Dynamite, and took a walk along the pier. Later we hunkered down at home for the evening with champagne, cheese and crackers, and some movies.
Happy New Year!
I don't know about you, but I'm plenty glad to see the back-end of 2017. Other than our travel, it felt as though I mostly muddled through the better part of the year. Heading into 2018, I feel more focused and have some actual goals in mind. I don't do New Year's Resolutions, but here are some things I'm setting out to accomplish in the first few months of 2018:
Creating a monthly newsletter.
Producing some videos. (Scarf tying, packing tips, travel, etc.)
Getting into a regular exercise routine. I did a trial membership last Spring at a local Pilates studio, but cancelled after a few weeks. The music was often so loud that I couldn't hear the instructor. I also felt we spent more time on floor exercises than on the reformer machines. Honestly, I can do floor exercises at home, don't need to pay for that. I'm going to check out some classes at a local yoga studio that is highly recommended, and am going to try to get le Monsieur to join me!
Once we have our kitchen back again, I want to do more cooking. I have been thumbing through some of my cookbooks for inspiration. Both of us could benefit from a healthier, more plant-based diet.
Clear out more clutter, and let go of Stuff we're not using. Clearing out the kitchen and bathroom for the renovation made me painfully aware of how much we've accumulated in 21 years of living in this house. Our garage is now half full of boxes of it. I'm determined that we're only bringing back into the house what we actually use regularly. The rest will be donated or yard-saled.
Somewhere, Underneath All The Dust…
We're beginning to see progress on the home renovations! It's not that there hasn't been progress, but it's mostly been plumbing, electrical and framing, which isn't always apparent when everything is down to studs and floorboards. The tile work in the bathroom is almost complete, and the new kitchen floor is scheduled to go in tomorrow. After that it's painting, cabinetry, countertops. According to the job foreman, it will go much faster from here. We knew this would be a big disruption and I think we've rolled pretty well with it. But I'm getting weary of the relentless dust, and am REALLY looking forward to having a kitchen sink and a washer/dryer again. We have decent local laundromat, but it's always crowded.
Distractions
I've been reading L'Appart by David Lebovitz (a Hanukkah gift from le Monsieur) and enjoying it immensely. It chronicles his years-long quest to find, purchase and renovate an apartment in Paris. Also includes some tantalizing recipes!
We've just finished Season 4 of Peaky Blinders on Netflix. A very satisfying season with some interesting twists.
If you haven't yet seen The Marvelous Mrs. Maisel, you're missing a real treat! It's set in New York in the late 1950's. Snappy dialog (it's written by Amy Sherman-Palladino), great sets and music, and gorgeous costumes. This is an utter confection.
Did you do anything special for New Year's Eve?
Affiliate links in posts may generate commissions for unefemme.net. See my complete disclosure policy here.