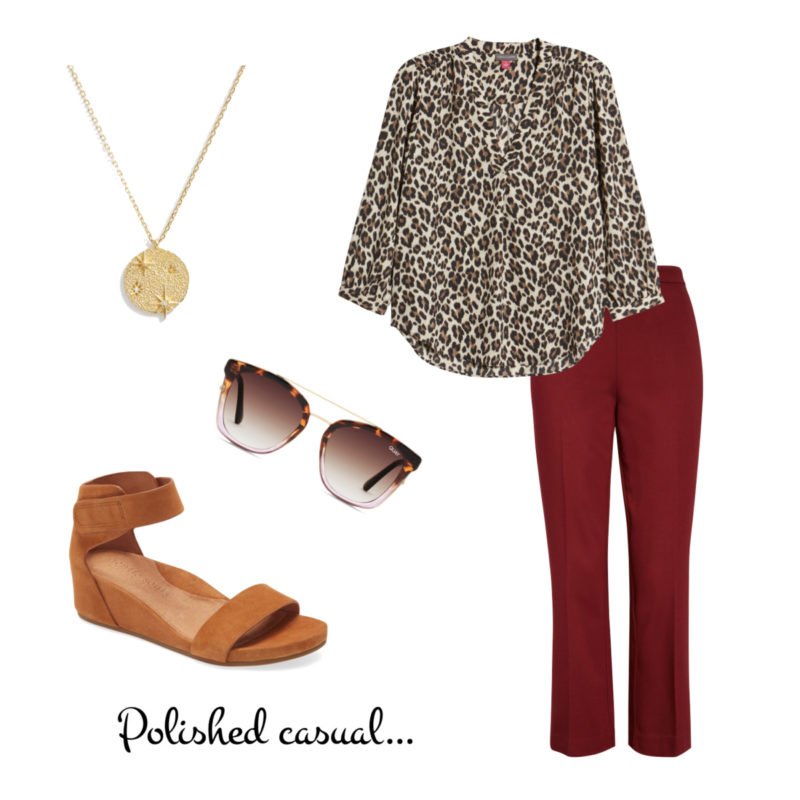 First, Defense will stipulate that Nordstrom Anniversary Sale is often overhyped. 😉 But it also can be a great opportunity to find new season items, sometimes at substantial markdowns.
Some years are better than others, but I've learned to temper my expectations. If I find one or two pieces that add long-term value to my wardrobe, I consider that a success. And keep an open mind…sometimes the best finds sneak up on you. (Case in point: last year's butterscotch leather jacket .)
Just a note: once again, some sketchy websites have been stealing and republishing my content without authorization. If you are not reading this post at unefemme.net, please click through to read where originally published.
How it works…
So this year, rather than a print catalog, the sale preview is already online. If you are a Nordstrom cardholder, you'll be able to shop the sale early, on August 13. (Some cardholders may have a premier status that allows them to shop even earlier. Check your account information for your status and access date.) The "All Skate" access (everyone else) is August 19.
The good news is, you have some time to go through the preview. If you have a Nordstrom account you can save favorites to your Wish List, and easily add them to your cart when you have access to shop.
There's a lot to sift through, and IMO this is not one of the more exciting collections. (Though if you're looking for activewear, there's a decent selection.) Still, I've found some pieces that I do think are worth a second look, which I'll share with you periodically over the course of the sale.
Here's the strategy I use to get the most from this sale:
Make a list. Are there items you need to replace or refresh? Gaps in your wardrobe? You can use the filters on the Nordstrom product pages to refine your search by item type.
Then, search by your favorite brands. Some of the brands I usually check for first are:
If something you wanted is sold out in your favorite size or color, bookmark it or keep on your wish list and check back periodically. Returns and restocks happen throughout the sale period. I predict that with more people shopping online rather than in stores, there will be more ordering of multiple sizes and returning what doesn't fit.
And what's on my wish list…
Starting with the shoes. These were one of the first items that jumped out at me…a slip-on sneaker in a leopard-camo mashup print.
I've long had a "thing" for loafers with a buckle detail, and it's so nice to find a pair in brown rather than black! (Yes, they are also available in Black, as well as a Beige patent leather.)
I purchased this top in ivory a couple of years ago, and found it to be a real workhorse piece. But leopard print is also a neutral, so I'll be trying this one too.
I love ponte knit pants. They're comfortable and great for travel, but it's not always easy to find them in colors other than black. I have these cropped pants on my wish list, and fingers crossed that the color IRL leans more a warm rust red than a cool berry. (Other colors available too, including Black.)
These bee earrings are really cute, and quite budget-friendly.
I'm perpetually on the lookout for lightweight, casual jackets. I really like the simple stand collar on this one, and that this leopard print isn't too dark or heavy.
I always look for these lace boyshorts in the sale, and take advantage of the lower price to replace a couple of my older pairs. And I usually pick up another bottle of the delicates wash, which will last just about until next year's sale. (I use it for silks, too.)
In past years, I've been able to visit my local store and try things on to show you. I don't think I'm going to be able to do that this year, but will report back regarding any items I order. If there's anything in particular you're hoping to find in the sale, let me know and I'll try to help suss out options.
You can see all of my picks on my SHOP page. I'll be updating it throughout the sale, so do check back. Think of it as "one stop shopping" for the sale. 😉
And for those of you who aren't into shopping at the moment, I get it, and please feel free to skip over these posts. I promise to try to be selective and not inundate you with sale content. 😉
Thanks for reading!
Affiliate links in posts may generate commissions for unefemme.net. See my complete disclosure policy here.