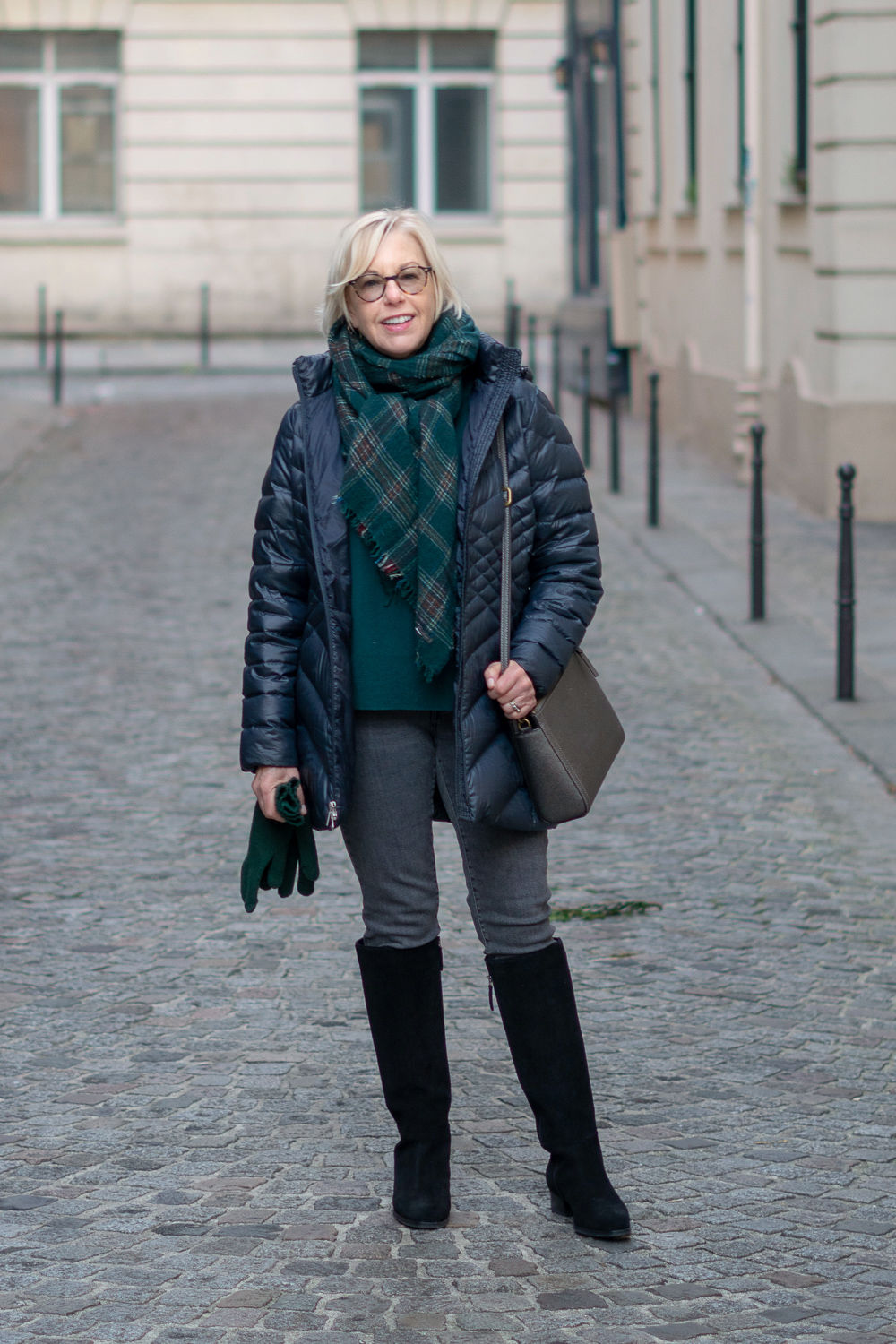 What I Wore In Paris, Day 2

I spent the early part of the day doing a bit of retail and style reconnaissance. Temperatures stayed in the 30's, but I was plenty warm in this outfit (mostly with the coat zipped). In fact, I started out the morning with both hat and gloves, but didn't need them for most of the day. (Though even just a few minutes in a knit cap is enough to flatten my hair!)
Yes, that scarf is new. It's from Italian brand Faliero Sarti, and I spotted it on a shelf at Le Bon Marché. Yes, it's another tartan scarf, but I love tartan, and have been seeing lots of it here! That color was too perfect to pass up. The fabric is thick but very lightweight (wool blend) and toasty warm.
Josephine of Chic At Any Age arrived mid-afternoon, and we decided to do a quick outfit shoot before we lost the light. We headed to a favorite little street nearby which is usually deserted, but kept having to stop and wait for cars or other passers-by. Once we got our shots, it was getting cold so we dashed off for some tea to warm up.
I didn't need my thermal long underwear the first two days, but it's colder today so I've added them.
Many of you have asked for a Paris style report. I'm working on it! I've been on the move too much these first two days to snap a lot of photos, but I've been taking notes and will have the first installment up in a day or two. (Teaser: lots of puffer coats!) And I'll have more Paris travel outfit posts too.
Just a heads up, EILEEN FISHER is having a big Holiday Sale!
And if you're in LA, you can visit the French Kande Holiday Shopfest at their studio today, 11am-5pm, 312 E. Imperial Avenue, El Segundo!
Photos by Josephine.
Affiliate links in posts may generate commissions for unefemme.net. See my complete disclosure policy here.