If you've been invited to a Passover seder and aren't sure what to bring, this recipe is very easy and has always been a hit. Yes, it's a side dish, but don't be surprised to find people going back and nibbling on it for dessert.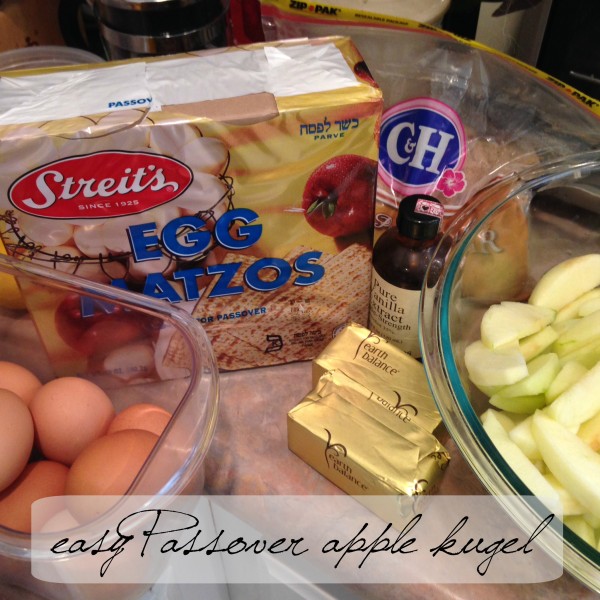 Happy Pesach to those who celebrate! Here's an easy side dish for Passover that I make every year for our family Seder. It's rich and rather sweet, so some serve as a dessert, but it does make a nice side for a savory dish like a brisket.
This Passover kugel recipe is almost impossible to mess up. 🙂 Because we usually have a large crowd to feed, these quantities serve 10-12. You can easily halve recipe and use a smaller baking dish.
4 apples, peeled and sliced thin (I like to use Granny Smiths)
6-8 Matzohs
8 eggs
1-1/2 cups sugar (either brown or white; I used brown this time)
1-2 tsp lemon zest
2 tsp vanilla
2 sticks butter or margarine at room temperature to soften (if anyone at the meal keeps Kosher and if meat will be served, you need to find a margarine that has NO dairy and is labeled "Parve". I used this Vegan spread from Earth Balance.)
optional: raisins, dark or golden (I forgot to buy this time)
Preheat oven to 450F and use the margarine wrappers to grease a 13 x 9″ baking dish.
In a large bowl, beat the eggs, then add the sugar, lemon zest (and some juice if you like), vanilla and the sticks of margarine cut into chunks. Mix well. The margarine will still be chunky; that's OK. If you have raisins, add those to the liquid as well.
Rinse each of the matzohs in running water for a few seconds to soften. I recommend doing this one at a time as you use them; that way they remain intact. Layer 2 matzohs in the bottom of the baking dish, then layer 1/3 of the sliced apples and top with 1/3 of the liquid mixture. Repeat this sequence two times. You can sprinkle some more raisins on top if you like.
Bake uncovered for 15 minutes at 450F. Lower heat to 350F, cover and bake another 40 minutes. Can be served warm or at room temperature.
If you're handy in the kitchen, you can also do something pretty with that top layer. I'm not. 😉  Here's how mine looks coming out of the oven.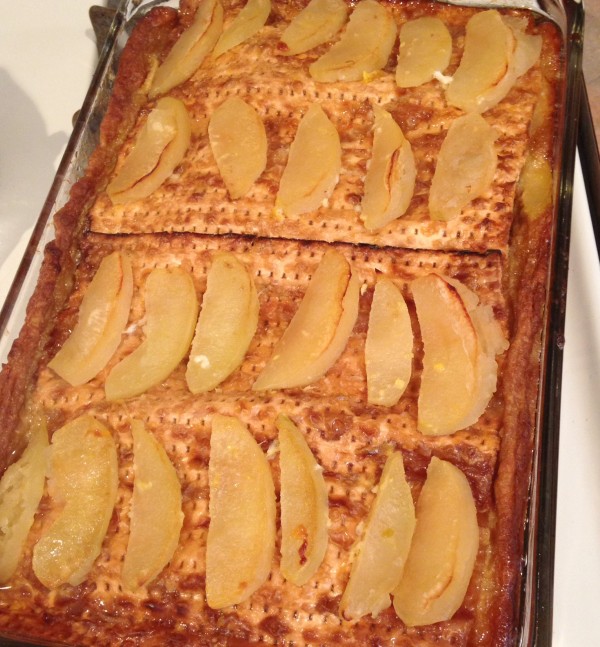 In past years I've also added cinnamon, reduced the amount of sugar, and tried different types of apples. Play around with the ingredients to suit your taste.
Do you have a favorite Passover dish?
Affiliate links in posts may generate commissions for unefemme.net. See my complete disclosure policy here.