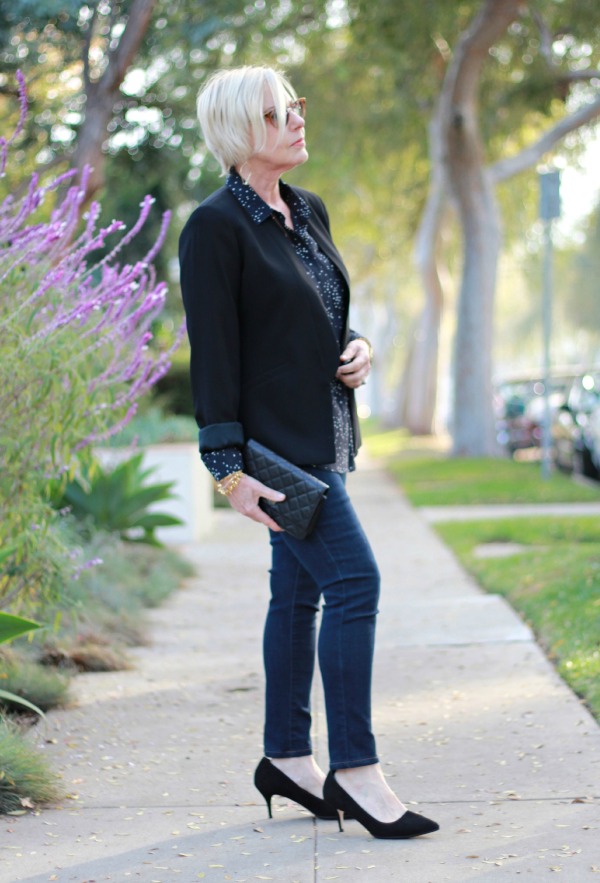 This was one of those looks that came together without a lot of fuss or effort, and was a great reminder that I'm often happiest with results when I don't over-think or over-style an outfit. This was an out-to-dinner outfit, but could easily be adjusted for the office by swapping out the jeans for a pair of slim black trousers, and adding a day bag.
Jacket: Eileen Fisher, here (and on sale).
Blouse: Ann Taylor
Jeans: Eileen Fisher, similar
Shoes: Cole Haan
Earrings: Alexis Bittar
Bracelets: Stella & Dot here and here, Aurelie Biderman
Bag: Chanel Wallet On A Chain (carried as a clutch), more options here.
You may have noticed that I've updated the look and format of the blog. Hope you like it as much as I do! If anything doesn't seem to be working or is difficult to see or read, please let me know and I'll do my best to fix it. Note: add comment button can now be found at the top of the post; just click on the "voice bubbles." 🙂
What pieces in your wardrobe help you to feel polished?
Linked up with Visible Monday at Not Dead Yet Style and Share-In-Style: Shoes at MIS PAPELICOS.
MORE LIKE THIS:





Affiliate links may generate commissions for unefemme.net. See complete disclosure policy here.
Stay in touch
Sign up to be notified of new posts and updates from une femme d'un certain âge.