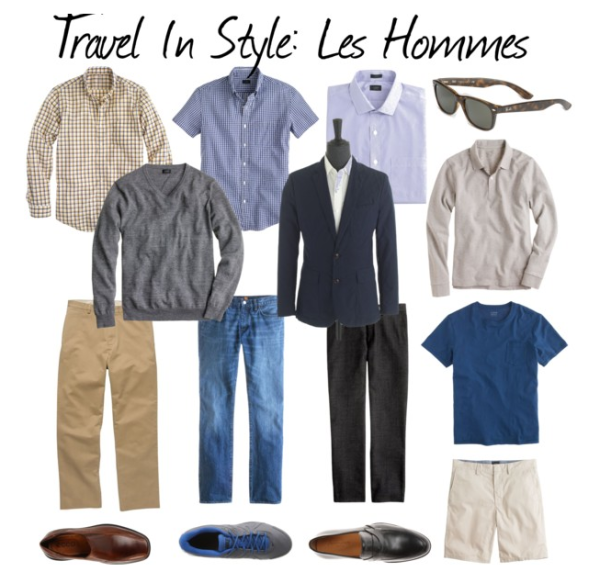 I've received several requests to put together some travel wardrobe suggestions for men. While overall men's wardrobes are often more straightforward than women's, there are still a lot of variables. As with women's travel wardrobes, the types of clothing will depend on activities, climate and levels of formality, as well as the personal style of the man. For this example, I'll presume we're talking about a sightseeing vacation in cities or non-rural or resort environments, with no formal events (e.g. weddings or fancy parties) or activities that require specialized attire (e.g. mountaineering or bike touring).
I've based many of these selections on the types of items that le Monsieur usually selects for our 1-2 week vacations. To create a concise and coordinated wardrobe, my suggestion is to pick 2-3 neutrals for the majority of pieces, and then add one or two coordinating colors and patterns if desired. Lightweight layers again are key if you're anticipating variable weather conditions. You want to choose pieces that can layer if needed for warmth. While there are hi-tech travel clothing options available, I've chosen pieces that might be part of any guy's regular wardrobe.
Because most of the items that le Monsieur brings are not hand-washable, he generally packs more pieces than I do. However for his travel wardrobe we tend to follow the same formula as for mine, which is two tops for every bottom. Though he used to pack a suit and tie for swanky restaurants, we've found in recent years that's overkill, and now a blazer and button-front shirt with chinos or dress slacks is sufficient for just about any venue.
Shoes: should all be comfortable for walking. Three pairs, max. Le Monsieur prefers one casual pair for daytime walking, and two pairs of slip-ons, one of which is dressier. (The more casual slip-on is worn on the plane.)
Pants: 3-4 pairs. Again, the weather and activities will determine the choices. Le Monsieur usually chooses jeans or casual chinos for daytime activities, and at least one pair of dressier chinos or slacks in case evening activities require attire that's slightly more formal. In European cities, your guy may feel more comfortable and appropriate in lightweight chinos rather than shorts when weather is warm. (Le Monsieur will bring a pair of shorts for lounging in the hotel room.)
Shirts: 6-8. Here's where you have the most options. I'd suggest at least one or two button-front shirts, long- and/or short-sleeved (non-iron options if you prefer) along with whatever polos or tees seem appropriate for the weather and activities. Linen will be the coolest fabric for warm weather, then seersucker and cotton. IF you're traveling to cooler climates, add one or two sweaters, either cardigans or pullovers, depending on his preference. Leave the bulky cable sweaters at home, and opt for lightweight cashmere, silk, merino wool or cotton.
Jackets and Outerwear:  One blazer or sportcoat that can be worn with any of the pants. Outerwear will depend on weather. In all but the coldest climates he may be able to get by with a raincoat, either a trench, anorak or lightweight parka. If you're headed someplace tropical, you can probably skip the outerwear entirely, but a lightweight linen jacket could come in handy.
Accessories: Belts, a scarf, hats, sunglasses, swimsuits as needed. Belts should coordinate with the shoes.
Tip: Unless you're in very hot and muggy conditions, shirts and tees can often be worn multiple times without laundering. Bring along Febreeze in a travel size bottle
or pick some up at your destination. Spray the clothing before going to bed, hang to dry in the bathroom, and it should be fresh and ready to wear again by morning. Wrinkles can often be reduced by hanging items in the bathroom while you shower.
Are there any items the men in your life have found indispensable for travel?
Items shown at top of post are included below:


Linked up with Thursday Blog Hop at Over50Feeling40
Affiliate links may generate commissions for unefemme.net.
Stay in touch
Sign up to be notified of new posts and updates from une femme d'un certain âge.