Reconnaissance Report: Nordstrom Anniversary Sale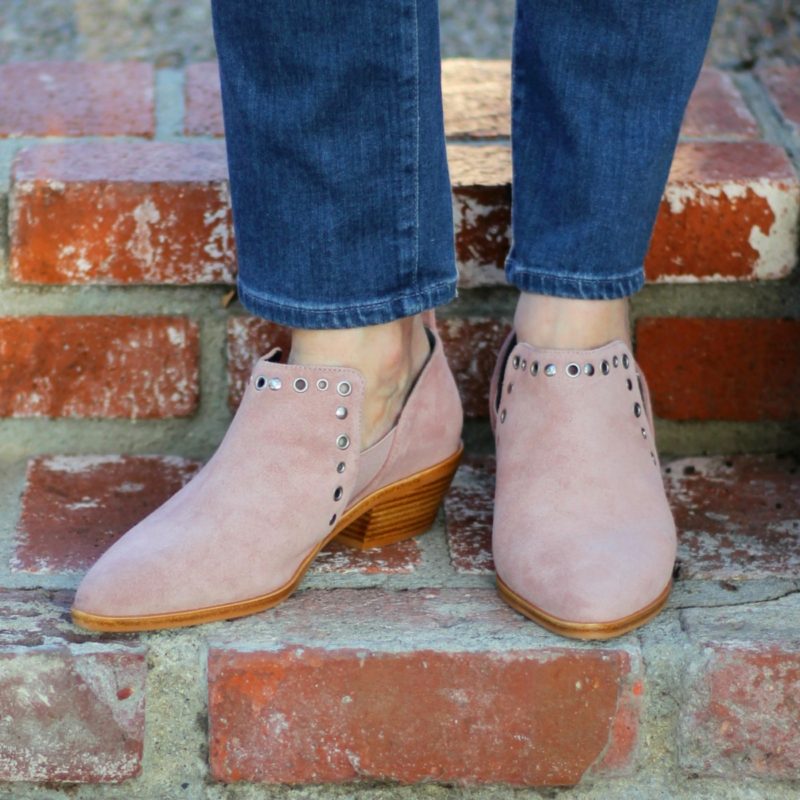 What I Tried, What I Bought…
My local Nordstrom store is on the smaller side, but they still had most items in stock that I'd wanted to examine up close. I hit the shoe department first, and hit the jackpot there. First, the ankle boots above from Rebecca Minkoff. I hadn't really earmarked these to try, but loved them when I spotted on the shelf. Online they look a lot more pink; IRL they're more of a dusty mauve. I think they work as a neutral. They're comfortable as heck. At just under $100 on sale, I thought they were a good value. Keepers, for sure.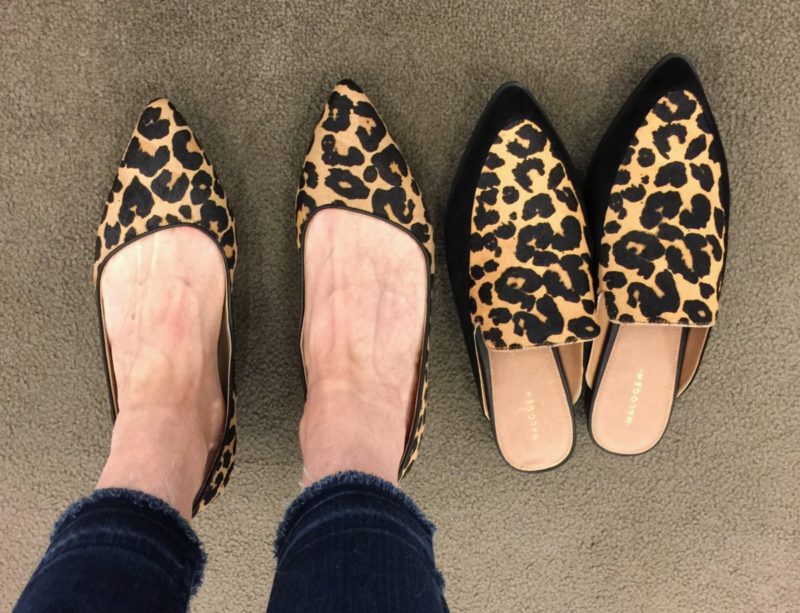 I tried on both of these leopard print shoes. The mules on the right were on my shortlist from reviewing the catalog. I spotted the skimmers on the left in the store and loved the angled vamp and the low heel. A very Audrey Hepburn vibe. Both came home with me, and I'm still deciding which I'll keep. I find both are comfortable, and run true-to-size. For those who need a true comfort shoe with good arch support, these leopard ghillie flats are worth trying.
Though I didn't get a photo, I also came home with these Aquatalia dark grey suede ankle boots. I've always had great luck with Aquatalia, both for comfort and style. I was happy to find something I liked that wasn't black and that had a nice buckle detail. They're weatherproof too, so good for cool-season travel.
Dressing Room Confidential…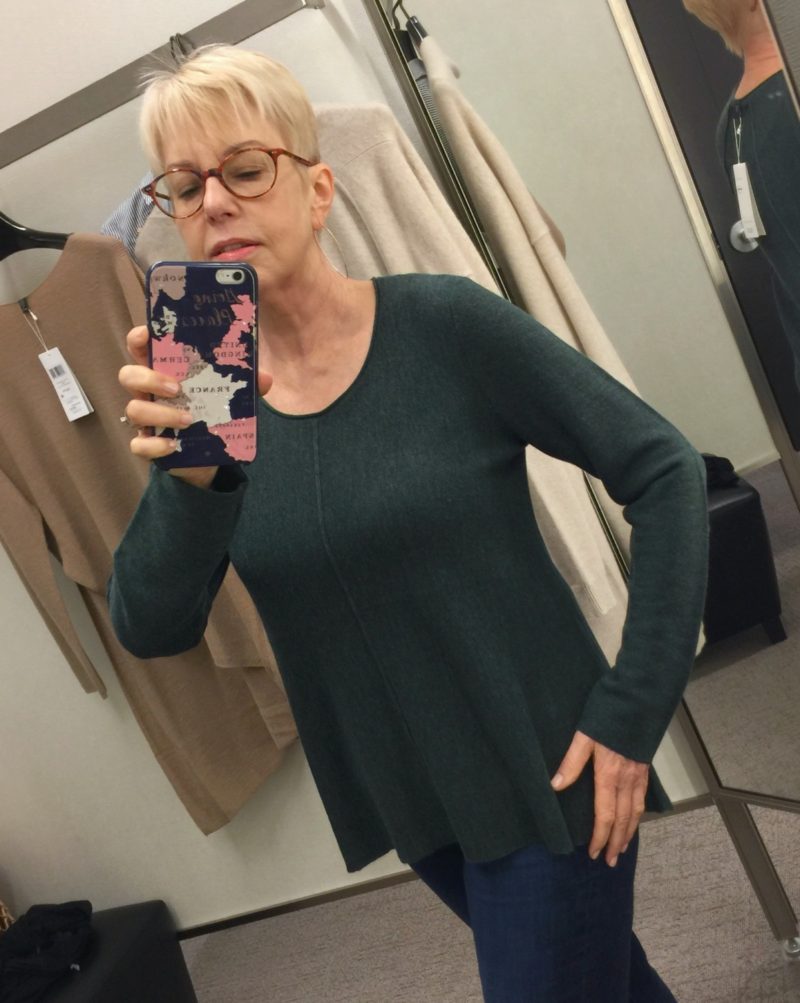 First my apologies for the photo quality. The light in most dressing rooms really sucks for taking photos, and I did my best with editing to try to get the colors right. Above, this little merino wool sweater from Eileen Fisher was one that hadn't looked like much online, but I really liked it in person. I'm wearing a Misses XS here in the "balsam" color which I love. It has set in sleeves (!!!!) for a less boxy and more flattering fit. The hem dips down in the back and it's a nice shape and fabric. Winner! The Claret color also looks nice.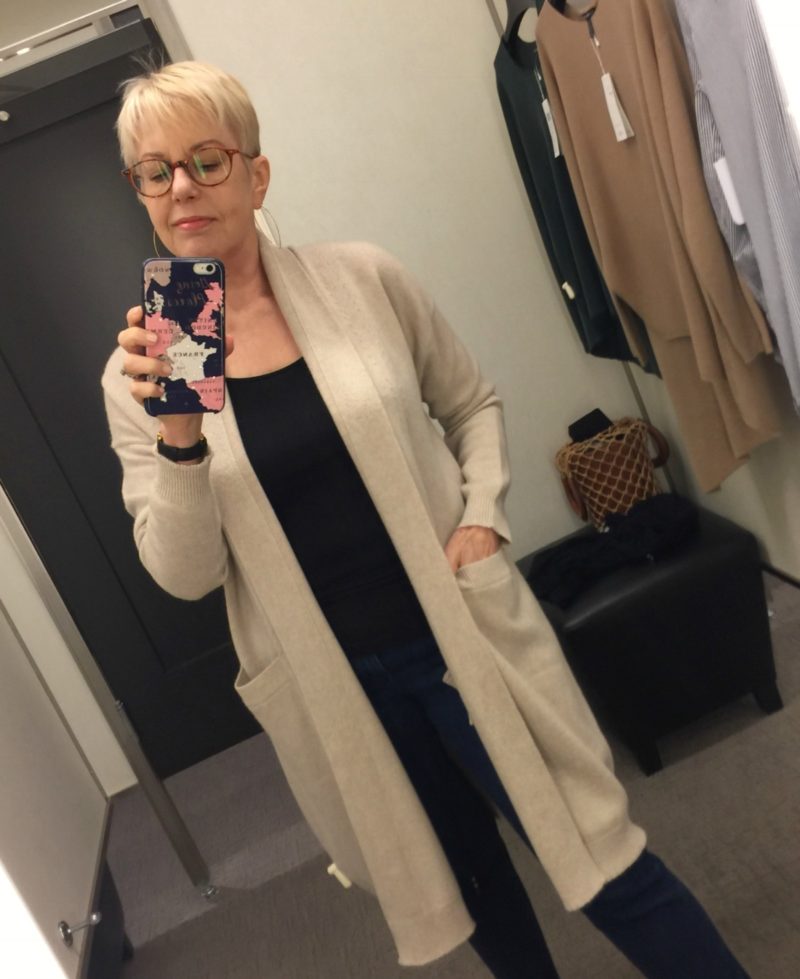 I loved the color and feel (SO soft!) of this Vince cashmere cardigan, but ultimately decided it was just the wrong length for me. Great piece for someone taller though! You may notice the Eileen Fisher asymmetrical sweater on the hanger on the rack…I'd had high hopes for that one but it ran very large and my store doesn't stock EF petites. Didn't like it enough to order in Petites.
In case you're wondering about the lip color, I'm wearing Trish McEvoy Lip Veil in "Tea Rose" with just a little bit of the Ultra-Wear Lip Gloss in "Berry" over the top.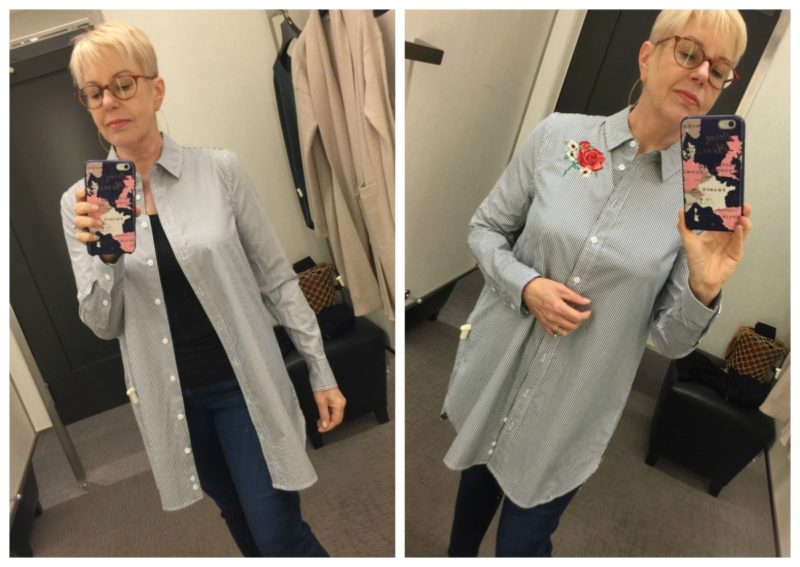 I tried this striped embroidered cotton tunic from Equipment, but the only size they'd received was the XS and it was too small through the bust. I kind of like it though, and have ordered the next size up to try. Will update. If it works, it's a piece I don't have to wait until fall to wear as it's very lightweight.
It was the embroidery here that caught my eye. Though it's marketed as a shirt, this top could also be worn open as a lightweight utility jacket. Didn't buy it as I don't really need another utility jacket/shirt at this point.
I'm not in the market for another coat either, but this coat was so cute on the hanger I wanted to try it on to show you. Alas, too big. Though it's available online in Petites, my store did not get it in stock.
I didn't see any jewelry or bags that called my name this year, through there are some nice items included. If I'd been looking for a watch, I did see a few that would have been contenders.
I always stock up on my Kiehl's Creme de Corps during the sale. As well as this Lingerie Wash. (A couple of bottles of this will last me the entire year. I use it for both lingerie and silk pieces.)
We may go further afield to visit a larger Nordstrom over the weekend, and if I find anything worth mentioning, I'll update next week. Otherwise, I'll continue to refresh my Sale page periodically, so check there for updates. And remember, if something you like is out of stock in your size or color, bookmark it and keep checking back. Restocks happen regularly during the sale, and some things may become available again.
More of the good stuff:
Don't forget, I'm also running a giveaway for one of Sharon Santoni's "My Stylish French Box" subscription boxes! Go HERE for details and to enter the giveaway.
Oh, and wishing my French friends a nice quatorze julliet! 
Bon weekend!
Stay in touch
Sign up to be notified of new posts and updates from une femme d'un certain âge.