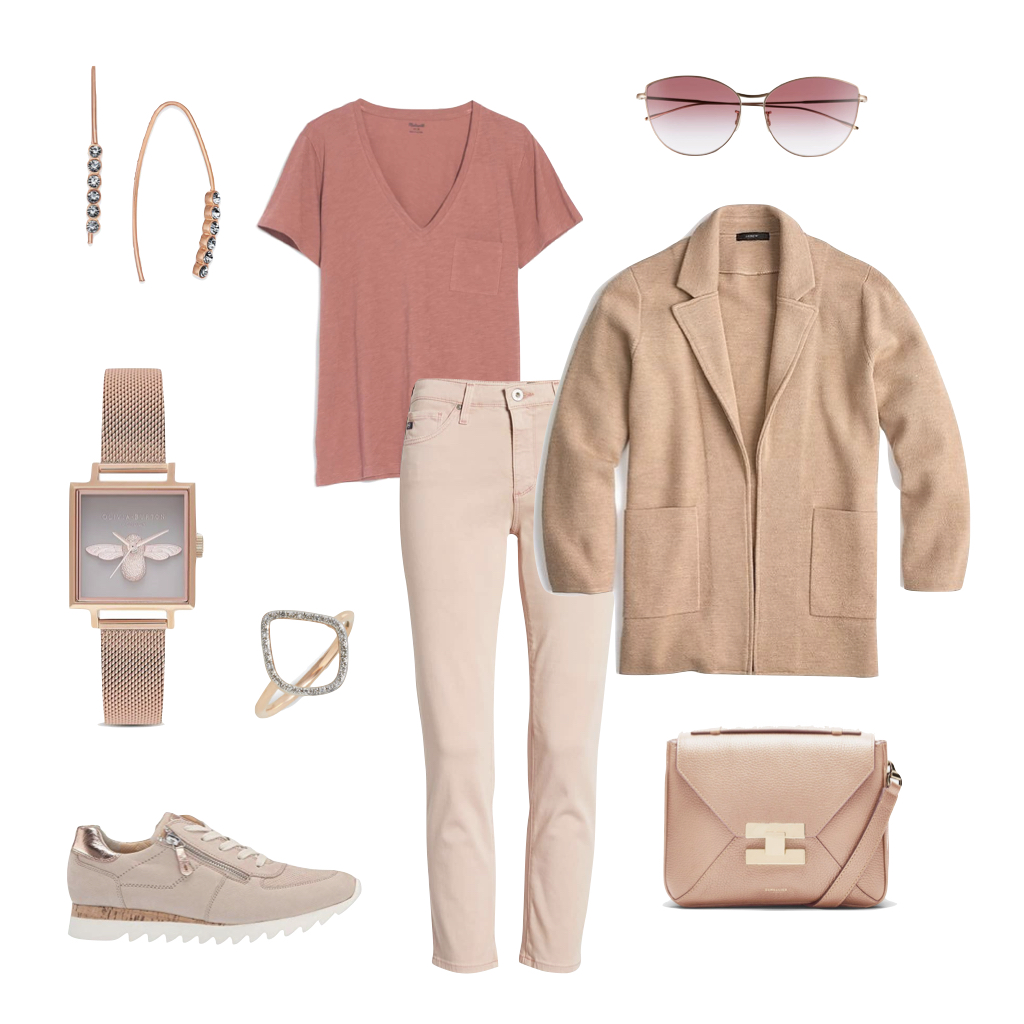 Looking Ahead: Spring Trends
One of the big trends I've noticed for Spring is earthy tonal dressing. Outfits in a mix of shades of ivory, beige, camel, caramel, and brown, as well as "desert hues" are showing up all over my Pinterest feeds and elsewhere online, as well as in retailers' displays. I really like this tonal trend, and will be experimenting with it myself.
Plus Options: Tee | Sweater | Jeans
And here's a budget-friendly alternative to the sneaker shown in the collage.
Rose gold is a nice complement to these light neutrals and earthy colors. And it can be a way to add some warmth and a hint of Spring to a winter outfit. I've been seeing a lot of shoes and accessories with rose gold accents, and even some clothing. Here are a few things that caught my eye…
Just a note: for those of you who subscribe via email, I apologize for any duplication or irregular delivery this week. The glitch has been sorted out, and (fingers crossed) going forward you should receive regular notifications when new posts are added.
Sales Worth A Look…
It's a holiday weekend, which means some big sales and deep discounts….
Bloomingdale's – Big Brown Bag sale, up to 70% off selected items. (Lots of Eileen Fisher included in the markdowns.)
J.Crew – 40% off select styles with code YESPLEASE (includes my favorite sweater jackets!)
Eileen Fisher – End of Season Sale, up to 70% off.
Nordstrom – Winter Sale, up to 40% off. (Also includes lots of Eileen Fisher pieces, as well as some Aquatalia.)
J.Jill – 30% off all full-priced tops.
Lands' End – Friends & Family, 30% off full-priced styles with code FAMILY, pin 4126
Talbot's – End of Season Clearance, up to 70% off all markdowns
Halsbrook – End of Season Sale, up to 80% off
Does this season's tonal dressing trend appeal to you? Have you seen any other Spring trends that you're likely to try?
Bon weekend!
Affiliate links in posts may generate commissions for unefemme.net. See my complete disclosure policy here.