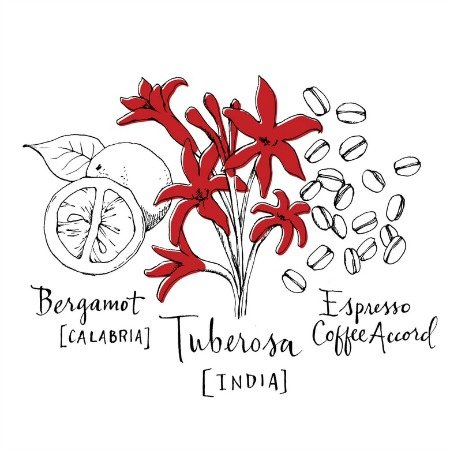 I love the lift that wearing a little bit of fragrance gives me, but fragrance in the warmer months can be tricky. Heat can intensify some fragrances, at the same time it may cause them to evaporate faster. I've come across two fragrances lately that are very different, yet both work for summer months.
Summer Fragrance: Quirky
Above: Atelier Cologne Café Tuberosa. I was not familiar with this brand when a Sales Associate recommended it to me a few weeks ago. When she mentioned coffee notes, I knew I'd want to try it. When I first sprayed, my reaction was "huh?" as I picked up the cacao note. But as it dried down, I was hooked. This fragrance is classified as "spicy," but floral and sweet notes balance out the spiciness, and soften it. There's playfulness to it, which is why I think it works for summer. Once it dries down, it stays pretty close to the skin, and the sillage is minimal. I find even used very sparingly, I can still smell it on my skin several hours later.
Summer Fragrance: Sophisticated
I was gifted a bottle of Woman by Ralph Lauren recently, and was fully prepared not to like it. But I do. White florals have been a popular fragrance genre the past few years, and can often be a nice choice for summer months. But my big grouse with so many popular white florals is that there's no "warm heart," nothing in the base to anchor the fragrance. This makes the scent feel very aloof, sharp, and cold, and annoys the heck out of me after an hour or so. But not this one; it has a nice creamy base that warms up without getting heavy or cloying. It's a more polished, sophisticated fragrance, but not unapproachable. Le Monsieur who usually says "nice" or "enh" when I hold my wrist under his nose to get his opinion, responded to this one with "I like it!"
This eau de parfum has a light to medium sillage and I could still smell it on my skin after several hours. It's also offered in a rollerball size, a nice option for travel.
Other summer favorites include Hermès Un Jardin sur le Nil, which is light and green and opens with a happy hint of citrus, Green Tea by Elizabeth Arden, and for those who like to kick it Old School, Chanel No5 Eau Premiere, a fresher, lighter version of the classic.
(I always try to be mindful of others around me when wearing fragrances, and don't apply when I'm flying or will be in any close, confined spaces with people I don't know.)
Do you have a favorite summer fragrance?
Affiliate links in posts may generate commissions for unefemme.net. See my complete disclosure policy here.