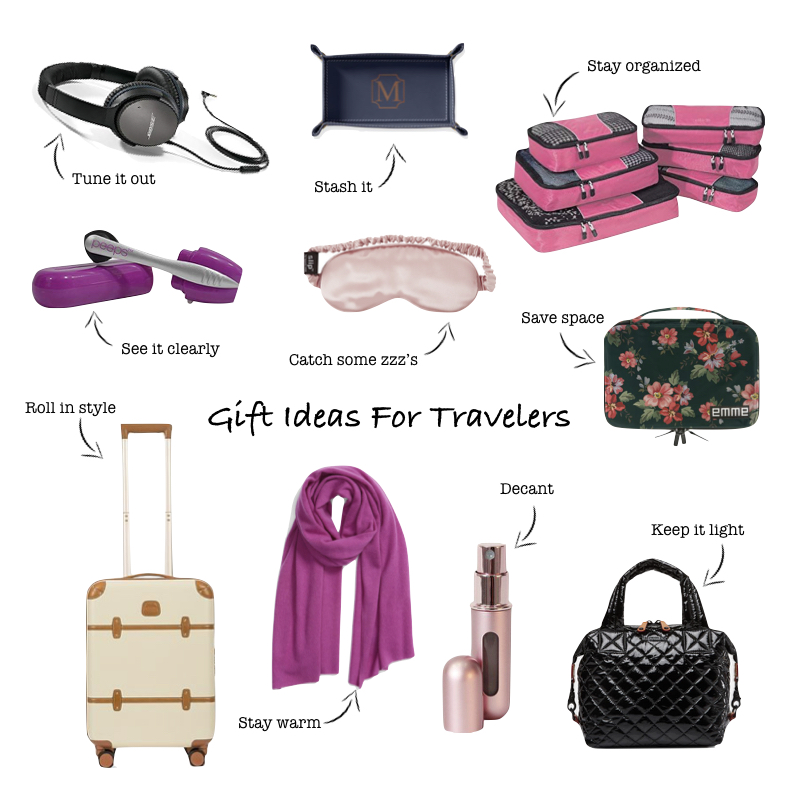 Here are some ideas for the travel lovers on your holiday gift list. Sometimes it's the little things that make travel more convenient and comfortable, and I've included some gadgets that I always pack.
Gift Ideas For Travelers
1. Tune it out
A pair of noise-cancelling headphones will mute airplane engine noise or distracting conversations nearby. Many newer devices connect with wireless headphones, but if you want to be able to connect with an airline entertainment system, you may want a set that plugs in. Apple / Android
2. Stash it
No more scrambling around a hotel room to find where you set your key, earrings, extra Metro tickets, etc. Keep all those loose bits in one place with these catchall trays that unsnap and lay flat for packing. Monogramming adds a personal touch.
3. Stay organized
Packing cubes have become a travel essential for me! Not only do they help compress clothing for packing, but they also keep me organized during my travels. Re-packing between stops on a multi-destination trip is a breeze. Traveling with kids or other family members? Give each person their own color set to keep everyone's things sorted and easy to locate.
4. See it clearly
It can be aggravating trying to sightsee or take photos when your glasses/sunglasses are dirty or smudged. This little gadget is the best I've found for cleaning eyewear (even fingerprints and smudges). There's also a brush to remove dust and debris to avoid scratching lenses. Good for up to 500 cleanings.
5. Catch some zzz's
Ambient light can keep us from falling and staying asleep. I use my sleep mask on the plane, and also in my hotel room if needed. I like these silk eye masks which are soft and lightweight.
6. Save space
Counter and storage space can be a scarce commodity in many hotel or rental unit bathrooms. This toiletries kit holds a LOT, and displays everything in clear plastic pouches when unfolded and hung. (I bought one of these in the plain black for le Monsieur and he loves it too!) There's a clear pouch you can zip off and use for your TSA liquids. This is the BEST travel toiletries kit I've ever found.
7. Roll in style
Old school style in one of the lightest spinner bags out there. Carry-on / Medium / Large
8. Stay Warm
A lightweight cashmere wrap is one of my Don't-Leave-Home-Without-It items. This one is a cashmere-silk blend that's warm but not too bulky, and offered in several colors from neutrals to brights. Or if you prefer 100% cashmere, here's one that's quite reasonably priced. I have my eye on this plaid number. It's a little more of a splurge, but wow, those colors!
9. Decant
These travel perfume atomizers are sturdy and TSA-friendly. Available in several colors, so you can color code your fragrances for travel. It fills right from your perfume spray bottle…no funnels, no spills!
10. Keep it light
When you're sightseeing on foot or standing for long periods, a heavy bag can strain neck, shoulders and back. This purse is feather light, and comes with a detachable cross-body strap. The "lacquer" finish looks posh, and makes it a nice day-to-dinner option. I've shown the small here, also available in Medium and Large sizes. If you like metallics, the Rose Gold and Tin Metallic are also quite good-looking in person.
Happy Travels!
More Travel-Related ideas:
Advance Travel Prep: Paris in December
15 Travel Tips To Save Time, Money And Frustration
Travel Wardrobes For All Seasons
Affiliate links in posts may generate commissions for unefemme.net. See my complete disclosure policy here.