I'm riding my packing list down to the wire; lots of rain in the forecast for at least our first week in Japan has made me revisit some of my initial footwear picks. I'll have to decide today though, and will have my final travel wardrobe posted tomorrow.
I spent an hour over the weekend re-organizing my travel toiletries. I usually keep my EMME bag loaded up and ready to grab and go, but over the last few trips I'd accumulated some superfluous bits. I mean, how many hotel-issue emergency sewing kits does one really need to keep on hand? So I culled the almost-empties and the extras, and re-organized the rest. (BTW, EMME has released a smaller version, the Petite, which I'll be trying soon on a shorter getaway.) And you can now get 20% off your EMME purchase with code UNEFEMME.
On Sunday afternoon, Sandra Sallin and I met for lunch and then scurried over an Advanced Style book signing at Louise Green Millinery. It was a well-attended and jovial event, and so many folks turned up in some truly splendid hats. (And if they hadn't, there were plenty available to try on.) The Good News was that I finally got to meet Judith of Style Crone in person! We've been following each other's blogs for years, and she was just as I'd imagined: beautiful, warm, gracious and intelligent. The Bad News was that, like a dolt, I'd left my phone at home plugged into the charger, so did not get any pictures of my own. But Sandra sent me this one of her and Judith, and gave me the OK to share. And you can see many of the attendees on Ari's Instagram here.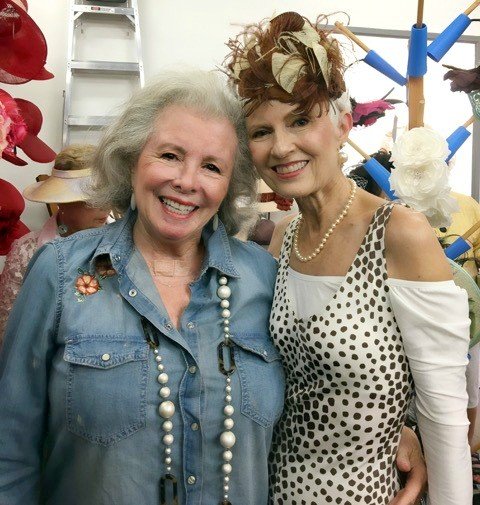 Two lovely and vibrant women!
Any last-minute travel tips for Japan?
Affiliate links in posts may generate commissions for unefemme.net. See my complete disclosure policy here.