I'm so excited to share this with you! For the past few weeks, I've been working with a web design team to create a new landing page and search tool for travel wardrobes and packing tips. 🧳 It's now live, and you can see it HERE.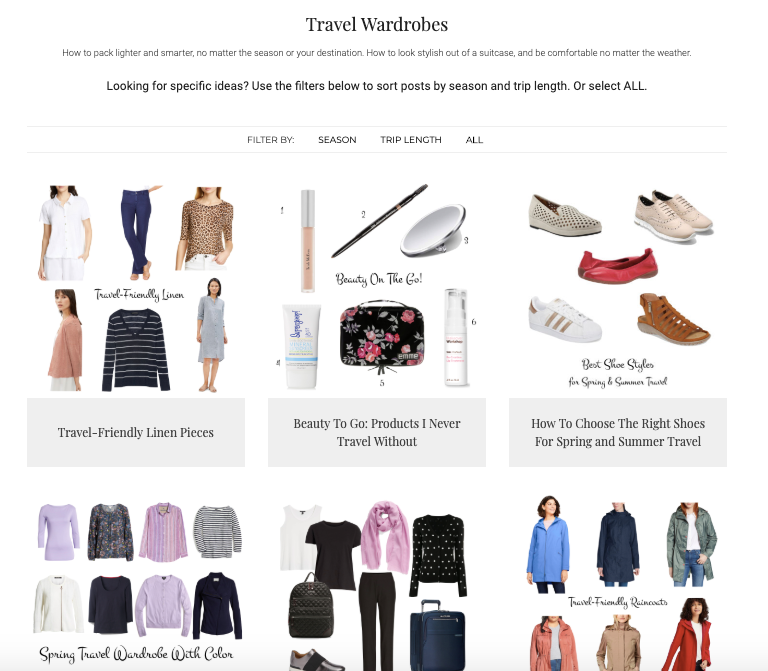 A Travel Wardrobe Resource Page
I get a lot of questions about travel wardrobes for specific seasons or trip lengths, and wanted to create a way to help you find posts and resources for the type of travel you have planned. At the top of the page, you can filter posts by Season and Trip Length*. Just select from one of the dropdown options in either or both categories.

I've included travel wardrobe posts going back several years, so you'll find plenty of seasonal and geographical variety to refer to. There are also sections highlighting some of my favorite products for travel, and featured posts or other travel articles.
Do take a look around, and let me know what you think. ⤵️
*I've currently included two trip lengths: A Few Days, and Two Weeks Or More. I find that two weeks seems to be the cutoff point when it comes to the number and types of pieces needed. And what works for two weeks will usually work as the basis for longer trips.
Travel Wardrobe Stalwarts

Shop more of my Spring and Summer travel picks HERE.
Affiliate links in posts may generate commissions for unefemme.net. See my complete disclosure policy here.