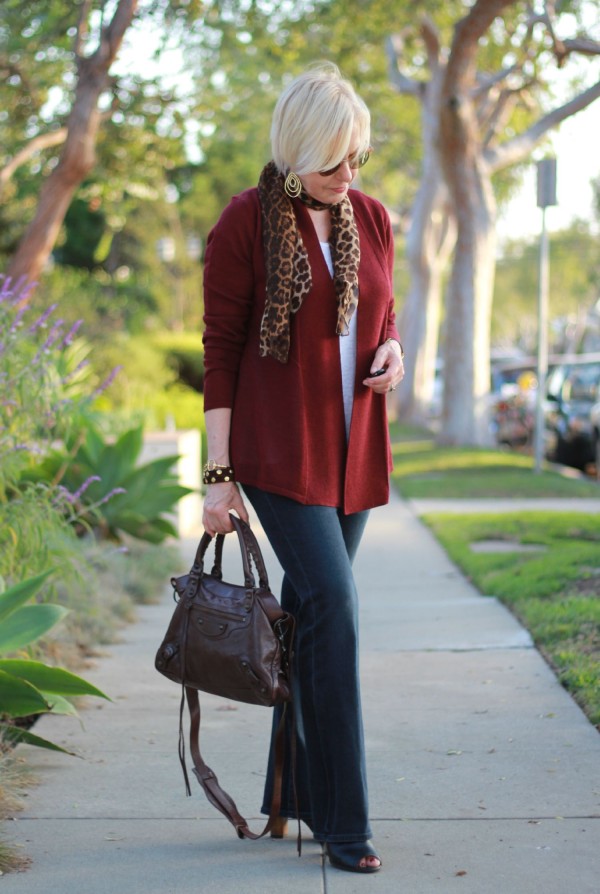 I'd hoped to have an outfit featuring a vest this week, but the one I'd ordered ran larger than expected, so I've returned it for a smaller size, and will feature it soon. Instead (channeling the Seinfeld Soup Nazi), "Cardigan For You!"
OK, so in all honesty, it's still been too warm to wear this lightweight wool cardigan. But I did want to show it to you because I have a feeling this color ("Passion Flower") will sell out. It's a very wearable russet red, an interesting take on the Marsala that was Pantone's color of the year. The cut is one that Eileen Fisher has offered in the past and that has been one of my favorites. It has much more shape and structure than the boxy styles that have been predominant in recent seasons and curves in nicely at the waist. I think it's a very polished looking piece. Just for fun, I styled it with a little bit of a 70's vibe (earth tones, skinny scarf and bootcut jeans). The scarf is a few years old, originally from Ann Taylor. The jeans, shoes and bag are all from last year.
sunglasses | earrings (similar) | scarf (similar) | cardigan | tank | bracelet 1 | bracelet 2 (similar) | bag (similar) | jeans | shoes (similar)
I find this color skews warm or cool depending on what it's paired with, and is soft enough that it doesn't look harsh when worn with black (as I find many reds do). Once the weather finally cools down, this cardigan will be in frequent rotation!
Linked up: Visible Monday at Not Dead Yet Style.
MORE LIKE THESE:


Affiliate links in this post may generate commissions for unefemme.net. See complete disclosure policy here.
Affiliate links in posts may generate commissions for unefemme.net. See my complete disclosure policy here.