The 12-Piece Paris Travel Wardrobe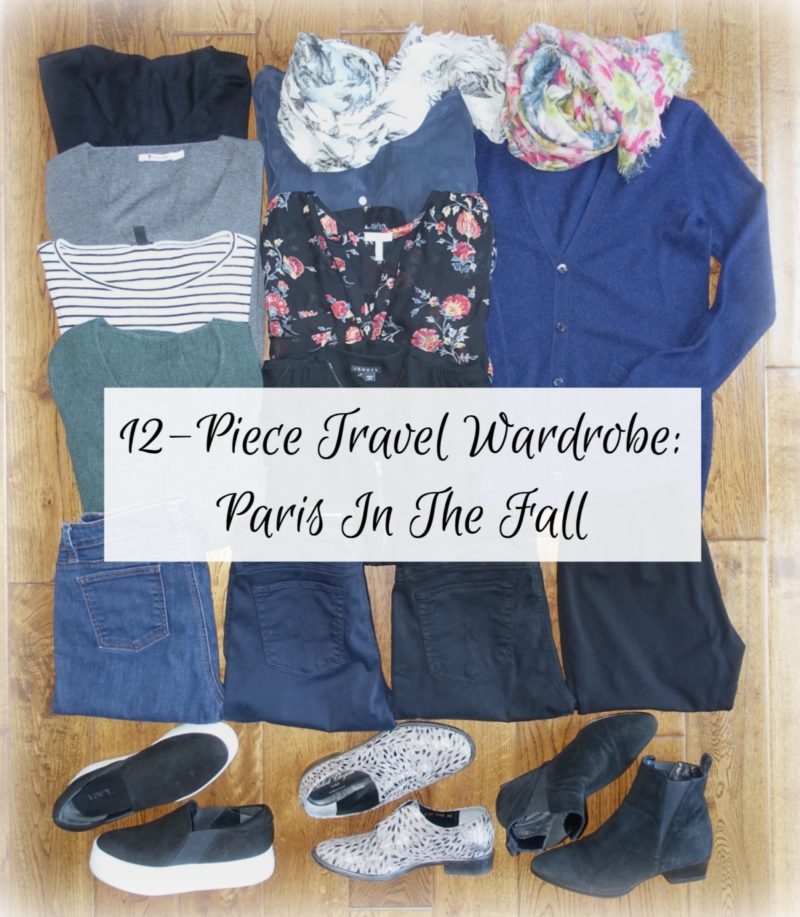 It's time to pack! As of this point, the forecast for Paris looks cool-to-mild, with a chance of rain on a few days. While I've put this wardrobe together with my upcoming trip to Paris in mind, it could easily work for any other city during the fall.
Travel Wardrobe For Paris
When selecting the clothes, I prioritize pieces that will pack and travel well, and will be easy to layer and coordinate. While this doesn't make for the most exciting collection, it will be one that feels smart, appropriate, and comfortable (both physically and emotionally).
My neutrals are black, navy and grey, and I've included a couple of accent pieces with color and/or print. I challenged myself to pack a little less black and more navy this time. I've stuck to a long-over-lean silhouette, and my usual ratio 2-to-1 ratio of tops to bottoms. I don't count shoes, accessories, outerwear or "underpinnings" as part of the 12 items. You can certainly pack more or less or include dresses or tweak the ratio to suit your preferences. This is just the formula that I've found works best for me.
I'll also allow myself to add a "wild card" piece to be chosen at the last minute, based on the current forecast and my mood.
Some of the pieces above are no longer available; in those instances I've linked to similar items.
Shoes
I always start with the shoes when planning my travel wardrobes. I've decided to allow myself 3 pairs this time.
Bottoms
As mentioned above, I've kept to slim-leg or skinny styles. This silhouette works best for me and is easiest to style. But again, go with whatever silhouette works best for you.
Tops
Eileen Fisher | Eileen Fisher Plus | C by Bloomingdales | Eileen Fisher | Equipment
Budget-Friendly: Halogen | Talbots | Charter Club
Scarves
I'm still deciding. My scarf wardrobe has dwindled a bit and could use a refresh. I'll be shopping in Paris for some solid, colored scarves.

Outerwear, Bag
I'll be taking my trusty Sandro utility jacket (which also works as a raincoat) and my navy wool topper from Scapa, which works either as a blazer or a lightweight overcoat. Both of these were purchased on prior trips, and no longer available. But I've found some similar styles:
Utility Jacket
J.Crew | Michael Michael Kors | Barbour | Mackage | Everlane | Kristen Blake
Navy Jacket
AYR |  Polo Ralph Lauren | J.Crew
The bag is the Pearl from Lo & Sons. And based on my experience in the spring with cooler-than-expected temperatures, I'll probably toss in my packable down parka (similar).
Latest update: the latest forecast is showing cooler and wetter conditions. I'm tempted to bring my lined Burberry raincoat purchased a few years ago (similar). Stay tuned…
How far ahead do you plan and pack your travel wardrobes?
Stay in touch
Sign up to be notified of new posts and updates from une femme d'un certain âge.