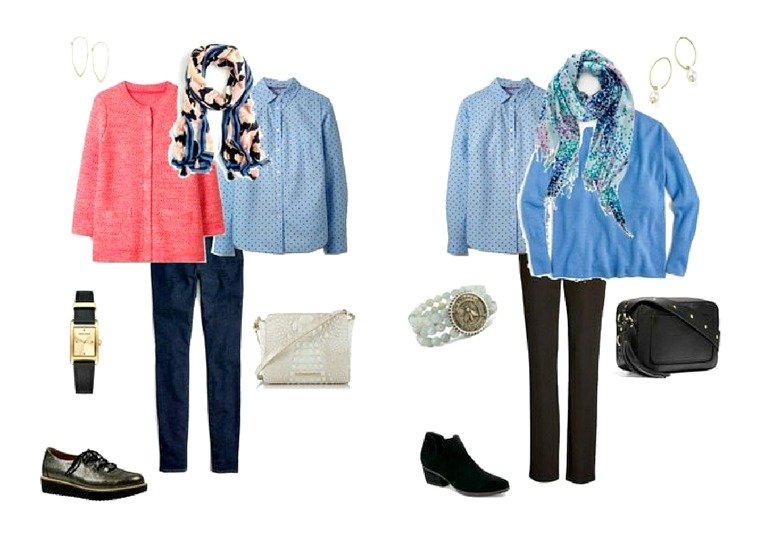 While I'm happiest in neutrals, some of you love to wear brighter hues. I've received many requests for a travel wardrobe with more color. Here are some ideas to create a Spring travel wardrobe that's both colorful and cohesive.
Above:
Left: earrings | scarf | cardigan | shirt | watch | pants | bag | shoes
Right: scarf | earrings | shirt | sweater | bracelet | pants | bag | boots
Spring Travel Wardrobe Guidelines
Of course you can always add items to the 12-Piece Capsule I presented last week, but if you want to keep the number of pieces about the same, I'll suggest a few swaps you can make to incorporate more color. As with a neutral wardrobe, I've tried to adhere to a few parameters:
If you're trying to pack lighter, wardrobe cohesion is the most important factor. You want most of your tops to work with most of your bottoms (and everything to work with your footwear).
Therefore this color-added travel wardrobe still follows the concept of "tabletop dressing," e.g. keeping the bottoms simple and versatile and creating variety and interest in the top half of the outfit.
Two accent colors that can be worn together will add plenty of variety while still providing cohesion. Here I've selected blue and coral. (I chose these colors because there are versions that flatter most skin tones, they're easy to wear, and usually widely available.) You can also use a scarf to tie colors together as I've done in the collage above.
I've tried to stick to pieces that rise to the level Smart Casual. This will maximize their wearability across a variety of venues
Simple, basic styles will be most versatile. You still want to be able to layer. I'd leave the statement sleeves or bulky, oversized pieces at home.
Don't forget to factor in outerwear and accessories. Coats, scarves, jewelry, hats etc. can all add color, variety, and personality to your look. I'll cover outerwear and accessories in a future post.
For this exercise, I've used items that are currently available. (I have not seen all of them in person, and am relying on online images and descriptions.)
To review, here's the mostly neutral 12-Piece Capsule: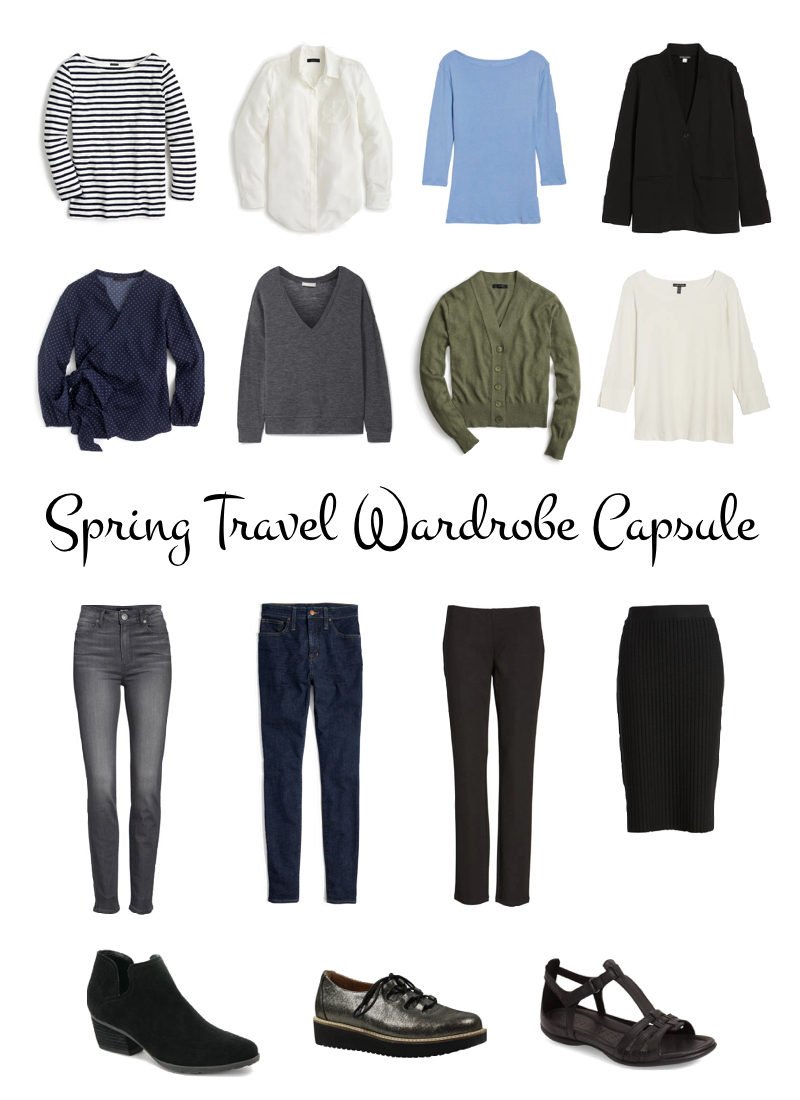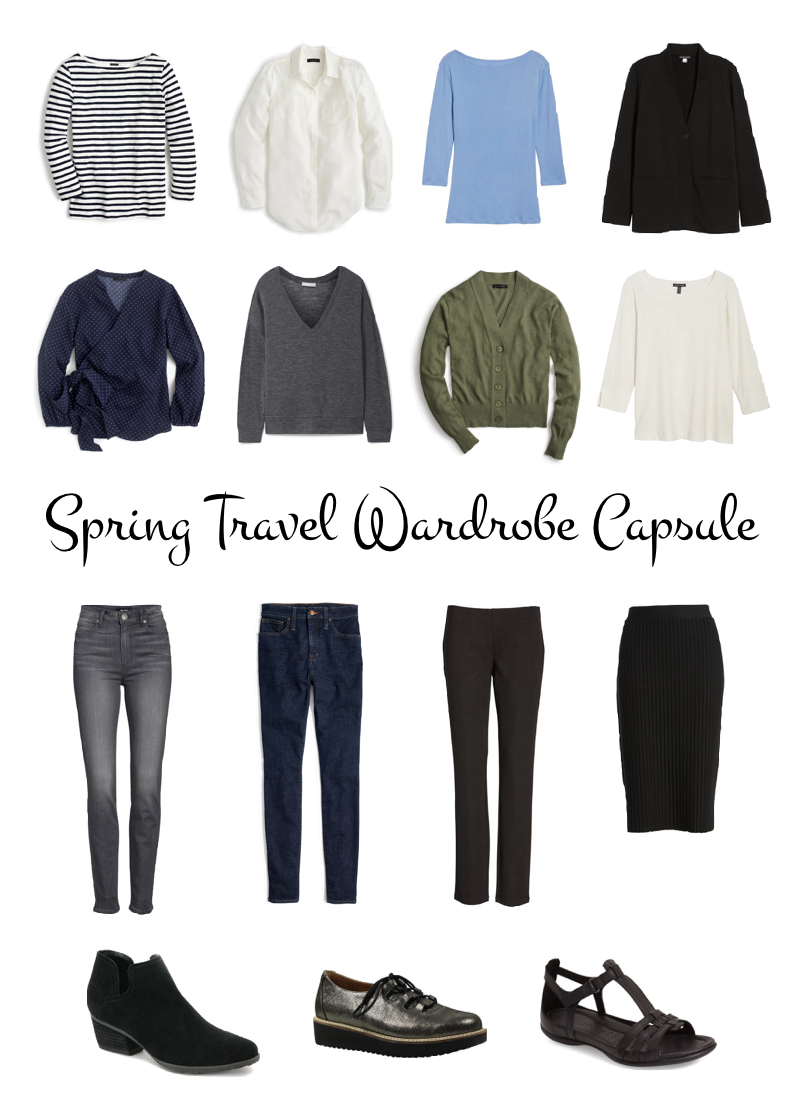 Color Swaps
To add more color, try any or all of these swaps.
peony cardigan | coral shaped cardigan
Here's what the color-updated wardrobe looks like as a whole…
Top row: tee | shirt | tee | jacket
Second row: shirt | sweater | cardigan | tee 
Third row: jeans | jeans | pants | skirt
Shoes: boots | oxfords | sandals
And here are two more combos…

Left: earrings | scarf | tee | shirt (worn over tee) | bag | jeans | bracelet | sandals
Right: earrings | scarf | cardigan | tee | watch | jeans | bag | shoes
How do you incorporate color in a travel wardrobe? Which colors do you wear the most?
Affiliate links in posts may generate commissions for unefemme.net. See my complete disclosure policy here.