My favorite (affordable) shops in Paris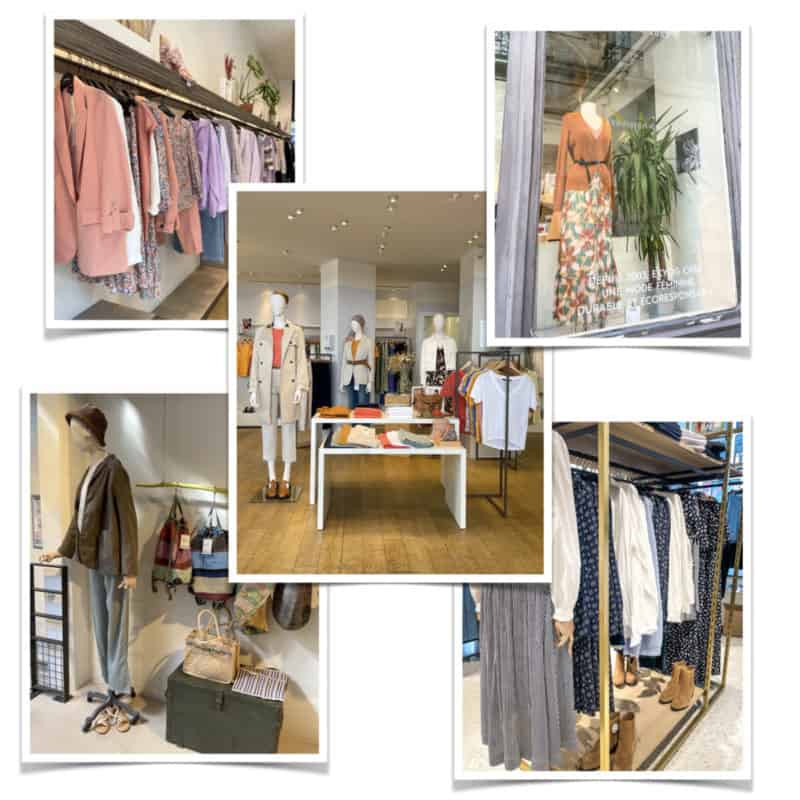 I always save room in my suitcase to do some shopping in Paris. Though many larger brands are now available globally and online, I like to shop for brands and styles I can't find at home. Many of you have asked for suggestions for more affordable places to shop for fashion in Paris, so I've rounded up a few of my favorites.
With Paris being one of the (or THE) top fashion capitals of the world, you'll find plenty of high end designer boutiques in most of the central arrondissements. But you don't see many Parisians trotting around in head-to-toe designer outfits (or if they are, they're subtle "stealth wealth" pieces). I'm sure most Parisiennes of more modest means have favorite one-off shops. But as a visitor I've sussed out a few accessible favorites of my own.
(While I realize everyone has their own definition of "affordable," my frame of reference for the purpose of this post is prices comparable to US brands like J.Crew, Madewell, Talbot's, Gap.)
Shopping in Paris: my favorite brands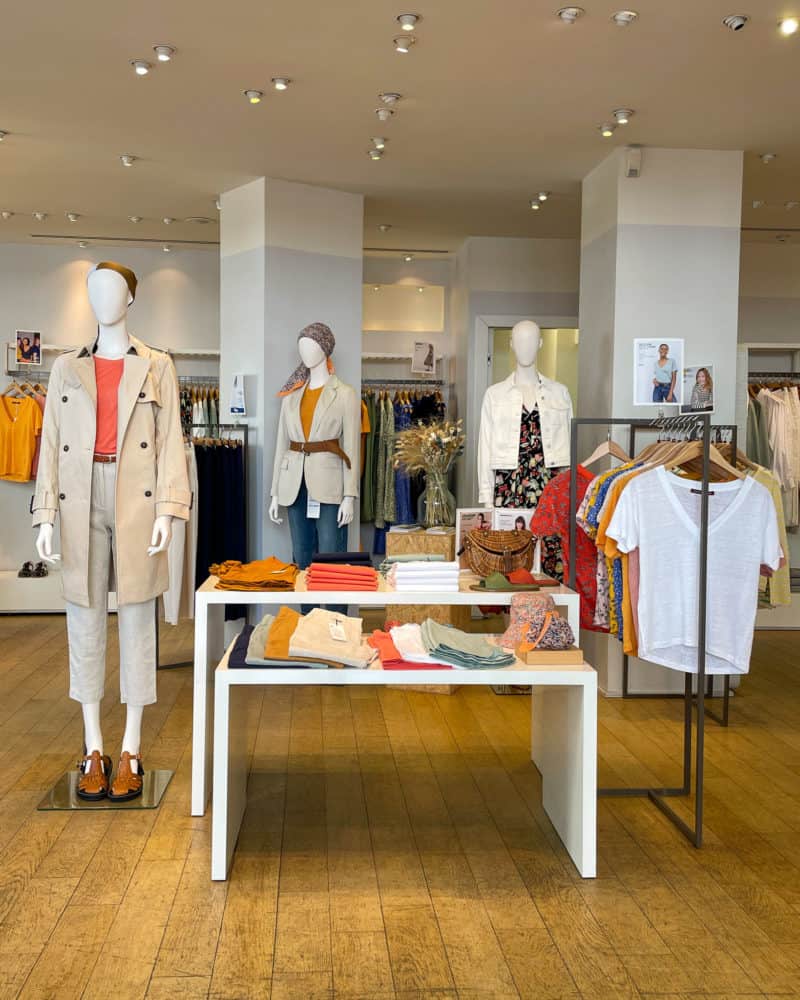 This is a chain, and you'll find stores of various sizes all over Paris (and in other parts of France). I *always* make a point to visit while I'm here, and always find something that works for me. They have great simple casual basics in natural fibers. And they often have " x% off" promotions.
CdC has a nice range of colors as well as good neutral basics. (They also have lots of blues at the moment, which I didn't get a good photo of.) I've always found the sales associates to be cheerful and helpful. Sizing varies by item, but I find most to be generally true-to-size.
Caroll is another chain with some great basics at reasonable prices. (Think Boden, but French.) They were a lifesaver when we were in Paris during a canicule (extreme heat wave) in 2019. I was able to find some linen trousers and tops that kept me (more) comfortable in the heat.
They have several shops in Paris, and also have periodic promotions.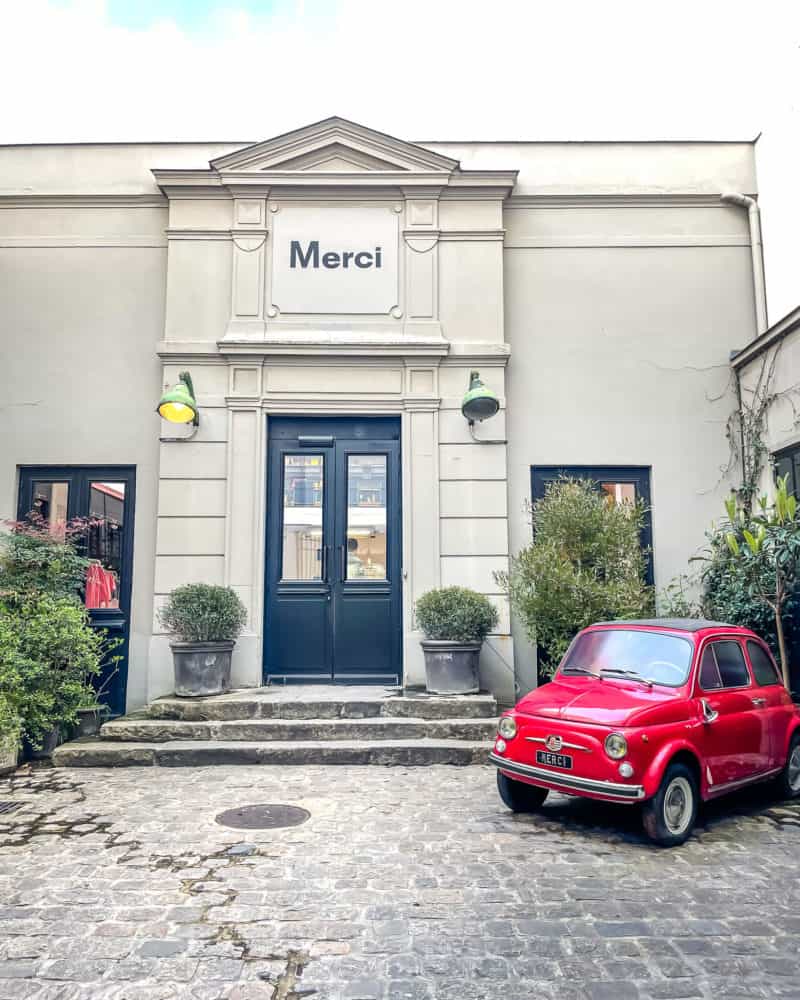 Merci is a unique "concept store" in the Marais, which sells not only clothing but gifts and housewares. Clothing styles skew Bohemian, and prices range from budget-friendly to "bridge." Think Anthropologie, but with a wide range of brands.
It's a fun space to browse through, and there's a nice cafe if you get peckish.
It's also a good place to find little unique gifts to bring home.
Monoprix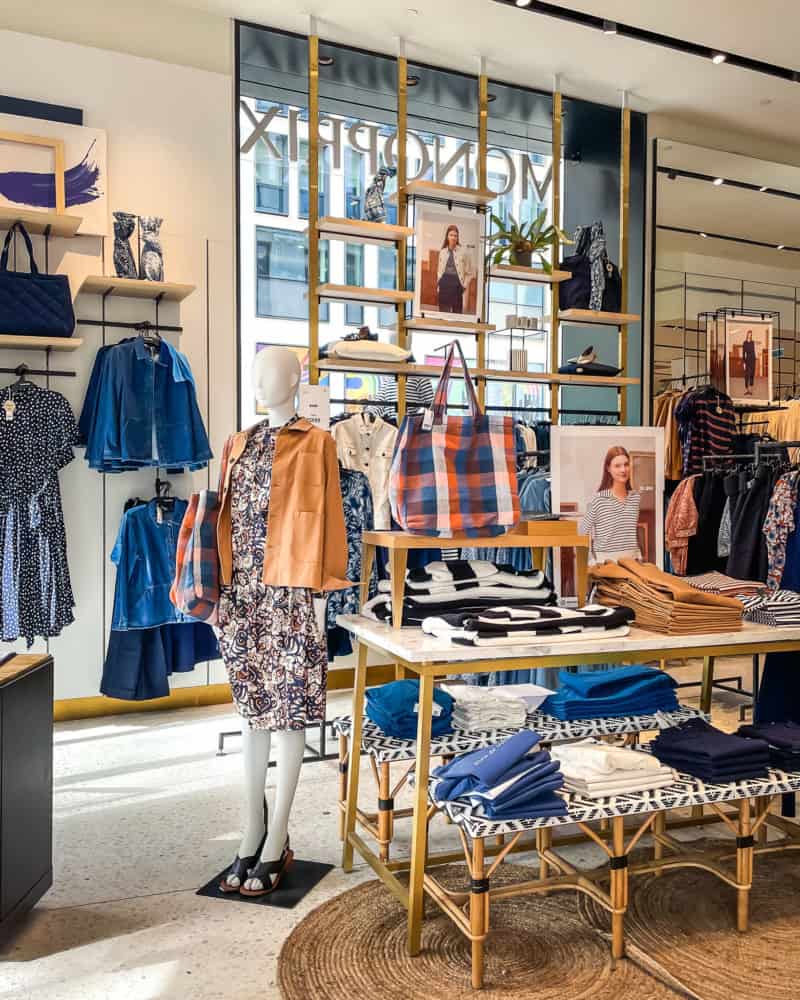 No, really! The larger Monoprix stores have quite a wide selection of clothing and accessories. If you need something in a pinch (and on a budget) they're definitely worth checking out. (Le Monsieur bought a couple of Monoprix linen shirts on one of our earlier visits, which he wore for several years.)
I always pick up a few of their re-usable nylon shopping bags for gifts and to keep in the car.
If sustainability is important to you, you might want to check out EKYOG in the Marais (23 rue de Francs Bourgeois). This brand is centered in ethically and environmentally produced clothing that's FUN. It's a new discovery for me. I haven't yet purchased anything, but was impressed with the collection.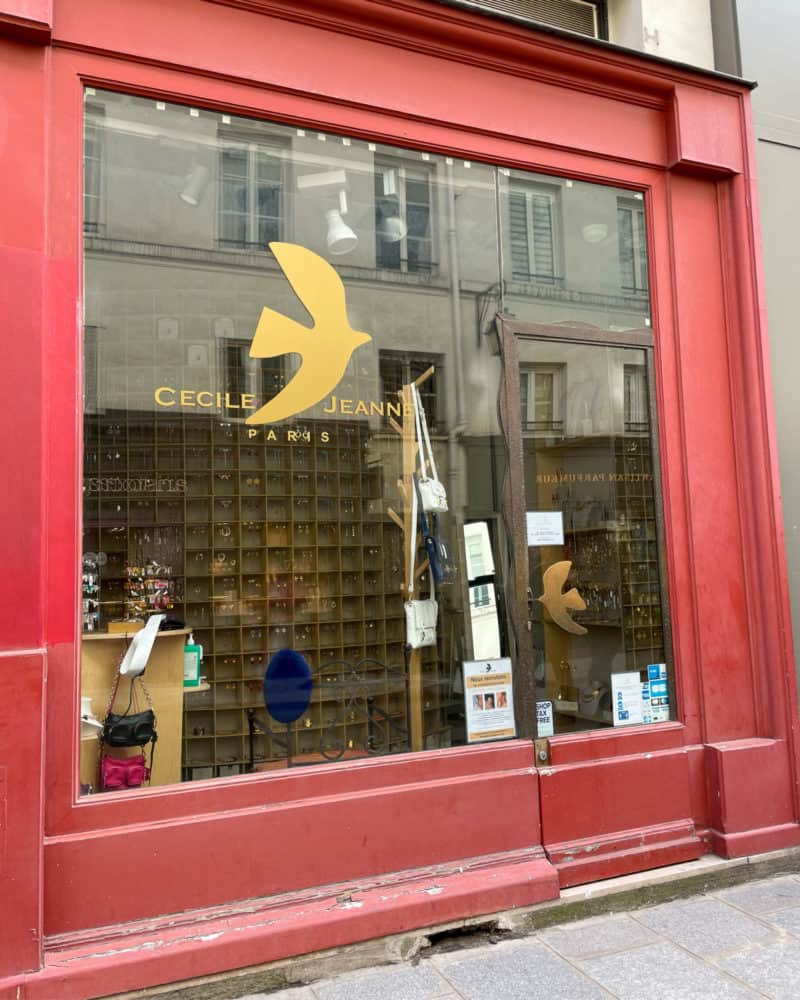 I first discovered this French jewelry brand online a couple of years ago, and was finally able to shop in person. They have a lovely collection of pieces from delicate to bold. I really love their "earring parties," earring styles that can be worn in multiple combinations. You can find many lovely pieces under 100 euros.
They have a few locations throughout Paris.
What I'm seeing in shops for spring
As I mentioned HERE, most of the shops are already stocked with spring/summer items. I'm seeing a LOT of color on the racks. Green, orange, coral red, lavender, and peach seem to be the colors most on trend, though you'll always find a lot of blue as well (denim and soft blues).
Other trends I've noticed (at least in the shops):
longer, printed skirts
still a lot of relaxed fits and oversized cuts
lighter wash denim in relaxed fits
fruit and floral prints (but stripes too, always!)
lots of straw and raffia bags
It will be interesting to see as the weather warms up whether Parisians will take up more colorful wear. (The last time we were here in the summer, I did notice much more color being worn.)
More tips for shopping in Paris
Yes, the big department stores will have the most variety, but they can also be quite crowded. Best times to visit are mornings early in the week. My two favorite department stores are le Bon Marché in the 7th (a little more low-key) and BHV in the Marais (you'll find just about everything here from clothing to luggage to kitchen gadgets).
Don't forget to ask about Detaxe (tax-free) paperwork on any purchases totaling over 100 euros. If you live outside the EU you can get a refund on the VAT tax automatically included in what you pay. You'll need to scan the form(s) they provide before you leave the EU.
You may find some new favorite shops just by strolling around and seeing what catches your eye in the windows. Prices for items in window displays will be posted, so you'll know even before entering the shop what to expect.
Be sure to say "Bonjour (madame or monsieur)" when you enter a shop. In most shops, the sales staff will want to help you take things off racks or shelves, so ask before you pick something up or try it on. It's perfectly OK to tell a sales associate "je veux y réfléchir," (I want to think about it) if you're not ready to make a purchase. (And we've found that most sales associates speak English, or enough of it to be able to answer questions.)
Happy shopping!
Stay in touch
Sign up to be notified of new posts and updates from une femme d'un certain âge.