The privilege of a lifetime is to become who you truly are. – C.G. Jung
One of the privileges of reaching a certain age is that I no longer feel obligated to suffer fools gladly. 🙂 Another is in recognizing and cultivating what feels authentic to me in all aspects of life.
Always be a first-rate version of yourself instead of a second-rate version of someone else. – Judy Garland.
Life is too short to spend faking it or trying to live someone else's version, whether it be your career path or who you love or what clothes you wear.* Trying to lead an inauthentic existence takes a toll, and consumes precious mental and emotional energy. It's like trying to swim laps while holding a beach ball underwater.
When it comes to style, my "authentic" may be quite different than yours; that's the beauty of it. What feels authentic to any one person may land within narrow or broad parameters, and can shift over time. Authentic style isn't something that can be calculated on paper; it has to be felt. 
The authentic self is soul made visible. – Sarah Ban Breathnach
Authentic style doesn't (to me, anyway) rule out hair dye, makeup, or any other alterations to appearance. Authentic doesn't necessarily mean "natural."
I may not be able to define precisely my own authentic style, but I know it when I slip it on. It feels like a powerful second skin. I enjoy experimenting and trying new looks, and in that process have learned that I've hit my authentic zone when it never feels like trying too hard.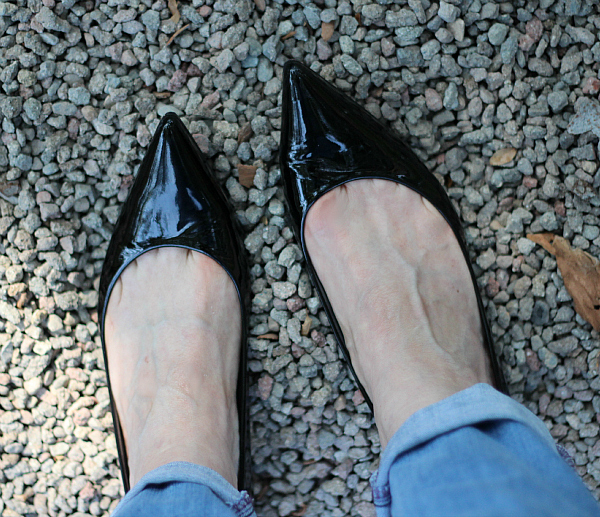 Be yourself; everyone else is already taken. – Oscar Wilde
*with the caveat that sometimes we must dress in ways that are appropriate for the venue or occasion. When we choose to do so out of respect, it doesn't diminish our authenticity.
What does authenticity feel like to you? Do you feel that you've developed an authentic style?

…or click on the Subscribe button to the right to follow with the reader of your choice.
Stay in touch
Sign up to be notified of new posts and updates from une femme d'un certain âge.