How to keep skin healthy & glowing this summer with Biossance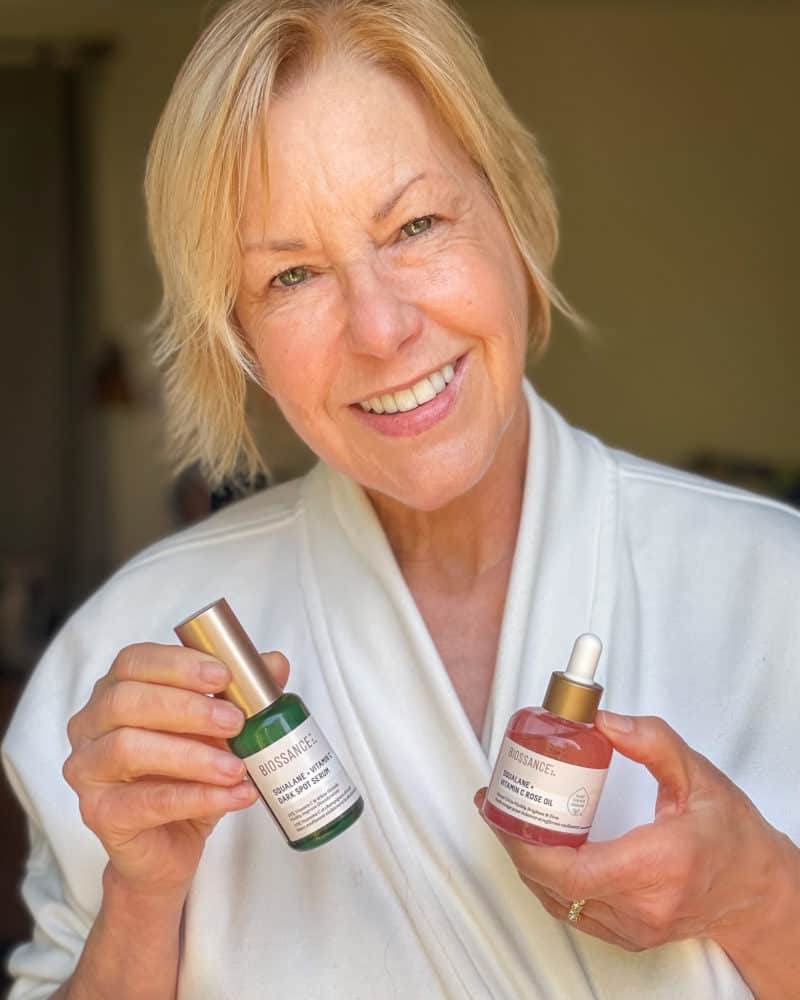 Whether I'm wearing makeup or not, I want my skin to look healthy and glowing. Our climate can be pretty dry, especially in the summer and fall, and keeping skin hydrated can be a challenge. In addition to upping up my water intake, I'm always on the lookout for products that provide lasting hydration.
This post is sponsored by Biossance and ShopStyle Collective. All ideas and opinions are my own.
The folks at Biossance reached out a few weeks ago and asked if I'd like to try some of their products and write about them. I didn't know much about the brand, so did some research before I accepted. Their products are clean, cruelty-free, and sustainably produced. They sent me the Squalane + Vitamin C & Rose Oil, Squalane + Vitamin C Dark Spot Serum, Squalane + Zinc Sheer Mineral Sunscreen, and Squalane + Caffeine Toning Body Cream.
From now until the end of the day Thursday, 6/24, you can get 25% off sitewide on Biossance.com using the code FLASH25. Afterward, you can use my code UNEFEMME20 to get 20% off sitewide for the next 30 days!
Clean, cruelty-free skincare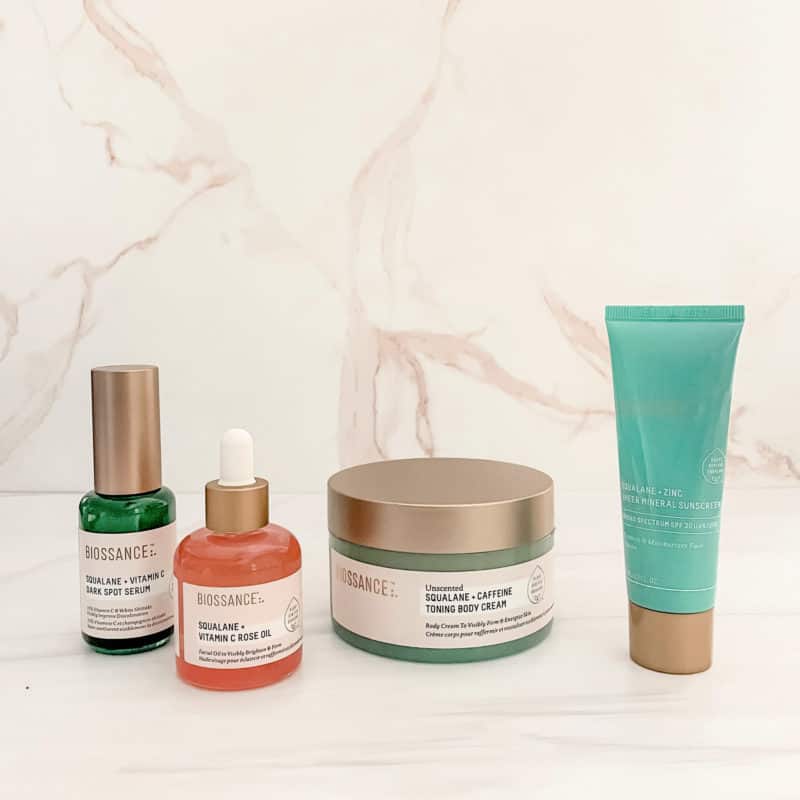 You may be wondering, "what the heck is Squalane?" It's a plant-derived version of a compound (squalene) that our bodies produce naturally, though the amount retained diminishes as we age. It helps lock in moisture, improves elasticity, and helps balance oil production. Biossance derives their Squalane from renewable sugar cane.
I've said this before, but I'm pretty picky about my skincare. I want it to be effective and free of potentially harmful ingredients. I also want it to be pleasant to use, and to feel like it absorbs into my skin rather than just sitting on top. I've been using these Biossance products as part of my morning skincare routine for the last couple of weeks, and so far I'm impressed.
Treat
After rinsing with water, I apply the Squalane + Vitamin C Dark Spot Serum to my face and neck. I have a few of what my dermatologist refers to as "pigmented lesions" and have used various Vitamin C products over the years to keep them from getting darker. Though it's too soon to see a difference, I do like the feel of this serum.
Moisturize
Next, I use the Squalane + Vitamin C Rose Oil as a daily moisturizer. This is really lovely to use! I place a few drops in the palm of my hand, then rub my palms together to warm up the oil and release the (very light) rose fragrance. Then press the oil into my face and neck. This light oil not only absorbs into my skin, but keeps it hydrated, soft and glowing all day.
Protect
Sunscreen is a vital part of my skincare routine, so I also choose the Biossance Squalane + Zinc Sheer Mineral Sunscreen to try. It's SPF 30 and contains no chemical sunscreens, just Zinc Oxide and is reef-safe. I LOOOOVE this sunscreen! It's lightweight, blends right in and doesn't leave a whitish cast. It moisturizes and doesn't get cakey or pill, and works beautifully under makeup. (Though I'd use a higher SPF for prolonged sun exposure, this is great for days when I'm mostly working indoors.)
Firm & smooth
I've been using the Squalane + Caffeine Body Toning Cream on my arms and can really see a difference. The skin looks firmer and smoother, and feels softer.
I was happy to see that they also offer travel sizes of many of their products! And I'll definitely be trying more of their products in the future.
A special offer for you!
From now until the end of the day Thursday, 6/24, you can get 25% off sitewide on Biossance.com using the code FLASH25. Afterward, Biossance has kindly offered my readers a 20% discount with code UNEFEMME20 for the next 30 days. They want you to be satisfied with their products and offer a 60-day money back guarantee. There's no better time to give it a try for healthy, glowing skin all summer (and beyond).
Stay in touch
Sign up to be notified of new posts and updates from une femme d'un certain âge.