At the beginning of the year, we often set personal goals or directions, and I like to do the same for the blog. More than anything, I want it to be relevant and helpful to you, which is why your input is so valuable.
I'd like thank everyone who took the time to respond to the survey, and for your honest and open answers. Your feedback really helps me to understand what topics and types of content are of most value to you. I thought you might be interested to see how your fellow readers responded, so here are some of the results.
Topics of interest
It's pretty clear that you're here mostly for Style. 😉 Almost 78% of you chose Style tips, while Outfit posts were a close second with 68%. Travel wardrobes came in third with 61%, and Color & Style analysis with 43%.
Beauty, Lifestyle and Health & wellness were topics of least interest, so while I will occasionally include these topics, they'll be a smaller percentage of content.
Style priorities & challenges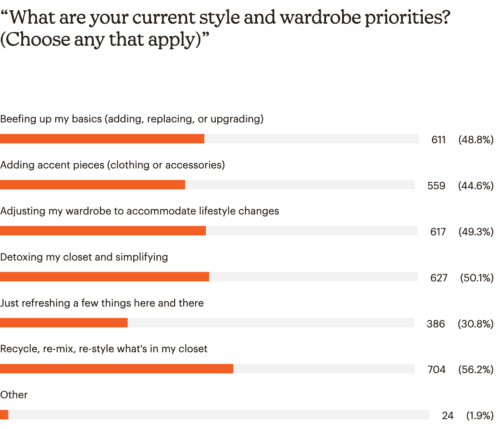 Your answers to Style priorities were pretty evenly divided between: Recycle, remix (56%), Detoxing, simplifying (50%), Adjusting for lifestyle changes (49%), Beefing up basics (49%), Adding accent pieces (45%). So I'll do my best to provide a balance between these.
When it comes to purchasing decisions, quality was the top factor at 73%. How often will I wear it came in second at 63%, which tells me that most of you are interested in investing in pieces that you'll use long-term. That you LOVE it is important to 52% of you. Price was in the #4 spot at 50%.
While fewer of you prioritized Sustainability & ethical manufacturing, I'll continue to keep my eye open for brands with these attributes, and share them when I find them. But I'll also continue to emphasize quality and wearability.
Half of you (50%) said restyling pieces in your wardrobe was one of your biggest style challenges. So I'll continue to emphasize that going forward.
Finding clothing that fits was #2 at 40%. I hear ya! 😆 While everyone's body is unique, I'll do my best to address some common fit challenges & solutions.
38% of you selected "figuring out what colors and silhouettes are best for me." I'll be addressing this too in coming months!
Under "other," several of you shared that looking current or modern was an area of importance. Adjusting to a more casual lifestyle while still looking sharp was also something a few of you mentioned. Dressing for a changing shape as we age was also a common challenge.
Spending
Your answers here reinforce that quality is important to you, and that you're not here looking for fast fashion. While I always want to encourage you to buy the best quality you can afford, I understand that many of you are on limited budgets. So I'll continue to try to share alternatives in a range of prices. And I'll give a heads-up when quality pieces go on sale.
Favorite (popular) brands mostly widely distributed, with J.Crew, Talbot's, Nordstrom (in-house), Eileen Fisher topping the picks. Several of you mentioned Athleta, Everlane, and some higher-end brands like Max Mara. Some of you live in other parts of the world and have access to different brands than we do here in the US.
Travel plans
It looks like more of you will be traveling than not, with most of you planning to travel within your country. I'll begin adding updated travel wardrobe ideas in the next few weeks. But in the meantime, be sure to check out my Travel Wardrobe Resource hub. You can filter articles by season and trip length to find which ideas are most helpful for your travel plans.
Thank you again for your time and feedback! I'm feeling very energized and excited about 2022, and look forward to continuing this style journey with you.
Affiliate links in posts may generate commissions for unefemme.net. See my complete disclosure policy here.